The Martha's Vineyard Regional High School Girls' tennis team won't stop making history. On Friday afternoon they set another school record by winning the south division of the MIAA sectional tournament.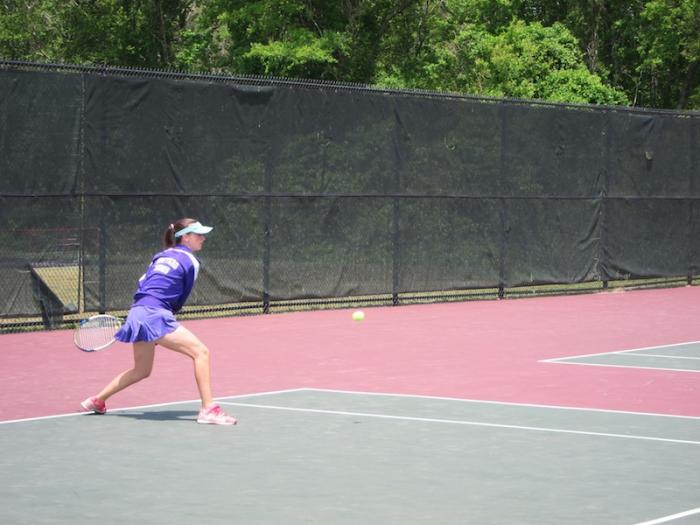 The team now advances to the state tournament semifinals, which will be played against Lynnfield Wednesday at 2:30 p.m. on the courts at Lexington High School. Lynnfield is the winner of the division north sectional tournament.
On Friday the Vineyard defeated Dover-Sherborn 3-2 on the courts at Old Rochester Regional High School in a close match that came down to Kat Roberts' victory at number two singles. Samantha Potter logged the Vineyard's first win, defeating her hard-hitting, left-handed opponent handily at number one singles. She dropped only two games. "My game plan was to win," the senior and class valedictorian said. "I also knew I had to keep on winning because when the girls on courts two and three look over and see my score that pumps everyone up. I just wanted to get the win for the team," she said.
Her game plan worked. Kat and Lizzie Williamson both went down in their first sets, only to regain the territory they had lost and help the team sweep in singles for the overall win. Lizzie, who was down 2-4 in her first set, came back to defeat her opponent 6-4, 6-0. "I was very stressed out going in to the match," she said. "I was emotional on the bus and was thinking a lot on court. Finally I just thought I am going to win this. I started killing it and playing more aggressively. I looked over at Sam and saw she was up 5-0 and said okay I need to win this because my team needs me. If she is killing it like this, I need to kill it like this."
Earlier, both doubles teams lost in straight sets. Alison Daigel and Madison McBride were paired up on the second doubles court for the first time. "It was one of the hardest matches of the season," Madison said. "And it was the first time Alison and I had played together. It was a little bit of an adjustment, but I think we did well for our first time playing together."
Kat Roberts commented on how it felt to be last on court. "I have always been afraid of being the deciding match, but it was actually really exciting," she said.
The teams were presented with winner and finalist trophies and the Vineyard held theirs high above their heads while fans cheered and photographed the champions.
At the end of the match, Dover-Sherborn supporters wished the Vineyarders luck in the rest of the tournament. The girls planned to make a celebratory ice cream stop on their bus-ride to the Woods Hole ferry.
Two days earlier the team had advanced to the section semi-finals after a hard-fought win over Cohasset, marking a first in school history for girls' tennis.
On Friday, coaches Nina Bramhall and Liz Roberts reflected on the team's performance. "I have tremendous confidence in them," said assistant coach Roberts. "Even when we were down, I felt good. They are such great girls on and off the tennis court, that it relieves the stress."
Coach Bramhall interjected: "It doesn't matter who wins the first point or the first set it matters who wins the last point. I couldn't be happier."