The Strand movie theatre in Oak Bluffs, shuttered since 2011, will have its grand reopening this weekend. On Friday night there will be an exclusive invitation-only event to celebrate the donors and community members who helped fund the renovation. On Saturday night the Strand will open to the public with two film showings.
The Friday night event will feature a live performance by the band Dwight and Nicole on the new stage that will be able to accommodate live performances in the future. The theatre will show a film for the event, but the movie scheduled to be shown remains a secret. But Saturday night's schedule is out, which will include a showing of Jaws at 9:15 p.m. and Inside Out, a new Pixar film, earlier at 7 p.m.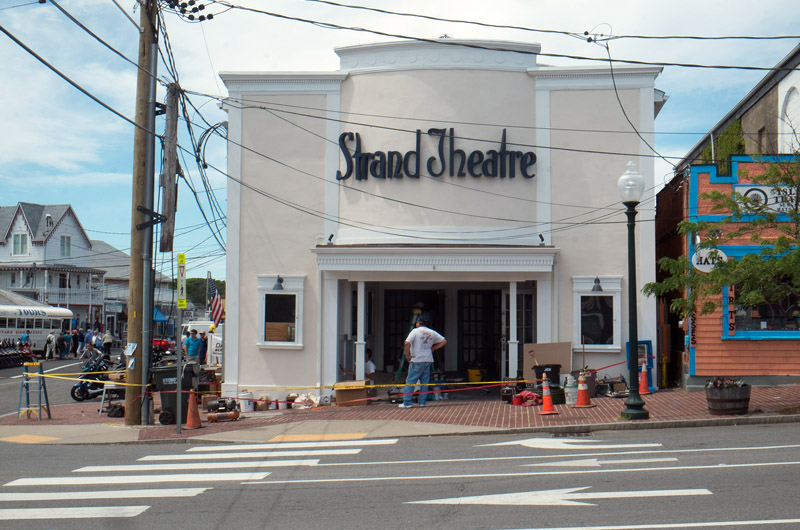 The Strand was first built in 1915, changing hands several times leading up to its closure in 2011 and subsequent renovations to allow it to open for the summer season. The Strand, along with the Capawock, is being leased to the Martha's Vineyard Theater Foundation by the Hall family. The Capawock had its grand reopening two weeks ago.
"There was no heating, no air conditioning," said Mark Snider, a businessman and founder of the Martha's Vineyard Theater Foundation, speaking about the old Strand this week. "We had to completely put in a new HVAC."
Flooring and bathrooms have been redone, and the number of seats was also lowered from around 270 to nearly 230 to allow for more leg room. The entire feel of the theatre is, however, in keeping with the early 1900s aesthetic to retain the feel of the era when the theatre was first built.
Nearly $1 million has been put into the Strand and the Capawock so far, but the foundation is looking to raise around $125,000 more to cover costs.
Friday night, however, will be about beginning a new chapter in the theatre's history and allowing residents and visitors to Martha's Vineyard to experience a piece of the Island that dates back nearly 100 years.
"It's really here for the community," said Mr. Snider. "For everybody to embrace and enjoy."