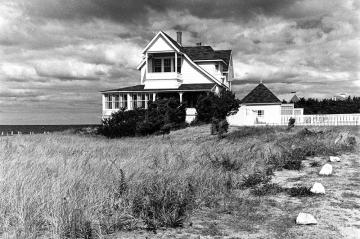 This article was first published in the June 3, 2005 edition of the Amity Gazette, which was created by the Vineyard Gazette in honor of the 30th anniversary of Jaws' release in theatres.
It looks like real estate agents on Amity will have reason to smile again this summer: For the fifth straight year, rental bookings are up.
Data submitted by Amity's real estate agents shows that rentals for July and August are on pace to top last year's total of 16 — the highest in almost 30 years.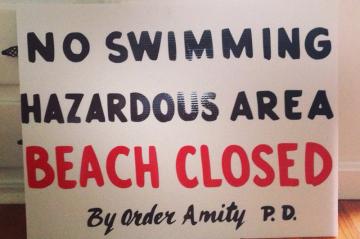 And unlike previous summers, rental activity is moving away from the dense communities in the middle of the Island and out toward Amity's beaches and ponds.
"The high-end sector is shifting back to the coastal properties, and that's good to see," Amity Chamber of Commerce president Lenny Hendricks said. "It's really the biggest indicator of a turnaround. If those rebound, things will really start to look healthy again."
The recovery comes after more than two decades of stagnation and decline. Vacationers are returning in the greatest numbers since the mid-1970s, when two series of shark attacks crippled the market and changed the Island forever.
"But still, nothing has been the same since those days," Jamison Jennings of Sea Coast Realty said. "We all woke up one morning and wondered, 'Where is everybody?' It was like Oklahoma in the 1930s. It was devastating."
The decline and fall of Amity's reign as a summer destination all started in the summer of 1975, when a great white shark killed five people and a dog in Amity waters. In August of that year the market for summer homes collapsed, especially along the waterfront. Summer residents began selling off their homes - some at rock bottom prices - to developer Len Peterson who, in speculating that the attacks would have only a short-term effect on tourism, turned most of the homes into beachfront condominiums and hotels.
In the first year, Mr. Peterson was right. Most of those new condominiums sold in the Island's biggest land rush since the fifties. But just when speculators thought it was safe to get back into the real estate market, another great white staked its claim to the Island's waters in 1978.
That proved to be too much for some residents and visitors, who fled Mr. Peterson's new developments in a massive exodus.
In the aftermath, most of the condominiums were converted to affordable rental units for year-round Amity residents.
"We haven't had an incident here in over 15 years," Mr. Peterson said yesterday. "There aren't any more sharks, the waters are safe, and the beaches are lovely. It's time to move on, for goodness sake."
The town's leaders are also optimistic.
"We haven't had much to celebrate in the last few decades, so this trend is encouraging," Mayor Lawrence (Larry) Vaughn Jr. said. "But as everyone can see, the beaches are now open and this year will be the best Fourth of July ever."