A group of about 30 people and two dogs gathered at the visitor information kiosk Wednesday morning as Anita Walker, executive director of Massachusetts Cultural Council, and Tisbury selectman Melinda Loberg cut a ribbon hanging below a new sign marking Vineyard Haven Harbor as a cultural district.
The Massachusetts Cultural Council designated the Vineyard Haven waterfront as the Island's first cultural district last May, the 24th such designation in the commonwealth.
"Thinking of Vineyard Haven as a cultural district seems like a duh, no brainer, it's already all here," said Ms. Walker, referring to the library, playhouse, shops and galleries dotting the Island's main port town. "A cultural district is more than that," she continued. "It's about the experiences the visitors have and the people in the community have."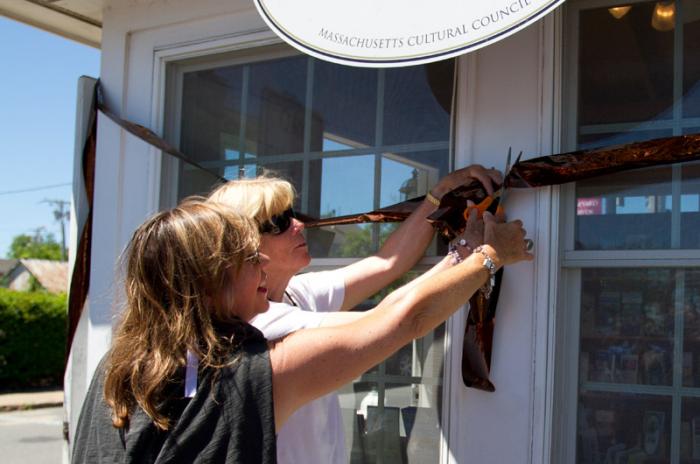 Ms. Walker said the Vineyard Haven Harbor is "really embedded in the city's planning and embraced by the entire community," and referred to the town's "inseparable connection with water."
Mrs. Loberg said working toward the designation helped the town focus on what it is.
"We floundered a little bit on our identity, this has really galvanized what our image is of our town," she said.
"It's fantastic that there's now even more life in the district. It's a lovely mix, it's what we represent," said Ann Smith, who is the executive director of Featherstone Center for the Arts and chairman of Art Martha's Vineyard and was credited with starting the effort for designation.
Ms. Walker agreed. "It is a story of who you are and what is special about this place," she said. "You have so many stories on this Island, I can imagine four or five more districts coming."
Also attending the event on a sunny, breezy June day were members of the Martha's Vineyard Playhouse including executive artistic director MJ Bruder Munafo, Vineyard Haven library director Amy Ryan, and selectman Larry Gomez.