A partnership led by a South Boston bar owner and condominium developer will pay $5.15 million for 51 acres in Oak Bluffs once planned as a luxury home development.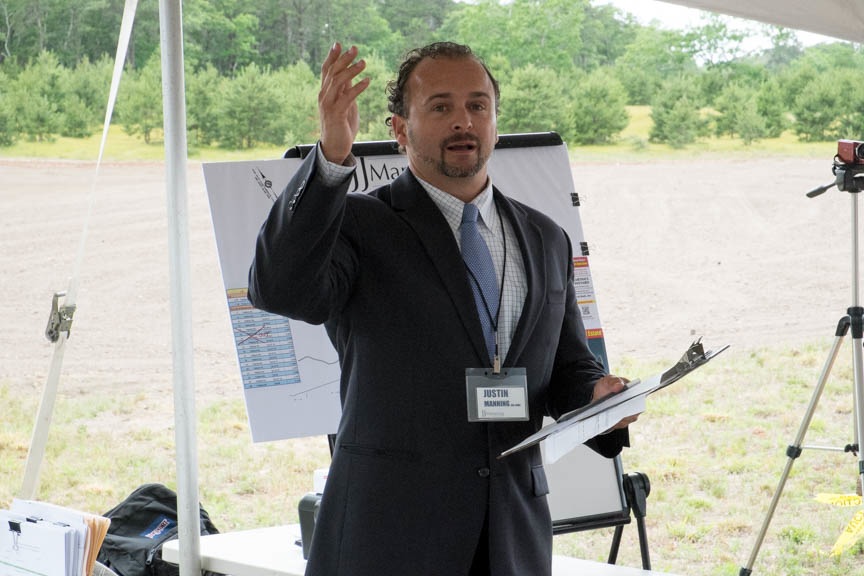 Paul Adamson, a real estate developer who also owns Shenannigans, a South Boston pub, was the high bidder at a foreclosure auction Friday, held on the property off County Road formerly owned by Corey Kupersmith.
Mr. Adamson, along with partners Chris Sage and Malcom Barber, said they often vacation on Martha's Vineyard and now intend to spend more time here in the near future. "There are four or five lots going to friends that want to live here," Mr. Adamson said. "Families that hang around together in Boston, now we'll hang around on the Vineyard."
The purchase includes 20 buildable lots and two open space lots once planned as the Preserve at the Woodlands, partially improved but never built. Mr. Adamson said the rest of the lots will be sold individually.
About 20 prospective buyers gathered under a tent at noontime Friday for the auction. Auctioneer Justin Manning of J.J. Manning Auctioneers asked for a bid of $8 million to get the auction started, but found no takers. Harry Patten of the Florida development firm Patten Companies opened the bidding at $5 million. A subsidiary of the Patten Companies held a controlling interest in the property, after buying the mortgage from People's United Bank in Connecticut, which had begun foreclosure proceedings. A company spokesman said earlier if no buyers offered an acceptable bid, Patten intended to buy the property back and sell individual lots at auction. Local buyers were on hand, hoping for that possibility. But when Mr. Adamson raised the opening bid to $5.15 million, Mr. Patten urged the auctioneer to sell, and the auction was over.
"It's a beautiful piece of property," Mr. Patten said. "It's time for us to move on. I think it's going to be a great asset for Oak Bluffs."
Among other things, the sale is contingent on Patten Companies resolving any permitting issues with town boards and with the Martha's Vineyard Commission. Also, the seller promised to deliver ownership of the roadways and an additional open space lot, at no further charge, at the closing.
The town of Oak Bluffs will benefit also from the sale. The buyer will be required to satisfy all tax liens on the property, which amount to about $350,000. Under another term revealed Friday, owners had agreed that if the property did not sell in its entirety, they would designate four lots to be used as either a buffer for nearby conservation land or for affordable housing. But that term became moot when the property sold as a whole.
The property was at the center of a divisive political battle beginning in the early 2000s when Mr. Kupersmith, a Connecticut developer, tried unsuccessfully to win approval for a private luxury golf club at the Southern Woodlands. A compromise plan emerged in 2004 when the land bank bought the majority of the property for conservation; a subdivision was allowed on the remaining 51 acres but never built.