Filmmaker Jay Craven doesn't fit any Hollywood molds. Never has. He is not so much an independent filmmaker as he is a community organizer who makes movies. Unfettered by capricious film distributors, fickle investors or short sighted publicity departments, he makes movies on a miniscule budget, and when they are done, he takes them on barnstorming tours, filling town halls and fire stations, drawing crowds that often have not seen a film in a theatre for years.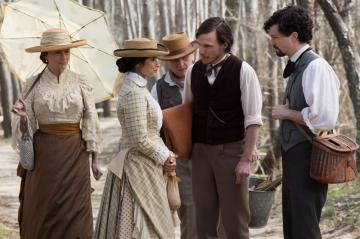 He has mastered the art of making very good movies for very little money.
"You choose stories that you can do," Mr. Craven said. "It requires producing within an inch of your life."
Based in Vermont's Northeast Kingdom, he has shown films in an old mill, occasionally interrupted by chickens wandering into the makeshift theatre. He has shown films in a South African courtroom where apartheid-era trials were held. He once showed a film at a hall that straddled the border between Quebec and Vermont. The screen was in Canada, the audience in the United States.
But of all the locations and venues he has been, Mr. Craven counts Martha's Vineyard as one of the world's special places. He has just launched another barnstorming tour showing his latest film, Peter and John. He is the writer, producer and director. It was shot entirely on Nantucket, but he wrote much of the script during a sabbatical on Martha's Vineyard.
"I find it the best place of all to sit and write and reflect," Mr. Craven said.
Peter and John explores the conflicting forces of family, war, love, money and faith, in a whaling captain's clan struggling to adapt to changing values in the aftermath of the Civil War and the decline of the whaling industry. The film premiered at the Nantucket Film Festival this week. It will be screened on the Vineyard on Monday, July 6, and Tuesday, July 7, at the Martha's Vineyard Film Center in Vineyard Haven.
Mr. Craven said he likes the Vineyard's diversity, its provocative intellectual bent, and the support Island residents have for the arts. When he needs to wrestle a screenplay into its final form, he often comes here.
"The earth, the sea and the sun, I just find it to be a very serene location," he said. "For Peter and John, I went to Chilmark and spent three weeks working this script into shape. I love Vermont, but there are so many distractions, so many demands on me. I come to the Vineyard every year for at least a few days."
This is the third of Mr. Craven's feature films written mostly on Martha's Vineyard.
Among the many projects he has in development is a film about the seventh generation of a fishing family struggling with the extinction of their way of life. While funding has yet to come together, Mr. Craven said he has always envisioned Martha's Vineyard as a location. His experience shooting on Nantucket illustrated how working in a small isolated place sharpens the local involvement essential to his production.
"An Island community is more tightly knit in some ways," Mr. Craven said
. "The key is to have a close connection to the community. There were 50 people on Nantucket that worked on the film in various capacities, many of them having never worked on a film before. A gal that's really good at organizing her husband's catering business becomes our location manager. A guy who is a carpenter becomes our set designer."
Peter and John is a story based loosely on a novel set in a seaside town by influential French writer Guy de Maupassant. It is about the sibling rivalry between two brothers. With period costumes, lush wide shots and superb acting, it has the feel of a film with a budget much higher than the $680,000 it cost to make. In Hollywood, a budget of $200 million hardly raises an eyebrow, these days.
Like many of his films, Peter and John has drawn an accomplished cast. It includes Jacqueline Bisset and Gordon Clapp in substantial roles. Christian Coulson, Diane Guerrero and Shane Patrick Kearns form the erstwhile love triangle.
Others who have acted in his productions include Martin Sheen, Michael J. Fox, Kris Kristofferson and Bruce Dern. While commanding staggering fees in other roles, all the actors in Mr. Craven's film agree to work for union scale. That is still a source of some amazement to him.
"They are juicy parts," he said. "It's a chance to have some fun, show some range. Some are at points in their career where they get mostly supporting parts, bit parts. They are very much character driven films. They like that. Jacqueline Bisset is still doing important films, but she likes to work and she saw this period piece with a substantial role as something that would give her a chance to try new things."
Mr. Craven is quite an anomaly in American filmmaking. Vermont is about as far away from Hollywood as you can get, yet he has carved out a remarkable niche in the industry, making low budget, high quality movies. He came to the conclusion, based on radical changes in the economics of distribution, marketing and film rights, that making independent movies backed by investors and based in New England is no longer a sustainable model. So he created a new model.
Mr. Craven signed on as a tenured professor at Marlboro College, a Vermont school well known for its arts curriculum. Each year, he enlists film students from Marlboro and a wide range of other universities to work side by side with professionals on all aspects of a film. The college backs a large part of the movie, the rest comes from grants and donations. He considers the new model a lot more like a community barn raising, or a vaudeville tour, or a live stage production, than a Hollywood blockbuster.
"In Vermont there are only 18 towns that have movie theatres," he said. "We play 100 towns. Fire stations, church basements, there is an infrastructure of these places."
Referring to an earlier short film, Mr. Craven spoke about the genesis of barnstorming distribution.
"We felt the film was rooted in these communities where we worked, so let's play these communities and see if the people come. And they do. Could we do this in the Midwest? I don't know, but we can in New England."