A gaggle of teenage girls stood crowded around a group of well-dressed Island residents last Sunday at the Martha's Vineyard Performing Arts Center. It was a perfect cross section of Jake Gyllenhaal's diverse fan base. His recent film, Southpaw, was being screened by the Martha's Vineyard Film Festival as part of their summer film series, and featured a discussion with Mr. Gyllenhaal following the viewing. Southpaw, a redemption story of a widowed boxer with a young daughter, will open in theaters nationwide on July 24.
"Thank you for making this the most successful MVFF fundraiser ever," festival founder and creative director Thomas Bena said to the audience before the film began. "We're trying to change the world through stories . . . I guarantee you, if you come to the films this summer you will walk out a little bit different than when you walked in."
Later that evening, Mr. Bena addressed the MVFF's current goal of building a barn in the woods where they can show the films, host live music and other community events. But for now, the summer series will continue at a variety of locations across the Island from Vineyard Haven to Edgartown and Chilmark.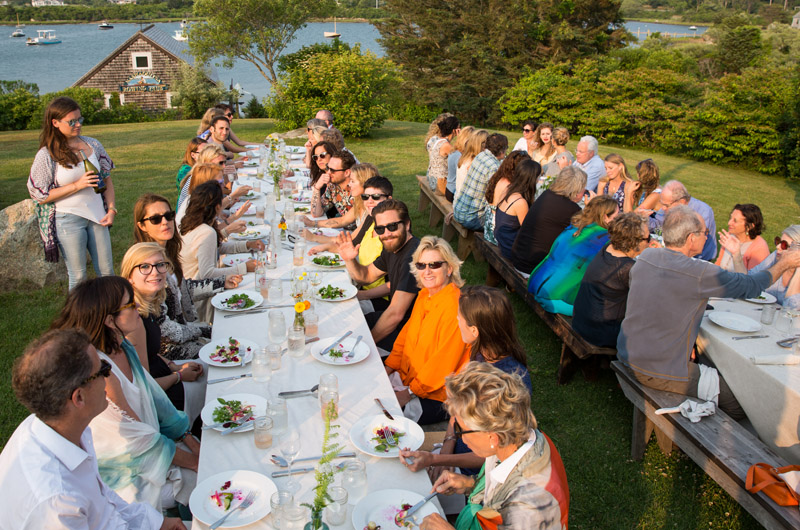 At the screening, Mr. Gyllenhaal addressed the crowd before the film began.
"Martha's Vineyard is in my heart, and this movie took a part of it," he said.
Mr. Gyllenhaal talked about his view of Martha's Vineyard being about "family," recalling summers on the Vineyard that he spent serving pizza and peeing on jellyfish stings (urine takes the pain away). Family is in part the reason why he chose to do the film in the first place, he said.
"There are a lot of punches thrown [in Southpaw], figuratively and literally," Mr. Gyllenhaal said. Family, he noted, stands out as a crucial part of a story that is ostensibly about boxing.
After the movie, Mr. Gyllenhaal returned to the stage to a thunderous standing ovation. Clad in a black hoodie and blue jeans that bore a striking resemblance to an outfit his character, Billy Hope, had worn during his self-destructive spiral, Mr. Gyllenhaal then proceeded to answer questions from the crowd.
One of the highlights of the Q&A was Mr. Gyllenhaal talking about his physical transformation over the course of his recent films. The routine Mr. Gyllenhaal followed for Southpaw included workouts twice a day for five months.
"I had five months to prepare and if I could train twice a day that would make it 10 months."
His previous film, Nightcrawler, required him to lose 30 pounds to play the emaciated character of Lou Bloom. The physical differences in these two films was staggering.
"This was a character that didn't have much to say, and wasn't very articulate with his words, he was more articulate with his hands," said Mr. Gyllenhaal said of the character Billy Hope. "So the discovery was much more physical."
Nevertheless, regardless of the character he plays, Mr. Gyllenhaal was quick to point out the affection he feels for each of roles he takes.
"I deeply love [my characters] and am sort of in weirdly love with them," he said. "If you've ever seen Nightcrawler, that may make me seem perverse."
Southpaw also marks the continuation of a series of darker, more serious films that Mr. Gyllenhaal has made, adding tragedy-struck boxer to a list of recent characters he has played that includes sociopathic news stringer, obsessive homicide detective and a set of mysterious doppelgängers.
Mr. Gyllenhaal concluded the Q&A by thanking the film's director, Antoine Fuqua, who had claimed he could pull something out of Mr. Gyllenhaal that previously no one else had.
"It was like a typical Hollywood lunch, you know? Oh, I see something in you that other people don't see in you,'" Mr. Gyllenhaal said.
Yet the physical and emotional transformation Mr. Gyllenhaal went through on screen did indicate that Mr. Fuqua succeeded to the point that one audience member even found it appropriate to ask how he could possibly decompress after such an intense role.
"I come to Martha's Vineyard," Mr. Gyllenhaal said with a smile.