It was the night before the big three-day Vineyard Cup and sailors and friends of sailors were out in force. But they weren't on the water. They were at the 24th annual Seafood Buffet and Auction to benefit Sail Martha's Vineyard.
The event is the year's biggest fundraiser for the nonprofit group that provides free sailing lessons for Island kids. This year the program also paid tribute to S. Bailey Norton of Edgartown.
Sailors came from near and far. Perhaps the farthest journey was undertaken by The Blue Peter, an 85-year-old teak sloop, which had arrived from London.
"We love Sail Martha's Vineyard," said Tod Bassett, captain of the yawl Magic Carpet, a 56-foot yawl out of Edgartown. Mr. Bassett had made the trip to the Tisbury Wharf in Vineyard Haven with his co-captain, wife Lee Taylor.
"When I was a kid growing up, there were no opportunities to get on the water," Mr. Bassett said. "Back then, I taught sailing to myself."
Adam Moore, executive director of Sheriff's Meadow Foundation and a friend to sailors, always puts the event high on his summer list.
"This is a summer favorite, located overlooking the water, and connects well to their mission," he said.
V. Jaime Hamlin catered the event and John Terrio was the auctioneer.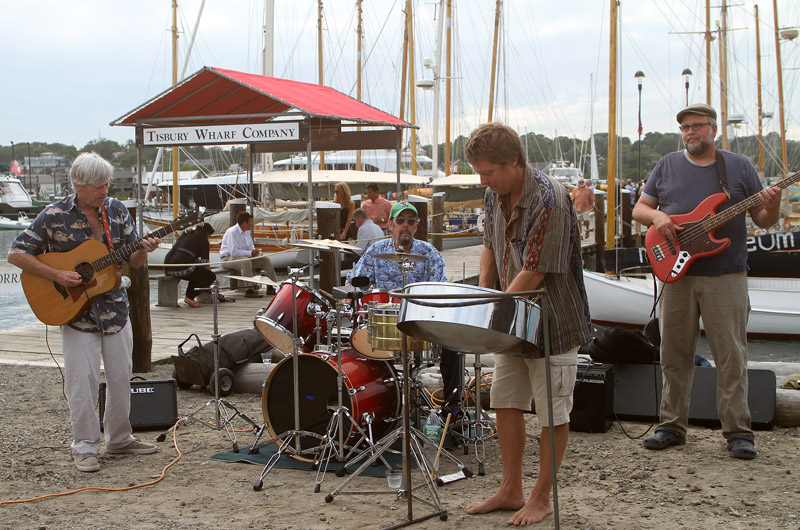 Peggy Schwier, president of Sail Martha's Vineyard, gave the opening welcome.
"This is such a focus event for us," she said. "Look at the beautiful boats out there." Her comments brought cheers from the crowd.
Brock Callen, director of the nonprofit, thanked those gathered.
"What a gift to wake up every morning to work with the kids and the sea," he said. "We couldn't do it with out you."
Sail Martha's Vineyard will serve 600 kids and 500 adults this year, Mr. Callen said.
Auction items ranged from several daylong boat trips to a seven-day safari to South Africa. A fishing trip with Buddy Vanderhoop went for $1,100.
Mr. Norton was the recipient of the Sail Martha's Vineyard's annual Walter Cronkite Award.
Steve Ewing, Edgartown poet laureate, read a poem about the distinguished mariner and Matthew Stackpole talked about Mr. Norton's devotion to his town and the Island. He recounted how Mr. Norton and his brother sold the Norton Boathouse to the Martha's Vineyard Preservation Trust at a low market price, and spearheaded the effort to bury the power lines on North Water street so that the street now appears as it had in the days before utility poles.
After dinner, Mrs. Schwier said she was elated by both the support and the turnout.
"I think the night was incredible," she said. "The energy was fabulous. Having Bailey there was just so important to the evening. I love everyone being together for a common cause. Some in the audience had been to all of our auctions for all 24 years."