A future plan to expand the boundaries of the Edgartown historic district saw general support at a public hearing this week.
About 20 community members attended the hearing, hosted by the town historic district commission Tuesday afternoon, to voice their support and make suggestions. Commission members said they hope more people will attend a second public session planned for August. An FAQ sheet was handed out along with a map showing the current district and the proposed district.
"It is not the intention of the commission to prevent growth. We do not prevent change or construction, but guide change," said chairman James Cisek.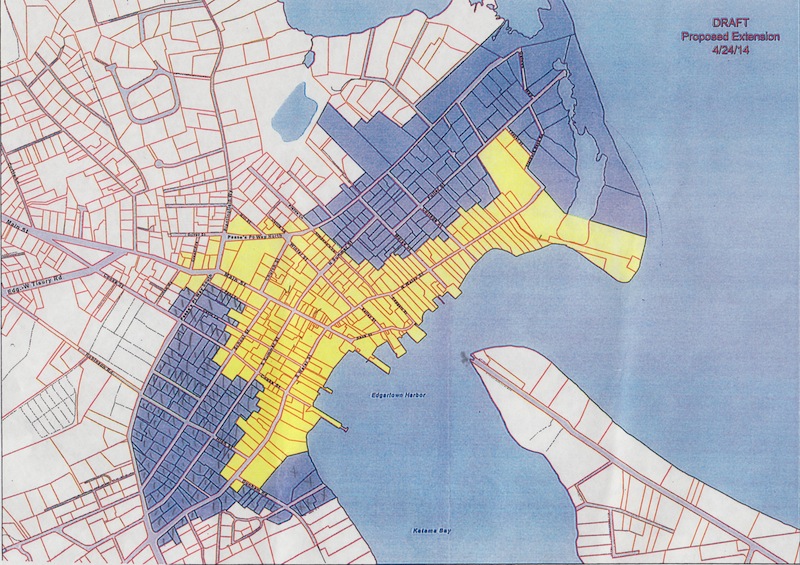 Adopted in 1987, the current historic district is confined largely to the heart of the downtown, where the commission has architectural review over changes made to 343 homes and buildings. If redrawn, the district would include 709 buildings, stretching from the harbor westward to Pease's Point Way, with a rough northern boundary at Eel Pond and a southern boundary at Dunham Road. The expansion would add 279 downtown parcels to the existing 286, increasing the area from 74 to 183 acres.
In a survey sent out to homeowners this spring, a majority of Edgartown homeowners polled about a possible expansion of the historic district said they'd like their properties to be included. The expansion idea is still in an early phase and must win approval from voters at the annual town meeting in April.
At the hearing this week some expressed concern that current bylaws lack teeth, especially when it comes to enforcement and control over demolitions. If the district is to be expanded, supporters said they wanted the commission to be better able to enforce their decisions. Currently enforcement of the bylaw is done through the superior court, with homeowners liable for fines ranging from $10 to $500 for violations; the court also has the power to order the removal of a building or feature that violates the bylaw.
Suggestions included sending out a notice to every homeowner in the proposed expansion before the next public hearing and allowing for more freedom of expression in paint colors.
Anne Vose, a homeowner in the current historic district, asked the commission to consider the view from the water as well as the view from the streets.
Jay Kaufman, who also lives in the district, recommended holding a walk-around where community members tour the proposed district and committee members could showcase some of the places they are keen to save and answer questions.
Benjamin L. Hall suggested an architectural expert be appointed to advise the commission.
Dudley Cannada brought up the possibility of including individual houses that are not in the district as landmarks to bring them some of the same protection. The hearing will continue on August 11 in the Edgartown town hall at 4 p.m.