Even without the lights, props and sets of their folksy, candle lit shows, the PigPen Theatre Co. managed to transport about 50 people on Friday night into a ghostly world where banjos reign supreme and a bear can be so much more than a bear.
As a part of the New Writers, New Plays series, PigPen had been bunking at the Vineyard Arts Project all last week, and last Friday night's show was the first staging of the re-imagining of The Hunter and the Bear, the first play they created many years ago.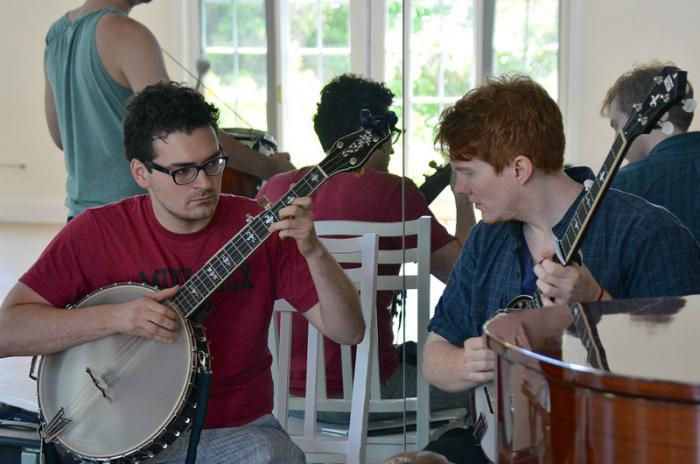 "The title is really the only thing that we kept from that show," said Dan Weschler. "It's a lot about going back to our beginnings and taking everything we've learned in the past nearly decade and applying it to that first seed idea that had enough power to get us through the next 10 years."
When they premiered The Hunter and the Bear at Carnegie Mellon's Playground Festival in 2007 it was only 10 minutes long. Now it's working its way toward two hours. PigPen Theatre Co. is the combined effort of Alex Falberg, Arya Shahi, Ben Ferguson, Curtis Gillen, Dan Weschler, Matt Nuernberger and Ryan Melia. The group first got together as undergraduates at Carnegie Mellon University.
"Really it began as just a group of students trying to implement the skills they were learning in class in a creative process," said Mr. Weschler.
Ars Nova and the Manhattan Theatre Club recently commissioned the group to re-imagine The Hunter and the Bear as a part of The Writer's Room. The company had gone over their script in a workshop environment with other commissioned writers, then came to the Vineyard to deconstruct the script and try to find its essence. In five days, they wrote an entirely new script, breaking off chunks for each member to concentrate on.
PigPen first came to the Island years ago to do a show with the Island Theatre Workshop. In subsequent summers they workshopped The Old Man and the Old Moon at the Vineyard Arts Project. That show went on to a successful run in New York city.
"We've been very fortunate," said Arya Shahi about returning to the Vineyard. "We're starting to feel like this weird cousin who gets invited back to the reunions."
Since they started working with Vineyard Arts Project while they were still in college, coming back helps keep their thinking fresh.
"I think that's what Vineyard Arts represents to us in such a big way," said Mr. Shahi. "Being back here allows us to be a little more playful, a little more creative."
At Vineyard Arts Project, artists in residence live at the compound with access to spacious studios and are encouraged to focus on their creativity.
"It's a real playground environment, we've been so lucky to be here with just amazing writers and actors year after year," said Mr. Weschler. "This year were here with Cirio Collective. You can tell the difference between us because they are the ones who are chiseled like Greek gods and goddesses."
As a company, PigPen tries to keep their developmental process as collaborative as they can. Generally one person will come up with an idea, and the rest will add to it until it becomes a performance-ready piece.
"We just lean into people's strengths," said Mr. Shahi. "Whatever people really want to pursue, we let them pursue and then eventually, over the course of time, the seven of us compile all of those ideas and smooth them over so it's one voice, not seven voices."
Though their performance at Vineyard Arts Project featured just the company and their instruments, the final product, which they said may be ready in a year or so, will get the full PigPen treatment complete with creative lighting, puppetry and adjustable sets. For their first few productions, the company made their own puppets, but now they work out a prototype and their collaborator, Lydia Fine, makes a polished version.
"We just have big imaginations and it's nice to have someone a little craftier or a little handier to make those things come to life," said Mr. Ferguson.
They also rely on Bart Cortright who makes a lot of their custom lights.
"We always talk about the greatest thing that can come from someone seeing our show is a desire to create," said Mr. Weschler. And from seeing how an entire world can be created from cardboard cutouts and a few flashlights, its not hard for the audience to come away inspired.
The Hunter and the Bear is a bit darker than their past productions as it deals with the death of a child and some deeply emotional themes. However, PigPen handles the story with a mixture of well timed humor and appropriate seriousness.
The group has been busy of late off-Island, too. They are working on two other plays, recently released their second album, Whole Sun, and made their film debut in Ricki and the Flash.
"The drama kids in us were freaking out," said Mr. Shahi about being on set with Meryl Streep. "Our little drama kid hearts were going into overdrive, and then the musicians in us, first of all there's The Flash, and it's comprised of every studio musician of the '60s and '70s so we were literally surrounded by the people we were listening to our entire lives."
"Kevin Kline taught me to play the blues," said Mr. Weschler.
They said the three to five days they spent on set were mostly hanging out and playing the g-chord. "Everyone learn to play the g-chord if you want to be in a movie," advised Mr. Shahi.
When the company has free moment they like visiting Menemsha, getting Back Door Donuts and collecting wooden nickels by drinking beer at Newes from America.
"We've been collecting wooden nickels for six years now," said Mr. Shahi. "We still don't have enough for a plaque, so if there's is any way they could throw a few bones, we're real big fans."