Where to start? I was all set to write about the osprey population on the Vineyard but realized after Flip Harrington, Allan Keith, Pete Gilmore and I went on an early morning trip to the flats at Quansoo on July 24 that shorebird migration was in full swing. Later the same day I started getting reports from others. The list was amazing. All of a sudden it was raining shorebirds. Large numbers (in the hundreds) of semipalmated plovers, least sandpipers, sanderlings, short-billed dowitchers plus a few semipalmated sandpipers, spotted sandpipers, both greater and lesser yellowlegs, black-bellied plovers, ruddy turnstones and a banded red knot were being reported from various beaches around the Island. The reports came tumbling in from Culbert at Little Beach, Mayhew and Papian at Quansoo, Magnuson and Woessner at Norton's Point, Allen, Bellincampi and Ditchfield at Sengekontacket and Simmons at Squibnocket.
Many chicks of shorebirds that nest on the Vineyard were found by the above mentioned observers. Our crew at Quansoo counted 14 piping plover on July 24, four of which were chicks. Rob Culbert found two fledgling piping plovers and an adult with three small chicks. Tim Simmons found four adults and four piping plover chicks at Squibnocket on July 22. Michael Ditchfield counted two willet chicks almost full grown at Sengekontacket on July 24, and Tim Simmons spotted two American oystercatcher still on the nest at Squibnocket. It will be interesting to discover how many American oystercatchers survived out at Norton Point and other Island beaches. Our crew did not find any immature oystercatchers at Quansoo. The number of willets nesting on Sengekontacket and Chappaquiddick will also be of interest. So keep your eyes open, birders.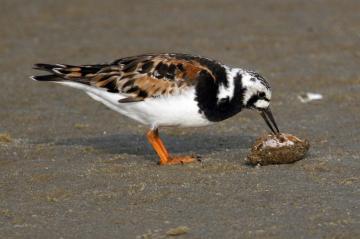 The Vineyard's osprey reports have been spotty this year. We are still awaiting reports on 11 nests. As it stands now, according to Dick Jennings, there were 86 breeding pairs of ospreys on the Vineyard this year. That is by far the highest yet. The next highest was in 2014 with 82 breeding pair, of which 19 failed. There are always failures and so far Dick Jennings has found 28 nest failures for 2015. This may change when the final 11 nest reports are in. We do not have a final number of fledged ospreys but Dick figures it will be around 70.
On Tuesday, July 28, Dick Jennings discovered that one of the young osprey from the nest next to the Dike Bridge on Chappaquiddick was missing. It was discovered soaking wet sitting in the water in one of the trenches dug years ago for mosquito control along Poucha Pond. A kayaker was kind enough to paddle Dick over to the grounded osprey, and he was able to slowly walk up behind the young osprey, carefully pick it up and place it in a box.
Next stop Gus Ben David's. Rehabilitating young or injured ospreys is not a new gig for Gus. In the past, there has been many an injured bird, ospreys for one, visiting his facility. This year alone Gus received a young osprey that was weakened from the nest along the ocean drive in Falmouth. Yesterday that osprey, with its strength back thanks to Gus, was released and flew off. Another young osprey from a nest near Cape Pogue is being tended to by Gus. Gus wanted to add that if it had not been for The Net Result supply of fish as well as Cooper Gilkes, he would not have had the food to feed the ailing ospreys. The ospreys thank both the Larsens and the Gilkes.
We hope that this latest young osprey gains strength under Gus Ben David's care and can return to the wild.
Bird Sightings
Linda Alley was on Tiasquam Road in West Tisbury on July 23, near the house owned by the Howes family, and spotted a leucistic gray catbird. Tom Hodgson was able to get a distant photo of the bird as it mingled with other catbirds in the same bush. Both Tom and I figure this leucistic catbird is a year bird and is still near its parents and siblings.
Although great egrets seem to be the "egret of the summer" with multiple birds being reported from many sites (nine at Quansoo July 27), there is now a snowy egret report. Ken Magnuson photographed one at Norton Point on July 25.
Flip Harrington was concerned as he counted 13 dead Cory's shearwaters in Vineyard Sound during the week of July 20. There has been a die off of shearwaters around the Bahamas and perhaps we are experiencing the same problem.
Luanne Johnson of BiodiversityWorks who, along with the BiodiversityWorks crew, has been monitoring shorebirds and black skimmers and terns reports that there are five pair of black skimmers at Little Beach in Edgartown and that, last count, they had produced nine chicks.
Lanny McDowell heard a Chuck-will's-widow by the Dike Bridge on Chappaquiddick on evening of July 23.
On July 21, I led the first of the season Chilmark Community Center bird walk. Maria Alvarez and Manuel Sosa of Madrid, Spain joined me for a walk along the western shore of Tisbury Great Pond. We spotted 30 species; the highlights included American oystercatcher, spotted and least sandpipers.
Now to the Atlantic puffin. We still have no photograph but I did receive the following email from Barbara Baskin:
"I was happy to read your article in the most recent Gazette re: puffins. I was hoping others might have seen the bird I observed in the late afternoon of 7/9 while at the East Chop Beach Club. I watched it floating in the water for well over an hour. Nobody was swimming nearby and there were few people on the beach so it was happy to stick around. Got out my weak binoculars and am convinced it was a puffin with the wide, parrot-like, stubby bill with orange markings, very exotic, distinctive head with prominent white
markings. Flapped its wings off and on — very peaceful. Sorry no photo — did not have a camera or my phone. I am not a birder, but looked up puffins online to try and identify what I saw and feel confident it was most likely our Island puffin visitor — your article pretty much confirmed it for me." So, I guess I might just have to say there is an Atlantic puffin hanging around the Vineyard this summer. I would still like a photo as I am a doubting "Tomasima."
Please report your bird sightings to birds@mvgazette.com.
Susan B. Whiting is the co-author of Vineyard Birds and Vineyard Birds II. Visit vineyardbirds2.com.