Last Saturday night, Laurel Redington bounced around Alex's Place at the Martha's Vineyard YMCA preparing for the show to begin. Ms. Redington is the assistant director and the "go-to girl" at the teen center. At Alex's Place, she teaches kids "good eye contact, and a firm handshake." She also helps them rock.
Saturday's show was called We Are the New Generation and featured several performers young in age but wise in experience. There were six musicians in total, and each performance helped confirm a statement made at the beginning of the night by Tony Lombardi, the executive director of Alex's Place and the emcee for the night: "We have nothing to worry about regarding the future of music."
Kasey Stevenson opened the night with a voice that immediately illuminated the dark basement. Kasey just finished her sophomore year at MVRHS and last summer she opened for Charli XCX at Flatbread's Stars and Stripes Festival. Her set featured a heartfelt song to her grandfather.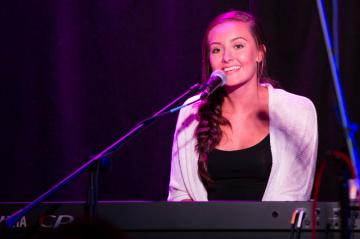 Robert Hanjian was up next. He walked on stage, plugged in his guitar and sang Stand by Me. His version of the classic song reminded many who had seen him at this year's Stars and Stripes Festival why his performance lingered as long in the mind as the headliner Walk the Moon.
Liam Weiland will be a junior this fall at the regional high school, but already he performs at the national level as a member of the Misfits of Avalon. He played piano and guitar, and when he sang Van Morrison's Brown Eyed Girl he transported the crowd to a place of green grass, transistor radios and a misty morning fog.
Alex's Place is a safe haven for both Islanders and summer visitors. It's a place where teens can just hang out or hone their craft in a professional recording studio. Jami Belushi travels here from Los Angeles each summer with her dad, Jim Belushi. During her performance she paid tribute to her father, and then she pulled him on stage to back her up on harmonica.
Nate D'Angelo, a senior at MVHRS, has opened for Ellis Paul, performed at Club Passim in Cambridge and hosts the Aquinnah Library Music Series. He sang, played guitar and harmonica, and talked sarcastically with the audience in between songs.
Caroline Sky from San Francisco closed the show. She has performed with Narada Michael Walden, released a CD and made a music video. Playing both guitar and piano, she dominated the stage. The vibration of her voice shook the walls of Alex's Place.
Each performance was unique but all the performers shared one thing in common — their adoration for Ms. Redington and Mr. Lombardi, and their home at Alex's Place.