August 2 was a perfect summer Sunday with which to begin the Holmes Hole August series. The gentle WSW breeze of the 10 a.m. race built nicely to around 12 mph by 2 p.m. The morning race was two trips around the harbor on a rising tide.
Twelve boats entered the 10 a.m. race. The sprightly Gloria, a C&C 24 skippered by Roger Becker, took the first spot in the B Division. Isabella, a G&B Bella sailed by John and Lisa Stout, was second, and Jerry Goodale's Stormalong, a Pearson 31, came in third. For the A division, Phil Hale's J/100, Tango, was first. Escape, another J/100 sailed by Tom and Laurie Welch, was second coming in less than a minute behind on corrected time. In third place was Masquerade, a Morris 36 skippered by Michael Loberg.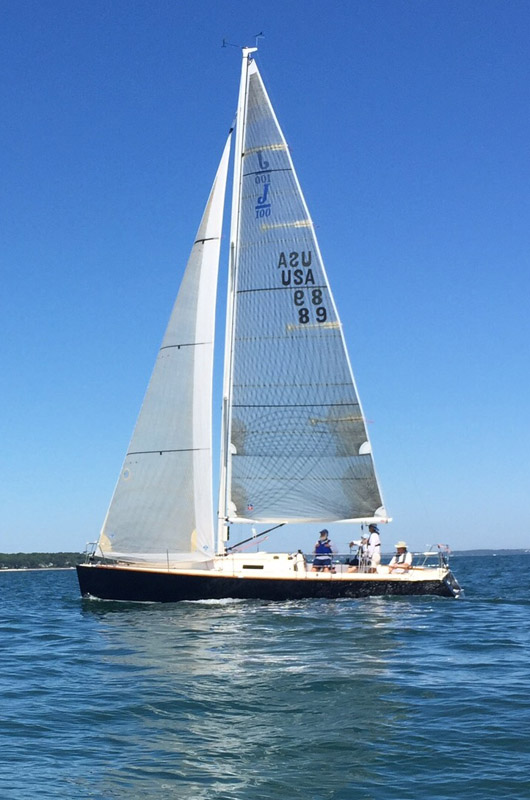 Again 12 member boats showed up for the 2 p.m. race as well as a guest catboat aptly named Catfish owned and sailed by Gordon Litwin. The race this time was halfway across the Sound, back to West Chop, over to East Chop and home. By 2 p.m. the tide was ebbing strongly and so compensations for the westbound current had to be made.
In the B Division, last week's winner, Julia Lee, a catboat with Woody Bowman at the helm, won yet another coffee cup. Avanti, a Cape Dory skippered by David Lott, was second, and Isabella came in third. There were just three boats in the A Division. Escape was first this time with Tango only a minute behind on corrected time, although almost five minutes faster on elapsed time. In third was Truckin', a J/70 sailed by Charlie Felder and Zander Meleny. The speed of the winning boat in the afternoon was 4.6 knots.
The previous Thursday, July 30, marked the end of the HHSA June/July series. It was another wild and windy overcast evening, and most of the 14 boats were reefed. Gusts were as strong as 25 mph, and sailors of smaller boats were pretty soaked by the end. The spanking breeze made for a swift circle of the harbor, however, and the shortest elapsed time was 31 minutes, while the longest was 53. For the series, Masquerade and Tyche held their leads and secured the cup for 2015.
In the A Division, Artful Dodger, a Tartan 3500 sailed by Mike Powers, came in first. Second was Michael Loberg's Masquerade, a Morris 36. Another Morris 36, Undine, skippered by Ed Cerullo, was third.
For the B Division, Avanti took first place, and Isabella was second. In third place was Tyche, a Vineyard 15 sailed by Bow and Katie Van Riper.
Holmes Hole changed its name to Vineyard Haven in 1871. One account holds that as the good citizens of Holmes Hole prospered and traveled abroad, they were embarrassed to hail from a town with "Hole" as part of its name. "Haven" sounded better. Interestingly, residents of Woods Hole evidently did not harbor those same reservations. Today Holmes Hole sailors claim the name with pride.
HHSA races are held on Thursdays and Sundays. All are welcome. For more information, please visit holmeshole.org.