Becoming Bulletproof, a new docu mentary by Michael Barnett about Zeno Mountain Farm, offers a glimpse into a world that more closely resembles a utopia than a traditional camp. Terms like campers and counselors are not used, neither are staff and clients. Instead it is a "community of friends."
No one pays money to attend Zeno Mountain Farm, nor does anyone, including its directors and administrators, get paid to be a part of Zeno. Instead, friends with and without disabilities gather at three campuses located in Vermont, Florida and California, to act and make films, record music, perform theatre and compete athletically. In more general terms, they play together.
"As adults we have like two weeks of vacation and the amount of play in your life gets squeezed, so I think that's why people keep coming back to Zeno," said co-founder Ila Halby.
Ila grew up on Martha's Vineyard, the daughter of Mary Vivian and Kirk Briggs. She graduated from the regional high school in 1999, and during summers worked at Camp Jabberwocky. One year she met Peter Halby there, whose family owns a house in Vineyard Haven where he spent summers.
"I came halfway through the session and someone said I think he [Peter] likes you, but I didn't believe it because he was five years older," said Ila. She does now. They have been together for 14 years, are married and have two children together. Their work also serves as a foundation for their relationship.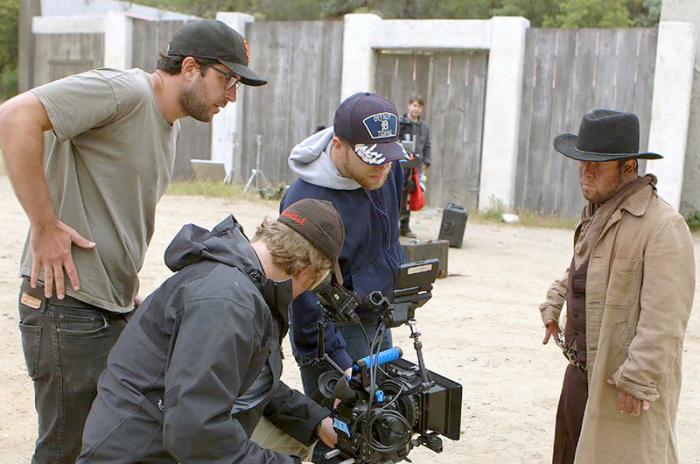 "It's cool because we came to it individually but we have such a shared passion for this," said Ila.
Ila's experience at Camp Jabberwocky inspired a change of direction in her course of study at Boston University, shifting from a physical therapy track to preparing for a career as an occupational therapist. She also worked in adaptive sports and at a school for the blind.
"Jabberwocky helped me refine what I wanted to do a little bit," she said. Meanwhile, Peter independently pursued similar interests. He managed AccesSportAmerica, a sports and training program for people with disabilities in Boston, and worked as a teacher. "Zeno sort of grew out of all these different experiences," he said.
In 2008 the couple founded Zeno Mountain Farm, along with Peter's brother Will, also a Vineyarder, and his wife Vanessa. Together they bought a facility in Lincoln, Vt. and moved there full-time.
"Vanessa always said she wanted to move back to Vermont and have a commune. This is a little bit of a different take on that," said Peter.
They drew from their experiences running shorter programs in Florida and California around sports and filmmaking to build a sort of home that they describe as radically inclusive. This isn't a hyperbolic characterization of Zeno.
"There is no staff-client divide," said Ila. "There is no delineation as to what category you are in. To me that doesn't really make sense. Instead, everyone is expected to contribute to the highest level of their ability."
Zeno has home bases in Vermont, Florida and California, out of which different programs are based, and span different weekends, weeks and months. Camp is in session 120 days a year, and each year around 500 individuals, some able bodied, others with cerebral palsy, Down Syndrome, or Williams Syndrome, come together to work and play together. Invitations then stand for all participants to return, year after year. They become a part of the Zeno family in perpetuity.
"Every camp has a focused project," said Ila. "The movie camp is making a movie. In the summer we do a big play and march in the parade. In the sports camps we all compete for the sports camp cup, which is a colander spray-painted gold screwed to a bowl upside down. It's the most important thing of the week. So every camp has its own unifying goal."
Becoming Bulletproof is a documentary about Zeno's Los Angeles camp, at which about 40 people get together to make a short film over two intensive weeks of filming. AJ Murray, an actor in the camp's 10th film to date, is an adult with cerebral palsy who entered Zeno seeking opportunities for social interaction and companionship.
"He was looking for any kind of social outlet, anyone to talk to," said Ila. At Zeno, AJ encounters love and friendship, and perhaps most meaningfully, he develops a sense of purpose.
"At camp I feel significance, dignity and purpose," AJ says in the film. "Other people are relying on me and I am contributing. At home I don't feel like I get to contribute. I don't feel like I get to contribute in society. I don't get a say, I feel so worthless."
In the documentary AJ reflects on his experience at Zeno: "Once you realize how much things can be done with love and positivity and inclusiveness and understanding it is really, really hard to go back to the real world."
Jeremy, an actor with Williams Syndrome, thrives at Zeno too. "I don't consider Williams Syndrome to be a disability. I think it is just a personality trait," he says in the documentary. Later when asked what he's thinking about, he responds: "Just how great life is, being here."
Zeno's founders are settled in their aim to provide opportunities for meaningful work and friendship for everyone. "It's a human right to matter and to have responsibilities," said Peter.
"And friendship," added Ila. "It is really kind of basic humanity but it is also innovative at the same time. That's why I think people are responding to the movie."
The documentary tracks Zeno's production of Bulletproof, an original western film, from start to finish. It has won numerous awards and already has had a big impact. AJ has traveled the country to attend screenings, where throngs of people line up to meet him. The documentary showcases how art benefits from the contributions of individuals with diverse abilities.
"As far as doing creative projects I think it's enhanced by having a huge array of people who talk differently and act differently and move differently," said Ila. "To me it's more interesting with that cast."
Ila hopes that the film might impact Hollywood norms too. She notes that oftentimes actors without disabilities are cast to interpret characters with disabilities. In the film, AJ expresses an interest in continuing his career as an actor, which would certainly offer him the opportunity for sustained social interaction.
"I think the first step is to increase media saturation of people with disabilities and just that radical inclusion within movies or commercials," said Ila. "We could try and have Hollywood step up a little bit with this inclusion. People with disabilities are 20 per cent of the population. It's a huge category that is not really reflected on TV."
Zeno unites individuals from very different backgrounds. Some live at home, some in group homes and others are accommodated through state systems. The camp is run on donations and proceeds from performances and screenings of their movies. The documentary's proceeds will all benefit the camp, too. Professionals from various industries contribute their talents during breaks from regular paid work.
"Nowhere else would this crew be hanging out together," said Ila.
People open up at Zeno, become raw and exposed, and share their best selves with each other. They work hard, play hard, and sometimes even fall in love at camp, much like Ila and Peter once did.
"People fall in love because you really see the heart of somebody," said Ila. "You get to know the real deal when you are working really hard and everyone is caring about and for each other. It is a supportive place where the best of people come out."
Zeno's founders dream of seeing more communities like this sprout up. They think their model could be used to run programs that target other communities that lack opportunities for genuine friendship.
"It could be poverty, or MS or cancer," said Ila. "We would love to maybe someday train or mentor people to run programs like this."
"It's such a simple thing to work really hard and pour yourself into something and then feel really proud, but with this population it is really innovative," Ila added. "I really feel like I can't find anything more fulfilling to do with my time or energy."
Becoming Bulletproof screens at 8 p.m. on Thursday, August 13 in Owen Park in Vineyard Haven. Ila and Peter Halby and AJ Murray will be on hand to lead a discussion after the movie. Before the movie, beginning at 6:30 p.m. there will be a free workshop for kids on filming a short western. Visit tmvff.org for more information.