The mini-park on Main street Edgartown is undergoing a surprise mid-August renovation courtesy of Donaroma's Nursery and Landscaping Services and Edgartown Books.
The land is owned by the Hall family and leased by the town. Selectman Michael Donaroma's landscaping company is in charge of the renovation. The total project cost comes just under $75,000, Mr. Donaroma told the Gazette this week, with costs being split equally between him and Edgartown Books, owned by Jeffrey and Joyce Sudikoff. Mrs. Sudikoff wrote a check, and Donaroma's donated supplies and in-kind labor, Mr. Donaroma said. The completed project will be gifted to the beautification committee, which will then help raise funds for accessories including benches and lanterns.
"It was quite in disrepair," Mr. Donaroma of the park. "We had maintained it, maintained it, maintained it and finally we got everybody to agree to let us do something major."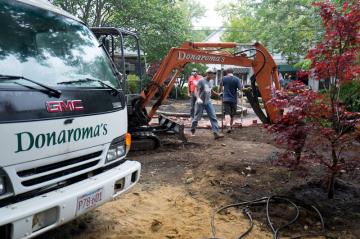 And while August is not usually the time for major landscape construction work in the heart of the village, the two-week renovation got under way as soon as everything was approved. "We finally got the Halls to agree to it, and that was enough motivation to get it done," Mr. Donaroma said.
Extensive brick work and new sod are part of the transformation for the small public park. The project was designed by Cammie Naylor of Donaroma's. Mr. Donaroma said they tried to keep down the noise by moving the brick cutting off site. Access granted by surrounding businesses allowed construction workers to avoid taking up town parking spaces, which are a scarce commodity in the summer months.
"We actually parked on site, that's what I was most concerned about, because you can't take up any town parking spaces," Mr. Donaroma said. "We didn't bother anybody other than a little dust and noise."
To avoid a conflict of interest as an elected official, Mr. Donaroma said he is giving the gift as a private citizen.
"I could be anybody," he said. "I could be the President."
As for the construction site on Main street at the height of the summer season, Mr. Donaroma said: "It provides entertainment for people walking by."