With the 154th annual Martha's Vineyard Agricultural Society Livestock Show and Fair less than a week away, farmers across the Island are preparing for competition.
"It's the busiest week of the whole year," said Rebecca Miller, co-owner of North Tabor Farm in Chilmark who will enter a goat named Winthrop and farm-raised vegetables in the fair this year.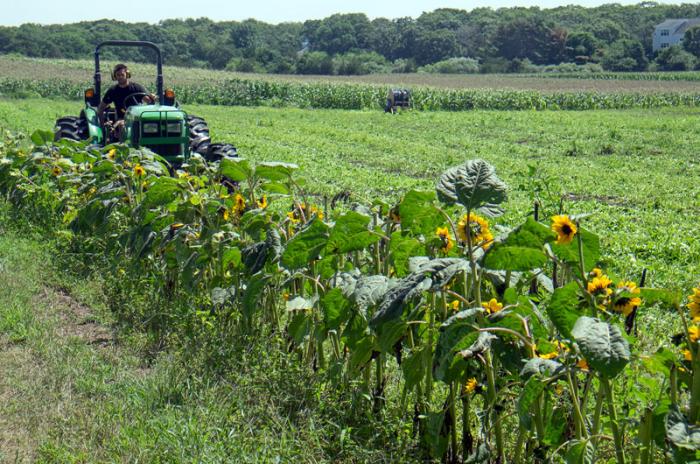 Goat and cattle exhibitions, judging of sheep, llamas and alpacas, an ox pull, corn husking contest, goat milk soap making demonstration and antique tractor pull are just a few of the events that will take place over the course of four days beginning next Thursday, August 20 and running through Sunday, August 23. Fair grounds are at the Agricultural Hall in West Tisbury. All roads lead to the fair, an old Island flier proclaimed.
This week dainty alpacas pranced around their pens at Island Alpaca, some with blue ribbons attached to their stalls. Awards of different shapes, sizes and colors adorned a wall inside the farm store. The accolades bode well for the farm's entries in the 2015 fair. "We are sending three alpacas to the fair," said owner Barbara Ronchetti. "Their names are Mozart, Atticus Rex and Holmes . . . . We transport them in a mini van and they love being in the AC."
Contestants won't just enter their livestock at the fair. Commercial farm operations and backyard farmers, all blue ribbon hopefuls, will enter fruit, vegetables and flowers in appropriate categories. Jefferson Munroe, owner and operator of The Good Farm in Vineyard Haven, raises mainly chickens, ducks, turkeys and pigs, but won't enter livestock in the fair this year. "It's a lot of work. You have to monitor them and it's stressful on the animals," he said. "And the way the regulations work you have to have your flock inspected, and right now I have about 1,400 chickens so they can't even really do a full inspection." Instead, he will bring raspberries to the fair. His prep routine is simple. "We just make sure they are really delicious. We have a couple of varieties, so the ones that are really looking great, we bring those along."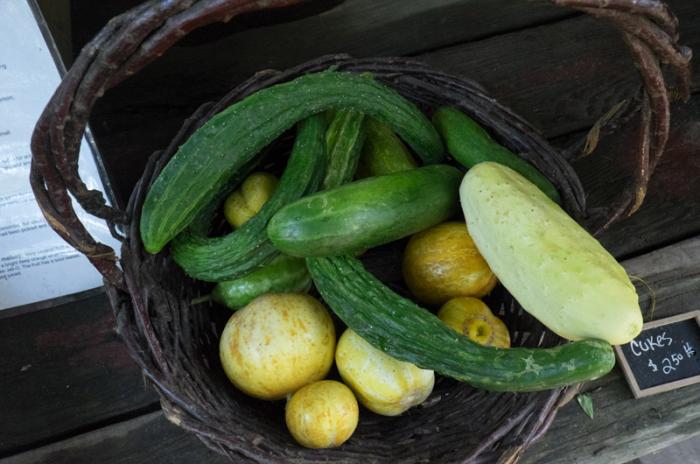 Puddles in the dirt driveway at Whippoorwill Farm in West Tisbury put a smile on Andrew Woodruff's face mid-week. "It's a happy day because it just rained," he said. "Maybe you call it a grateful day." He contemplated the crops that grow in his field and decides that his tomatoes are worthy of entry in the fair. He also reflected on the state of agriculture on Martha's Vineyard and is pleased with the outlook. "There are a lot more growers than there have been in years," Mr. Woodruff said. "What's exciting is that there is really a renewed interest in agriculture on the Island, and there are all sorts of varieties of food being grown here." He took a bite out of a pear picked from a tree he leaned on. "This has been a fantastic fruit year on the Island, so look for a lot of really beautiful fruit at the fair," he said.
Since early this month, the Martha's Vineyard Agricultural Society has been receiving fair entries, enlisting volunteers, setting up pens and stalls and mowing the fairgrounds. "Farming people usually wait until the last minute to enter their crop so it's hard to say how many we have," said entry clerk Eve Heyman.
A growing number of small farmers on the Island are consumers farming their own land so they can control and interact with the food they eat. Educational resources like the Island Grown Initiative have sprung up around this movement. "The IGI put us on the map," said Liz Packer, owner of Spring Moon Farm in Vineyard Haven. "They literally put a map out with all the farms on it, so that is a resource," she said. She described a multigenerational community of farmers who support each other. "There are a lot of older farmers who will turn around and mentor young farmers. I can turn around and say, look you can use my ram, you don't have to use your own animal, just borrow mine," she said. Her father, Ralph Packer, who owns Northern Pines Farm in Vineyard Haven, has a bull that shares its genetics liberally. "He'll spend a summer at Flat Point Farm, then he goes to Chilmark to the Athearns, it's a nice way of sharing the love, literally," she said. A perennial ribbon winner at the fair, this year Mr. Packer will enter three stalls' worth of Northern Pines Farm cattle in the livestock show.
Ms. Miller at North Tabor Farm talked about changing trends among consumers. "In the past people would say grow this, this, and this for me," she said. "Now they will say, what do you have that is funky and interesting?" She grew radish pods this year that proved popular. "They aren't even the radishes, they are just the seed pods of it, and people have been like, okay, give it to us," she said.
But this is August and for Island farmers it's peak season too. Some are too busy keeping up with regular retail orders to even think about entering the fair. But Morning Glory Farm, which has been growing food commercially since 1975, is a stalwart competitor. This year the farm will enter 15 to 20 varieties of vegetables, and owner-founder Jim Athearn commented on the Island's thriving farm culture. "There are octogenarians doing it, teenagers, and some are doing a commercial enterprise on a small scale. There are as many shapes of farms as there are people who are interested in it," he said.
According to the Martha's Vineyard Commission Island Plan, there are 1,687 acres actively being farmed on the Vineyard. Of that, horses occupy 259 acres, hay is produced on 492 acres and food is produced for human consumption on 935 acres. "When I was wanting to be a farmer in my teen years I was bucking against the prevailing attitude that you can't make a living farming, and that farming was for ignorant people who couldn't get out of their own backyards and go to school," said Mr. Athearn. "Now that's certainly not the case. Highly educated people around the country and world who want to spend some time on the farm are continuing on to have agricultural careers."
He concluded: "From the first day we started selling to the public it was clear there were many people on Martha's Vineyard who would go out of their way for fresh produce, and that is still the case today, but now there is a popular trend to go with it."
For more information about the 2015 fair, view the fair book online.