Vineyard Power is entering a new phase in its plans to develop a wind farm south of the Vineyard. Having successfully partnered with developer Offshore MW to secure a lease on 167,886 acres in January, the Island-owned energy cooperative is now focusing on public outreach. On the development side, Offshore MW must now complete a detailed environmental impact statement, along with a construction and operation plan.
About a dozen people attended Vineyard Power's sixth annual meeting at the Katharine Cornell Theatre on Sunday. President Richard Andre provided an update on the group's ongoing efforts in solar and wind development, and looked ahead to the logistics and politics of developing one of the first offshore wind farms in the country.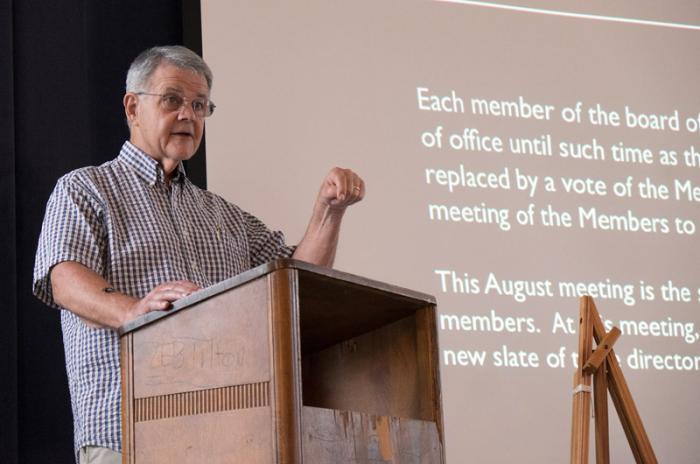 The partnership's lease area begins in federal waters about 14 miles south of the Vineyard, directly east of another area leased by a large Danish company. Mr. Andre said the wind turbines would be barely visible on a clear day. Two smaller areas, between the Vineyard and Block Island, have been leased by Deepwater Wind.
Co-op members voted in January to authorize the Vineyard Power and Offshore MW to bid in a federal auction Jan. 29. The partnership won the bidding at $166,000, a small fraction of the $3.8 million that Deepwater Wind had paid to secure its lease in Rhode Island and Massachusetts. Earlier auctions in Maryland and Delaware had also drawn higher bids.
Mr. Andre said by the time Massachusetts entered the bidding process, the competition had dwindled. In addition, a community benefits agreement that aims to keep jobs and infrastructure on the Island provided a 10 per-cent discount in the auction. Mr. Andre said the discount had "changed the playing field" and encouraged Offshore MW to proceed.
Vineyard Power is now working to support state legislation introduced by Rep. Patricia Haddad that would require utility companies to purchase two-thirds of the state's offshore wind capacity by 2030. Similar legislation was already in place in Rhode Island and Maryland at the time of the earlier auctions, which increased the demand for those areas, Mr. Andre said.
Dong Energy, the largest offshore wind developer in the world, secured a lease on the other Massachusetts zone for $280,000. The two easternmost zones, which are farthest from shore, have yet to be leased.
Mr. Andre noted that Offshore MW recently completed a 300-megawatt wind project in Germany. "They are not speculative builders," he said. "They intend to build an offshore wind farm here."
Since its inception in 2009, Vineyard Power has spent almost as much as it has earned, about $1 million. Treasurer Ron Dagostino said Sunday that he believed the co-op would have about $1,000 left in its account at the end of the year. "An organization like this flies by the seat of its pants," he said. Much of the funding this year — about $100,000 — came from Offshore MW as part of the community benefits agreement. Mr. Andre expected that funding to continue next year.
As an incentive to follow through with the project, Offshore MW must pay about $500,000 a year just to hold the lease. The company also must begin construction within four and a half years. A 25-year lease period would start when operations begin.
Mr. Andre expected the project to create jobs up and down the East Coast. "That area out there could easily satisfy 2,000 megawatts, so that's something like 20,000 jobs," he said. "This is going to be a real significant game changer. And one of the things that we're trying to do is keep a lot of those jobs here."
Vineyard Power is now working with Offshore MW to explore the possibility of building a maintenance and operations facility in Vineyard Haven. "We've already had discussions with owners and people down at the harbor about making that a reality," Mr. Andre said.
He added that the Vineyard would likely serve as headquarters, with administrative offices and a control room. The goal would be for Vineyard Power members eventually to own a 20 per cent portion of the wind farm, or about 100 megawatts, accumulated over time.
The cooperative is now focused largely on advocating for state legislation that would support renewable energy development. A community empowerment bill, introduced by Rep. Tim Madden, would allow towns to enter into long-term power purchase agreements, creating incentives for banks to finance renewable energy projects. Residents could opt out within 60 days of a town meeting vote, but the benefits would depend on most people being held to the agreement.
"If the bank sees that the residents can opt out, it's effectively what we have now, which is not financeable," Mr. Andre said. He expected a new website in support of the bill to be launched this week.
One benefit of wind energy, he said, is that once the infrastructure is in place, the resource is effectively free. That allows developers to offer long-term contracts that can help stabilize energy prices. He added that fossil fuel prices are increasing by about 4.5 per cent each year, and that alternative energy options could decrease the demand for natural gas, lowering the overall energy prices in the region.
The project could also help address climate change, he said. According to the Martha's Vineyard Commission, rising sea levels will alter the Island's roads, infrastructure, buildings and wetlands.
"This community is on the forefront," Mr. Andre said.