The Martha's Vineyard Agricultural Society's 154th annual fair began Thursday morning under sunny skies with a brisk breeze that waved flags and carried the scent of funnel cake across the entire grounds.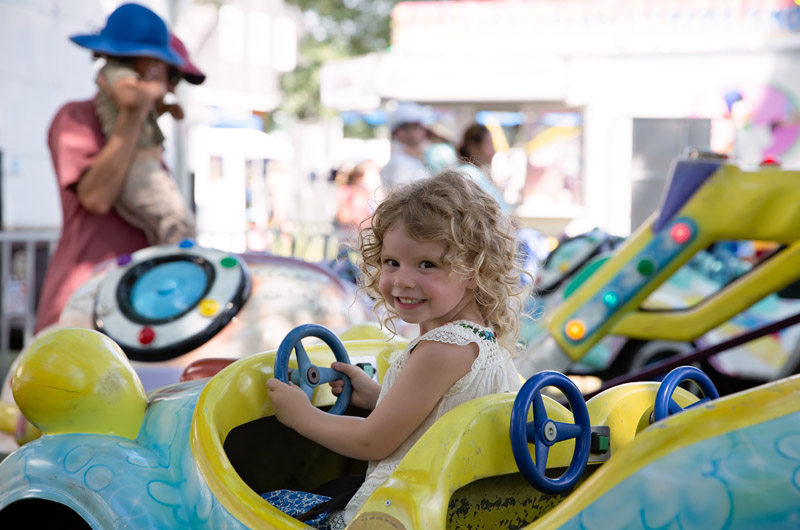 First to ride the merry-go-round were Ella and Jeremy Vichniac, who smiled at their parents while perched on their colorful horses. Though the ride was without music (a problem promised to be fixed soon) it didn't seem to bother the siblings as they sat proudly on their steeds. After the ride, the brother-sister team headed toward the Ferris wheel. Unfortunately, Jeremy was not tall enough for Ferris wheel regulations, but Ella went on with her mom, first to ride once again.
For the Vichniacs, as with many other fairgoers, the four-day event is an annual summer tradition. A 1991 fair poster hangs in their summer home in Edgartown.
The fair continues through Sunday, with rides and food, blue ribbons at stake for everything from livestock to vegetables, and competitions ranging from skillet tossing to axe throwing.
Along the bustling midway Thursday, the scent of corn dogs, onions and funnel cake wafted through the air and smoke billowed from Barbecue Bill's tent. Signs advertising chili-cheese fries and homemade pies fluttered in the breeze, and outside a trailer decorated with a black and white checked awning, Jerry Morris announced the first pig race of the day.
"No matter how hot it gets today, no playing in the Hog Wash," Mr. Morris warned the crowd, pointing to the pool of water in the middle of the track. "My piggies don't play in your bathtub."
Winning the first race, Arnold Schwarzehogger snatched up an Oreo cookie prize.
Later in the day the Canine Stars would take the stage but for now Power, a Belgian Malinois, practiced his routine to the tune of Applause by Lady Gaga. Taking a running leap, he grabbed a stick hanging from a trapeze about 16 feet away and landed with a splash in the water. Spectators getting a sneak peek of the show cheered as sheep bleated encouragement behind them.
"He is so proud," a woman said, watching Power prance around with the stick clutched in his jaw.
Outside the barn, kids learned about pulleys and levers by testing their strength lifting 30 pound weights attached to ropes, while inside a crowd formed around a stall holding four-day-old piglets and their tired mama.
"I want one!" a young girl exclaimed.
Rosabelle and Apple, two blue ribbon winning calves from RunAmok farm in West Tisbury, peered out of their stall with kind eyes, and sniffed visitors' hands with velvety noses.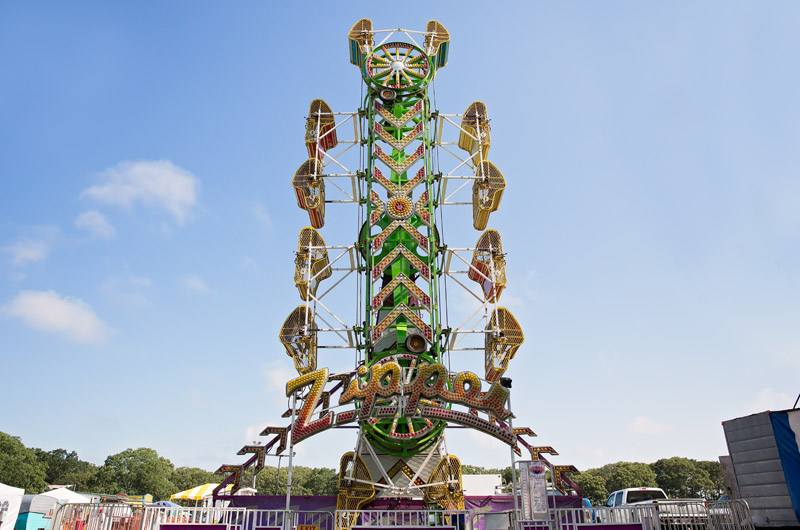 The display hall was filled with food and vegetables, art and all manner of crafts. A last minute bonsai tree submission came in just under the wire.
Most submissions arrived Wednesday afternoon, housed in baskets and bags, on plates and in Tupperware, carried like babies and tucked under arms. Old and young alike affixed their names to their work and handed them off to runners, who placed the masterpieces (be it oil painting, cupcake or vegetable sculpture) in their proper homes.
Longtime ticket booth attendants, Barbara and Chris Murphy said that the day started out great up at the front, with a lot of people arriving on the bus.
"It's truly been a happy group," said Mrs. Murphy. "Everybody is ready to go in and have fun."
More Agricultural Fair photos.
The fair continues until Sunday, August 23, at the Agricultural Hall in West Tisbury, 10 a.m. to 11 p.m. each day, 9:30 to 7 p.m. on Sunday. Tickets are $10 for adults, and $5 for children five to 12-years-old, and seniors over 62. Children under five and Agricultural Society members are free.