Whether wearing an Israeli army uniform or traveling aboard a wooden sloop, laden with climbing gear or carrying traditional aboriginal spears, films from around the world are about to arrive on the Vineyard. The 10th anniversary of the Martha's Vineyard International Film Festival begins formally on Thursday, Sept. 10, with a tented reception, Indian inspired food and Meet the Patels, a comedic documentary about the matchmaking efforts of the Patel family. Two documentaries will be shown ahead of the opening night, Amy and The Salt of the Earth, showing on Tuesday and Wednesday. Amy tells the tragic story of singer Amy Winehouse and The Salt of the Earth tracks the journey of celebrated photographer Sabastiao Salgado.
During the festival, which runs through Sept. 13, more than 40 feature length and short films will be screened.
"The films that we're presenting this year, like any other year, focus on taking you to another place in the world, another culture to look at an issue," said Richard Paradise, director of the festival. "It could be a universal issue, but it's not an American point of view. It's a French point of view or a Latin American point of view."
The films will be shown at the Film Center in the Tisbury Market Place and the newly renovated Capawock Theatre on Main Street, Vineyard Haven.
"I've always tried to not be pigeonholed in doing movies that you'd consider festival films," said Mr. Paradise. "It's a mix of films that you'd consider more popular in nature like Amy, which is a documentary that is dealing with a very popular musician. But then you can get into very esoteric and very difficult to deal with subject matter, and we have a couple of those in the schedule. But I try to be very cognizant of having an eclectic line up, so that people have choices. I'd never have one drama playing in one theatre and another drama playing in another theatre at the exact same time. You want to have a choice."
Mr. Paradise said he always tries to begin the festival with an upbeat film and end with an upbeat film. There will also be numerous events including parties, conversations with the filmmakers and live music.
One movie with an island theme sails up from the Caribbean in a traditionally made wooden ship. Alexis Andrews' film, Vanishing Sail, follows master boat builder Alwyn Enoe as he builds one last wooden sloop, hoping to encourage his sons to pick up the traditional trade in Carriacou, part of the Lesser Antilles. Vanishing Sail screens at 7 p.m. on Friday, Sept. 11, at the Capawock Theatre.
"The film has a very simple message, especially in our time now," said Mr. Andrews. "It is important to slow down and work with our hands."
Mr. Andrews was born in Greece, but has lived and worked in Antigua, West Indies, photographing yachts. He had previously photographed shipbuilders in Carriacou for a photography book before deciding to do a documentary film. It was his first film and he used a still camera for most of the shots.
"The people and community I was filming were familiar with me and the equipment so there was no barrier," he said. "The downside was I had no idea what I was doing."
Mr. Andrews said he collected as much footage as he could over three years and then at the editing table, his team dug in to find the story. Editing took two years, he said.
"There is a wealth of history and independent spirit that these vessels represent on the island," said Mr. Andrews. "They represented the connections between islands of people."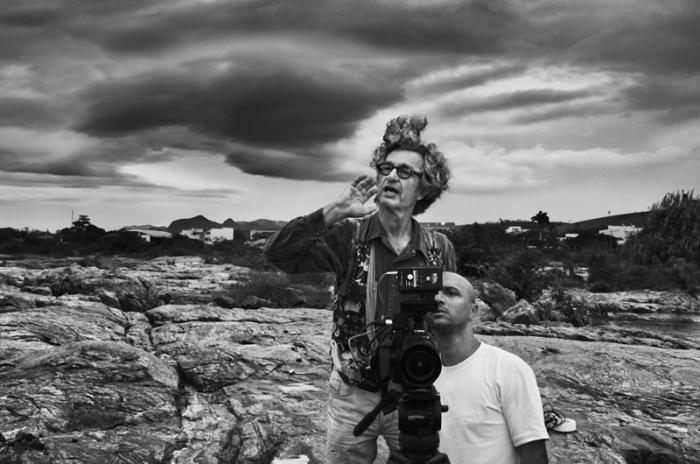 Using the festival circuit to help the documentary find an audience, Mr. Andrews said he specifically chose festivals that could connect with the subject matter.
"Martha's Vineyard being an island and having a strong boat building industry through Gannon and Benjamin is an ideal place to show the film," he said. "I'm excited to meet the people in the boating community."
Other films include a documentary about Marlon Brando told in Mr. Brando's own voice, the near impossible attempt to climb Mount Meru in India, a dark comedy about human existence from Norway, a family drama from Hong Kong and a cross-dressing comedic drama from France, to name just a few. All of the films begin in the late afternoon or evening, allowing audiences to enjoy the waning summer days on the beach before relaxing in a cool dark theatre with their film of choice. There will also be a juried competition of short international films screened on Saturday, Sept. 12, at 7 p.m.
Mr. Paradise said the festival offers more than just movies, it fosters a sense of community.
"The fact that you're seeing so many films in a short amount of time, you feel like you're part of this whole group of people going on a journey," he said.
The 10th annual Martha's Vineyard International Film Festival will run from Sept. 8 to 13. For a full list of films and events, visit the festival page at mvfilmsociety.com. Tickets can be purchased online and at the festival box office. All tickets are $12 for general admission, $9 for members and children under 14, excluding the opening and closing night events. All-access passes are also available for purchase.