As summer break comes to an end and students around the Island anticipate their first day of school, Vineyard schools superintendent Dr. Matthew D'Andrea is experiencing anticipation of his own. This marks Mr. D'Andrea's freshman year at the helm of Island public schools.
"The sense of community on this Island, it's a tremendously supportive community," he told the Gazette in an interview last week. "It is one that is very, very student focused and child focused in making sure that we provide our students with the best educational opportunity possible. That's what I really love about this Island and these schools, and I want to maintain and foster that."
The first day of school is Tuesday, Sept. 8, when some 2,100 students are expected to file into classrooms in the regional high school and five elementary schools. Precise enrollment numbers will be released this fall following the annual school census in October. But projected numbers show that regional high school enrollment is trending downward with about 680 students in grades nine through twelve, while elementary and middle school student numbers are climbing. In the up-Island regional school district West Tisbury has 341 students in grades K through 8, while Chilmark has 50 students in grades K through 5. The Tisbury School has 325 students, while Oak Bluffs has 427 and Edgartown about 277. All three are K through 8 (there is no regional middle school on the Vineyard).
"The main focus is always the students," Mr. D'Andrea said. "There's always different aspects, you look at the curriculum and instruction, because that's what we're all about, that's our main job, educating the students."
Mr. D'Andrea inherits a school system in the throes of change, with shifting curriculum needs and testing requirements, aging facilities in need of repairs and increased budget scrutiny from voters in the six Island towns.
Contracts for teachers and nonprofessional school employees will be renegotiated this year, and Mr. D'Andrea said the school season begins with 90 new hires, about half of them teachers. He has already faced some key decisions on staffing; this summer regional high school principal Gil Traverso abruptly resigned after just 11 months on the job to take another position. Mr. D'Andrea named former principal Peg Regan as interim for the coming school year while a search is conducted for a new principal.
He said his goals for the coming year include a thorough examination of curriculums in the six public schools. Vineyard schools have performed generally well on state-mandated tests but are trying a different test, last spring switching from MCAS to the PARCC exam. Mr. D'Andrea spoke about the need to examine and fine tune the responsive classroom instruction method, a holistic teaching model that integrates academic learning with a student's social and emotional growth. All Vineyard schools have adopted the responsive classroom and teachers receive training in the method.
"We want our students to be problem solvers, we want them to be collaborators, we want them to think, we want them to think critically," Mr. D'Andrea said. "We want students to gather information . . . . and be able to write well, speak, present and read information in a way that they are thinking critically and solving problems."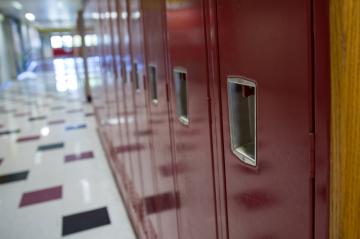 Some physical facilities in the school system are aging and in need of repairs and upgrades, including at the high school and the Tisbury School, where early planning work is underway at the town level to significantly renovate or replace the current building. The superintendent's building is also in poor repair, but voters in Island towns in recent years have more than once defeated plans to sell the building and relocate the central office to the high school campus.
Mr. D'Andrea spoke of a need to examine the wide variety of special education services provided in the schools. "We are going to be looking at our shared services program and trying to answer the question: are we doing what's best for our students, and if not, what can we do better?" he said. He hopes to look at what other similar school districts are doing in order to gain perspective.
And with early childhood education as a stated passion, the superintendent said he hopes to take the first steps this year toward his long-term goal of establishing universal preschool on the Vineyard. He cites the facts: despite a wide range of available private preschool programs on the Island, some 25 to 30 per cent of children entering kindergarten on the Island did not attend preschool. "They are often behind with literacy skills," Mr. D'Andrea said. "If we were able to have a universal preschool program, we would help to set these kids up for success."
The primary obstacle for universal preschool is paying for it, Mr. D'Andrea said, even though he believes strongly that money spent early would save on money spent later for remedial tutoring.
"The question would be how do you do it as cost effectively as possible," he said.
Nevertheless study will begin, he said, including looking at other districts for possible models. The town of Mashpee has already piloted a tuition-free preschool program for four-year-olds; the superintendent of that school district spoke about the program on the Vineyard last winter.
Finally, acknowledging the legacy of now-retired superintendent Dr. James H. Weiss, Mr. D'Andrea said he will work to be visible and approachable and attend as many school activities as he can.
"I love sports, I love drama, I like art, so attending these things will be fun for me," he said.
He also said he plans "to understand the core values of the school community and to foster, model and incorporate them into the vision of the district."
As for the first day of school, he just hopes it is uneventful.