As Angela Davis approached a mint condition 1956 Buick Century at the ninth annual Tisbury Firefighters Association Car Show on Sunday afternoon, it wasn't the high-gloss aqua paint, shiny chrome rims or the vanity plate, JFK 56, that caught her eye. Instead it was the man standing next to the car that drew her in.
"He had this look on his face like he was back in the past," said Ms. Davis. "It was like 'oh yeah baby, you and I had some good times.'" She was right. He told her that he had the same car growing up, but in a station wagon, and that seeing this car brought back many memories for him. "Isn't it cool to feel that way?,'" she said.
Nostalgia and admiration lit up faces admiring the cars that filled the Martha's Vineyard Regional High School parking lot Sunday afternoon. Local band Serendipity provided the background music with classic hits like Da Doo Ron Ron and There Goes My Baby, while revelers peeked under the hoods and admired the cars on display at a new location. For years the car show has been held on Main street in Vineyard Haven; this year the cars were on display at high school after a last-minute change of location.
Despite the change of venue, the show saw a large turnout. Event organizer Ken Maciel said 95 cars participated in the show, which beat last year's record of 88.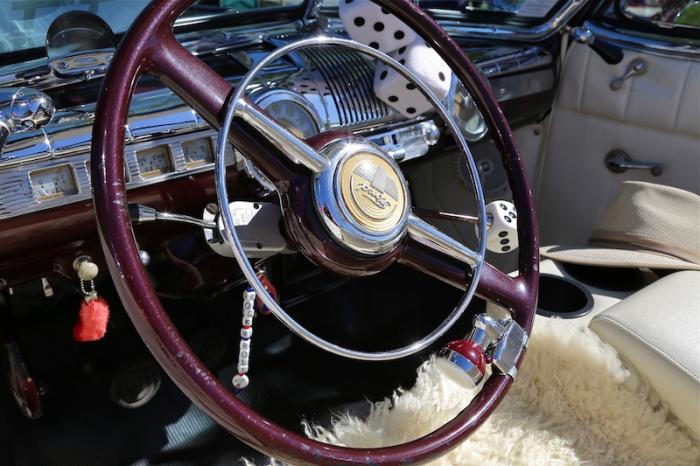 Richie Giordano's 1956 Chevy Nomad was named by the judges as best in show, while Dan Donnelly's 1968 Chevy Nova took home the kids' choice award. Other awards were determined by attendees, who voted for their favorite cars. First place went to a 1954 Mercedes Benz owned by Jim Jones. Mr. Giordano's Chevy Nomad took home another award with second place honors, and Ed Evans won third place for his 1954 Buick.
The event raises money for the Fallen Firefighter Fund.
John Chapman of Vineyard Haven stood proudly by a black 1964 Chevy Impala with red interior that he bought just two months ago.
"I wanted one for many years. I said 'John, treat yourself to one if you find it,'" he said. Friends referred him to a website where he found an Impala that was an exact replica of a vintage model car kit he bought 20 years ago. "I bought it sight unseen," he said.
"I always wanted the car," he said. "I said to myself 'you can't take your money with you. Enjoy it now.'"
Across the way, Dennis Gibson stood by a little white Corvette convertible with red interior. He offered some insight into what draws people to classic cars.
"I think when people look at buying an old car they want to buy a car from the year they were a teenager and they got their driver's license," he said.
Despite the wealth of cars on display Sunday, some are searching. "I'm looking for my car but I can't find it," Mr. Gibson said. "A 1950 Mercury."