A mix of smiles ranging from nervous to excited lit up students' faces still brown from the summer sun Tuesday morning. A few tears were quickly wiped away with kind words from reassuring parents and teachers as Tisbury School kids of all grades joined their counterparts across the Island on the first day of school.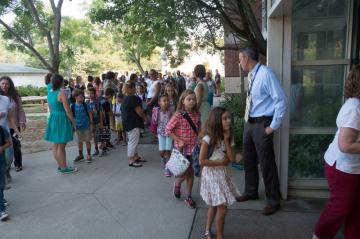 Seasoned veterans entering first, second, third and fourth grades dropped their backpacks off to hold their places in line behind chalk numbers and rushed off again to greet friends, play on the playground and give mom and dad one last goodbye kiss.
New kindergartners took turns posing in front of the school doors while their parents snapped photos. One young girl sporting a Frozen backpack posed with a thumbs ups and a mischievous smile, not nervous at all. One group lined up behind a triangle while another lined up behind a circle.
"Ciao, Mama," called out a blonde boy as he disappeared through the crowd of grade schoolers, backpack bouncing.
Four boys squeezed in some morning playtime on the monkey bars before lining up with their classes. A helpful sister with a flower in her hair directed her little brother to his kindergarten line.
Of the 2,100 students beginning school on the Vineyard this year, 325 are at the Tisbury School.
Principal John Custer roamed the mass of students and parents, greeting everyone with a welcoming smile. He crouched at eye level with three girls, offering encouraging words.
"Just seeing the kids is so great," he said. "Working in a school in July and August is a weird feeling, it's fun to see the new faces."
A student named Talia arrived after her class had entered the building, and he offered to help her find her room, but she was confident she could find it on her own.
"It goes by really quickly, the days may not," Mr. Custer laughed. "But before we know it, it's June."
After the excitement of the first morning line-up of the year, students filed into the building. To keep the day low-key, classes began immediately, helping both new and returning students and teachers to settle in and get back to business. Later in the afternoon, a welcome-back assembly would be held.
Carried by a gentle breeze, laughter floated down from an open second story window.
And another school year began.