The storm that battered the Vineyard mid-week with blustery southeast winds, drenching rains and astronomical tides caused a new break in the narrow barrier beach that connects Chappaquiddick to Edgartown, temporarily at least separating the two Islands again.
The Trustees of Reservations reported the breach on its Facebook page Wednesday afternoon. Jack Klumick, an assistant superintendent for the Trustees, took pictures as the ocean surf swept over the beach and into the remnants of a tidal channel that until this spring ran between Katama Bay and the ocean.
The new opening broke through roughly opposite the fishermen's parking lot on Chappaquiddick, about 300 yards west of Wasque Point. Mr. Klumick watched it happen.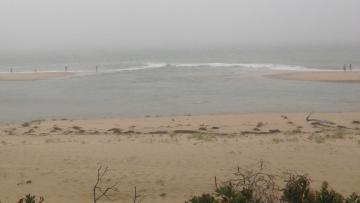 "On the bay side, Katama Bay, there was an astronomical high tide, approximately between two and three o'clock," he told the Gazette Wednesday. "When the tide started to fall on the ocean side . . . the bay side was extremely high, so that Katama Bay water started to flow out [into the sea]." At first, Mr. Klumick said, the outward flow was stream-width. But soon it widened to into a tidal channel.
By Wednesday afternoon the new break was flanked by derby fishermen casting into the foggy gloom for striped bass, bluefish and false albacore.
Norton Point last opened to the sea in April 2007 during a Patriots' Day storm with conditions similar to this week's storm, although much more severe. That breach was much farther west and much larger. It remained open for eight years, causing dramatic changes along the shoreline and in the bay and gradually migrating eastward until it finally closed this past spring.
The new break is thought to be temporary, especially since it lies near the traditional termination point at Wasque.
But with hurricane Joaquin churning up from the south and giving weather forecasters a case of the jitters, Mr. Klumick places no bets. "In the next couple of days . . . it's going to be challenging," he said.