More than 100 runners braved chilly temperatures, blustery winds and a hilly course to compete in the third annual Gay Head Light 10K Sunday.
After starting at the top of the Aquinnah circle, the route took runners west along State Road, then back along Moshup Trail, then past the Gay Head light for a quick trip around the circle to the finish line.
Rene Da Silva blew the field away on a windy day. The 29-year-old Vineyard Haven resident was first across the line with a time of 36:45.
"I thought it was going to be really hard," he said shortly after winning the race. "The beginning was really good, until the last mile, it was tough, the wind and the hills together. I had to keep pushing."
Most of the Martha's Vineyard Regional High School cross-country team competed in the race, as a tune-up for two important meets this week. Junior Aivaras Gedvilas was best of the high school runners, finishing second overall with a time of 37:09. He said what was intended to be a training run turned into a competition with the winner.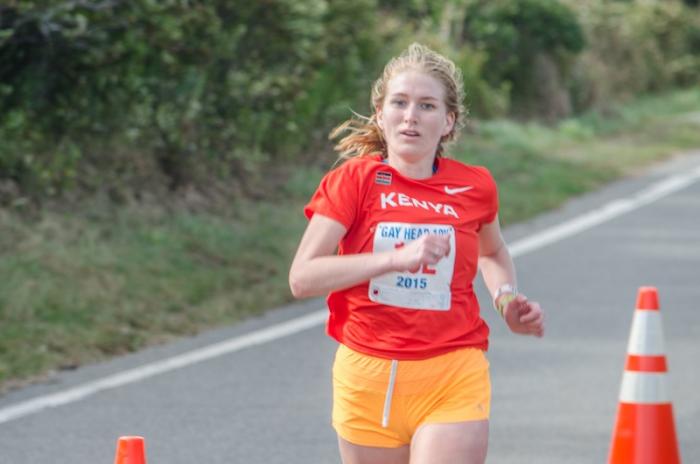 "We ran together for awhile, he really pushed me," Mr. Gevilas said.
Winning the women's division was Alex Testa, 24, a frequent Island visitor who lives in Somerville.
I didn't know what the weather was going to be, because it has been really rough the last few days, but it was really nice," she said. "It's really hilly, it's rolling, but that keeps it interesting. Everyone out was super excited, there were people out on the course cheering."
Over the past three years, the Save the Gay Head Light Committee has worked to help raise $3.6 million to restore the iconic lighthouse and move the structure away from the quickly eroding Gay Head Cliffs. The move was completed in May; finish work around the light is ongoing.
The road race and other local events will help raise money to offset future costs.
"It will help maintain and sustain operations at the lighthouse, continue preservation," said Len Butler, who led the Save the Gay Head Light Committee. "I hope this continues to grow."