The Martha's Vineyard Striped Bass and Bluefish Derby, which is heading into its final stretch, is a multi-generational affair, with parents and kids casting lines together and some of the youngest anglers catching big fish.
On Monday, Grady Keefe and his father Craig headed out fishing in their boat off Squibnocket. Grady, a derby veteran at age 8, caught a 10.75-pound bonito that puts him in first place in the mini junior division for boat bonito. He posted for a picture in Menemsha to document the moment.
Menemsha, along with Lobsterville Beach to the west, have been hotspots in this year's derby. On a windy evening last week, all ages gathered at Menemsha Texaco as people fished off the nearby jetties and docks.
"Weekends are busiest," said Marshall Carroll, who grew up on the Island and remembers winning a trophy when he was four. Mr. Carroll's grandmother, Bette, won first place for a bluefish in 1973. The Carroll name is scattered thoughout derby history.
Mr. Carroll reminisced about the derby experience, which for many people remains largely the same every fall: "Cold, wet, the smell of grapes, and the warm chowder at the other end."
"As a kid you don't realize how much work your parents did to take you fishing," he added. Now he enjoys the experience with his son, Brooks, who holds third place in the junior division with a 7.35-pound boat-caught bonito.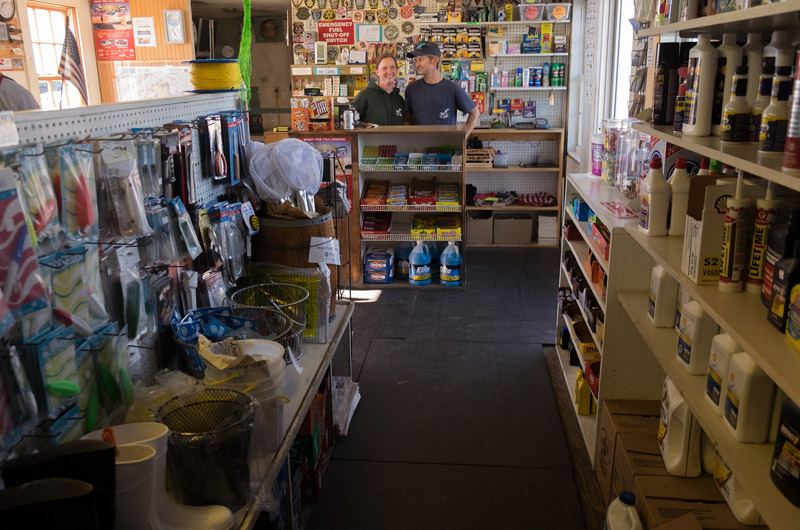 Mr. Carroll's wife, Katie Carroll, has noticed the new generation getting involved in the derby. "I think there has been a lot of positive energy this year, especially among the kids who meet up down there for a couple of hours after school or on a weekend," she said. "This next generation is being taught pretty well how to be supportive of their friends."
"You think of fishing as a really independent sport," said Bret Stearns, whose son Graham also competes in the derby and took second in juniors last year with a boat-caught striped bass. "You're going out, it's one line, one fish. But they all help each other out, they text each other where the fish are, what's going on, where they have luck, what they've heard, the rumors."
Mr. Carroll recalled riding in his pajamas to the weigh-in station in Edgartown as a kid, and the simple goal of catching a derby winner. "When you take kids, you realize there is a lot more to it," he said. "It's more about the process instead of the product."
The derby wraps at 10 p.m. on Saturday, with a final awards ceremony and grand raffle at Farm Neck Golf Club on Sunday.