The Vineyard boys varsity soccer team held their own at home Saturday against rival Nantucket with a game that resulted in a 1-1 tie. The undefeated Whalers scored their only goal minutes after the game started. Not long after, Vineyard sophomore Miles Jordi scored, getting the ball into the goal off a sideline direct kick from junior Owen Hess.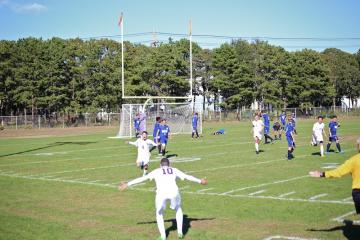 The game drew a big crowd as several games taking place on adjacent fields came to a close. Vineyarder fans rang purple cowbells and danced to Silento's Watch Me (Whip/Nae Nae) during half time, and while fans from both Islands cheered on their teams, neither could get a ball into the net in the second half.
"It was very good playing by both teams," said Vineyard head coach Esteban Aranzabe. "We knew that they were a good team. We didn't play our best game and it's our first tie, but it could've gone either way."
The team, which saw a huge loss with 14 seniors graduating after last year's season, is playing and communicating much better now with 10 games under their belt, Coach Aranzabe said. "At the end of the season we're going to have a great team because we're going to lose just two."
On Monday, the Vineyarders traveled to Barnstable High School where they beat the Red Raiders 5–1, with four goals scored by junior Jason Lages and and the other by Mike Powers. The win brought the Vineyarders' season record to 6-3-1. This Saturday, they face the Red Raiders again at home.