Students in the up-Island school district will be given more free rein in the near future on choosing which school to attend, the district committee decided this week.
At their meeting Monday, committee members agreed to restructure the intra-district transfer policy that serves as a guide for students from West Tisbury, Chilmark and Aquinnah attending one of two elementary schools.
Under the current policy, students from Chilmark and West Tisbury must attend school in their town unless they apply for a transfer, while students from Aquinnah are free to choose either the Chilmark or West Tisbury school.
Discussion about the transfer policy began early this fall when committee members became aware of a lopsided distribution of kindergarten students between the two schools — with crowded classrooms in West Tisbury and sparse attendance in Chilmark. One committee member had suggested barring Aquinnah kindergartners from West Tisbury to help even out enrollment.
Meeting at the tribal headquarters building in Aquinnah Monday, committee members took a wider view of the problem. Committee member Kate DeVane said every student in the district should have a choice which school to attend.
"I think that should be true whether you are from Aquinnah, Chilmark or West Tisbury and I think to be a true region you should be presenting every child within the region with the same choice and the same opportunities," she said.
To ease any administrative problems, she suggested setting an earlier deadline for students to decide which school they will attend the following year. Vineyard schools superintendent Dr. Matthew D'Andrea supported the idea.
"I think it would be beneficial because oftentimes getting our arms wrapped around how many kindergarten students are coming in is always a challenge," he said. "So setting a date saying you get to pick your school before this date as long as you step forward and say here I am, I think it would be helpful." He deferred to the principals for picking a date.
Chilmark principal Susan Stevens said she thought it would be best if the date fell before the school budget is certified in December. After that, students who are not registered would be placed in whichever school has room, regardless of what town they are from.
Jeffrey Madison, an Aquinnah resident, urged the committee to think of education first and budget second. "I think there is nothing more important that we have in our lives than our children," he said. "My opinion never changes that we need to give our kids the best education possible — there is some cost associated with that but there is also some neighborliness of community that this Island enjoys and we should not look strictly at cost in an instance like this."
Mr. D'Andrea will draft a new intra-district transfer policy for review at the next meeting.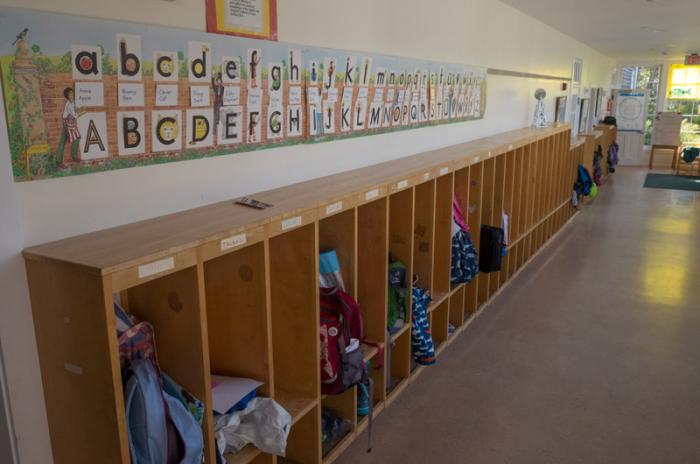 In an update on heating renovations at the Chilmark School, Mrs. Stevens informed the committee she had purchased a new boiler for the school. At last month's meeting, the committee agreed to look into possible funding sources to replace the boiler. But when temperatures dropped this week and the fire chief was uncomfortable clearing the old boiler, Mrs. Stevens said she went ahead a bought a new one. They were able to get the old boiler working and tested by the fire chief in time for school on Monday, but Mrs. Stevens said she expects it will not last long. The new boiler was due to be fully hooked up early this week.
"We had heat today," said Mrs. Stevens said. "Unfortunately, you can't turn it off, you can control your heat by the windows."
The new boiler cost $29,000. Installing controls and fixing the air handlers will cost an additional $25,000. With an additional $6,000 for a new energy recovery ventilation system, the total project cost comes to $60,000.
Committee member Jeffrey (Skipper) Manter 3rd expressed concern over the Chilmark school spending the money on the boiler before the committee authorized it. But Mrs. Stevens said she had no choice.
"Based on the freezing temperatures this morning, I couldn't really wait," she said.
Committee chairman Robert Lionette pointed out that the issue has been under discussion since last January. "This committee has dragged its feet on this issue, we've been presented with now in the course of nine months opportunities to facilitate the necessary upgrades to the heating system and we have not," he said. "It's unfortunate we came to the point where we had forecast of sub-freezing temperatures and no heating system."
Mr. D'Andrea suggested using extra money budgeted for salaries at the Chilmark school to pay for the boiler. Approximately $32,000 was available from the staffing line item due to an unfilled position and new hires at a lower pay grade; along with $35,000 from Chilmark's portion of school choice funds, the cost could be covered.
The committee approved the expenditure 4-1.