The Grange Hall was standing room only on Wednesday evening as the Island community and members of the Permanent Endowment Fund of Martha's Vineyard celebrated the mother daughter duo of Francine Kelly and Ann Smith.
"For Francine Kelly first and Ann Smith later, they put Featherstone Center for the Arts on the Island map," said Featherstone board member Jean McCarthy as she introduced this year's Creative Living Award recipients. "Francine and Ann have transformed what was a horse farm into an arts center . . . and they have assembled a stable of artists and teachers."
The program featured speakers and music by the Featherstone Ukulele Fest.
"I did not expect to receive the copious amount of messages about these extraordinary women, these outstanding women," said Julie Anne McNary, executive director of the fund and emcee of the ceremony. "I have them all collected for Ann and Francine to see after the event."
After the ukulele group played the women's favorite songs: Somewhere Over the Rainbow and You Are My Sunshine, which the audience joined in singing, chamber of commerce executive director Nancy Gardella spoke about her two friends.
"I was just thinking, only on Martha's Vineyard could such a wonderful personalized ceremony such as this exist," said Ms. Gardella.
Board members Paul Karasik, Don Ogilvie and last year's award recipient Steve Ewing presented Ms. Kelly and Ms. Smith with their awards. A standing ovation followed.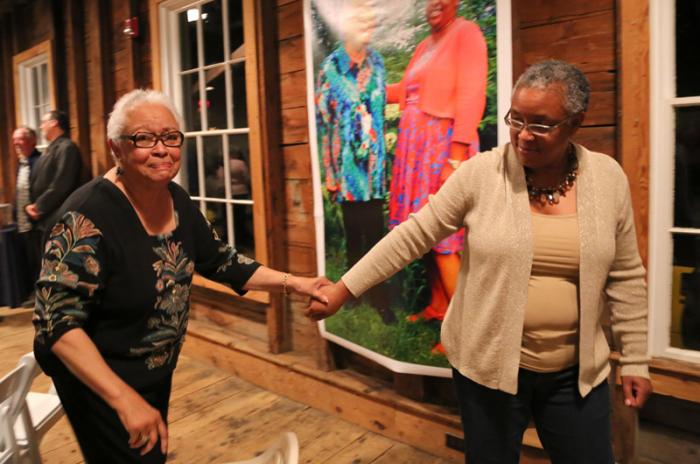 "When I've talked about Featherstone in the past I've always said I imagine that I would die at Featherstone, because I will always be in love with Featherstone," said Ms. Kelly, who served as executive director from 2003 to 2011. "So many people this evening, so many of the artists have said 'you encouraged me to paint, to create, to present my art, you gave me the courage to do that,' and for me that is the most important thing."
After thanking the community, donors, staff and artists, Ms. Smith recognized Sharry Stevens-Grunden in her speech. "The person who has made Featherstone what it is Sherry Stevens-Grunden. It's the Stevens family who donated their land, their Featherstone farm to create Featherstone Center for the Arts."
In 2011, Ms. Smith succeeded her mother as executive director of Featherstone.
"I'm often asked how do I do it everyday? And the answer is quite simply: loving what you do and doing what you love," said Ms. Smith.