With temperatures dropping, the winter sports season at Martha's Vineyard Regional High School is heating up. Four sports dominate the coldest months: basketball, ice hockey, swimming and winter track. All of the varsity teams have a lot of new faces this year.
Girls basketball started the season a little shaky but have since found their footing, said Coach Maureen Hill. Their current record is 5-3 and they just came off a big win against Cathedral High School of Boston last Saturday.
"We've played some tough teams, hopefully that will help once we get into the [state] tournament," said Ms. Hill. Their next game is Friday at 4:15 p.m. against Coyle Cassidy at home.
The boys basketball team has had a good season so far with a 5-2 record. Coach Mike Joyce said he has been impressed with the level of play from a team that only has three seniors. Junior Nick Bond has stepped up to be a great leader on the court, he said, adding that the entire team has shown great chemistry this season.
"They've showed more resilience than I expected, they have shown a lot of character," he said.
The team takes on Coyle Cassidy on Friday.
The boys ice hockey team is also working with a roster of inexperienced players.
"We're trying to figure out who we are," said Coach Matt Mincone. The team's current record is 3-4-1.
Mr. Mincone said the team has battled illness and injury during the first month of the season. One of the senior forwards has been off the ice since the first game when he broke his ankle during play.
"Guys are stepping up and showing me who's ready to play," said Mr. Mincone.
Senior goalie Wyatt Jenkinson is a four-year starter and has really matured in the position, Mr. Micone said, and his junior captain Tristan Araujo is a three-year starter who switches easily between offense and defense. Leading the defense is three year starter Aksel Cooperrider who Mr. Mincone said came full circle, from a freshman learning from the older defensemen to a junior teaching the new players.
"I know the cards I've been dealt," Mr. Mincone said. "They need to play at face value for the cards that they are and not just stand there and let fear get in the way."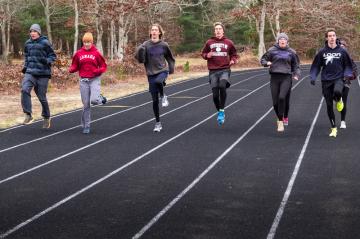 Boys ice hockey faces off against Bishop Feehan on Friday at 6:10 p.m. at the ice arena, beginning league play.
Girls ice hockey has also had to deal with the loss of many seniors. Seven members of the team graduated last year. Currently their record stands at 2-4.
"We're going to be a better team as January and February go on than in November and December," said coach John Fiorito. He said they readjusted their goals for this season to stay realistic. The team focuses on improvements from practice to practice, period to period and game to game. Despite the loss of experienced players, the team is blessed with two great goalies, Mr. Fiorito said: Jackie Hegarty and Julia Bettencourt.
"They are going to keep us in some games against teams that may be a little deeper than us," he said.
In total, six of the 17-member team are returning players, and only three are seniors. Belle Dinning, the leading returning scorer, and Meg Burke round out the senior teammates. Another strong player, Kylie Hatt, hardly comes off the ice and is a top defender in the league, said Mr. Fiorito.
The next home game is against Pembroke on Saturday at 5 p.m.
The swim team started the season with a loss, but with a total of four meets this month there is room for improvement. Coach Jonathan Chatinover said his numbers for the girls team are good, but he could use a few more boys. Currently there are 14 girls on roster and 10 to 12 boys. His girls relay teams
are close to qualifying for sectionals in all three relays: the 200 medley, 200 freestyle and 400 freestyle, while the boys are aiming to qualify in the 200 freestyle. Last year the girls qualified for the 400 freestyle relay. The team needs to work on technique and skills, Mr. Chatinover said.
"It seems like you hop in the pool and go, but actually there's a lot of skills," he said. He listed things like turns, dives and strong technical strokes as skills the team focuses on improving. He also praised the inclusion of two boys and a girl from the charter school.
The next swim meet is this Saturday at Sandwich.
In only its second year, the winter track team not only competes at meets, but also for practice space. Races are indoors, but without an indoor track to practice on they have to make do with the outdoor track, the hallways of the high school and the performing arts center. Though outside practices were practical in December, as the weather turns frosty, they are forced to get more creative, said coach Joe Schroeder.
Currently the boys record is 1-1 while the girls stand at 0-2. Despite the records (which is partially due to low roster numbers), the team does have some standouts. Olivia Smith is currently ranked third in the division as well as in the state for hurdling. She won the speed classics last Wednesday and placed fourth in the Holiday Challenge which featured some of the best girls in the state, Mr. Schroeder said.
Nevin Wallis is ranked first in the league for the 600 meter. Currently, they have five team members qualified for states along with a boys 4x200 relay — Tom Irwin, long jump; Jake Janak, 55 meters; Aivaras Gedvilas, mile; Nevin Wallis, 600 meter; and Olivia Smith, 55 hurdles and long jump.
This year Mr. Schroeder said they are focusing on getting as many kids into the state tournament as possible.
"Last year we qualified a few for state division, this year we want to place in that meet and get our feet wet at a higher level of competition. It's the next step to take."
On Monday the team faces Coyle Cassidy at 3:30 p.m.