Vernon Laux, the noted ornithologist and naturalist who cut a wide swath through the world of birding with an expertise and enthusiasm few could match, died early Thursday at the Nantucket Cottage Hospital. He was 60 and had been diagnosed with esophageal cancer in 2014.
Largely self-taught, intrepid and unfailingly upbeat in all things, more than once he had been called a giant, as much for his deep knowledge in the field as for his physical size.
"Go ahead and picture what you think a birder might look like and it's fair to say that he probably doesn't fit the mold," Jason Graziadei wrote in a November 2015 profile published in Nantucket Magazine. "Vern Laux is a bear of a man who has spent most of his life learning all there is to know about the Earth's fowl."
He had formerly lived on the Vineyard for many years, where among other things he wrote a column for the Gazette. In recent years he had lived on Nantucket where he was the senior naturalist for the Linda Loring Foundation. He was a longtime contributor to WCAI, the National Public Radio station based in Woods Hole.
"It was a good thing I was a big kid," he told the Gazette in a 1981 interview. "I could always say to people who gave me a hard time, 'What's the matter? You don't like birds?' So I was able to go birding."
E. Vernon Laux was born on March 17, 1955 in Wellesley, where he grew up. A gifted athlete, he played baseball, football and basketball. But a junior high school science teacher sparked his interest in birding. It began with a quiz, he recalled in the Gazette interview.
"I realized I had to study these charts and take this test . . . I thought every bird I didn't know was a chickadee, and so I flunked," he said. "It bothered me."
Then another time the same teacher brought in a dead bird and challenged anyone in the class to identify it. Vern went home, got out all the encyclopedias he could find to study them and try to identify the bird, even consulting with a corporate executive who lived down the street and was a bird expert.
"I gave a lousy description of it. I never did get the bird [which was a Virginia rail]," he said. But Vern Laux was hooked on birding. He later would travel the world on expeditions, more often than not returning with some wild tale of adventure.
After high school he took classes at Cape Cod Community College, transferred to a college in Tucson, Ariz., and then decided to take some time off. While on an expedition to Alaska he met his wife Ginger, a stunning Midwestern transplant working as a waitress at the time. They were married in 1978, had two children and later divorced.
He attended the University of Arizona through his junior year, studying wildlife ecology and speech communication. But he found collegiate life too confining.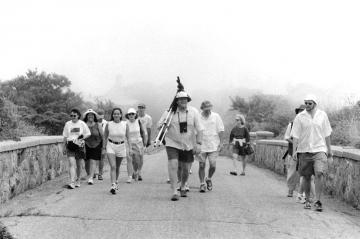 "My ideas about school are that I've always learned a whole lot more, like three times as much, out of school as I've learned in school," he told the Gazette.
He returned to New England, landed a job on a fishing boat where the captain was prone to fits of rage, quit that and went to work on the Cape for Air New England, the regional airline at the time. His pay was $100 a week. When a job at the airline opened on the Vineyard, he and Ginger moved to the Island.
His love for birding was a prime driver in the move.
"Compared to the Cape, the bird watching on the Island hasn't been that well studied," he said. "I wanted to come over and look for birds, really. I always wanted to live on an Island anyway."
Three years later Air New England folded its tent, but Vern was characteristically upbeat. "Bigger and better things," he told the Gazette. "Move on. It's opened up a bunch of doors."
And doors kept opening for Vern Laux, who established himself over the next decade as a pre-eminent authority on birds and the natural world. He authored a book titled Bird News: Vagrants and Visitors on a Peculiar Island. For a time he wrote a column for the Cape Cod Times. His writing was at once fluent and unvarnished. "This is no 'bird snob' column," he wrote in his inaugural piece. "All experts were once rank neophytes. The more you know the more you realize how little you know."
During walks in the woods, his perfect imitations of bird calls amazed friends and strangers alike. His signature signoff on the radio and in print was, "Keep your eyes on the sky."
Word of his death spread rapidly on social media on Thursday. WCAI announced it would air a special program on The Point with Mindy Todd on his birthday in March.