On an old Super 8 film Jack O'Callaghan is a lanky, handsome 22-year-old airman, clowning and frolicking in a fast moving stream near a popular picnic spot in Thailand. Choey Ray is an extraordinarily beautiful 22-year-old woman, playfully splashing Jack with water from the stream.
The year was 1968, a time of peace and love, protest and war, military draft and parting lovers. It was a few months before the summer of love and Woodstock. It was the height of a war that wrenched the nation apart. A total of 16,899 Americans were killed that year, more than any other year of the Viet Nam War.
It was not an unusual arrangement, in that tumultuous time, for an American G.I. and a Southeast Asian woman to pair up during a tour of duty in Southeast Asia. For some, it seemed like the only thing normal in a world that made little sense.
Jack was a U.S. Air Force electronics technician, keeping navigation systems humming for RF4c Phantom reconnaissance fighter jets flying out of Udorn Royal Thai Air Force Base. Choey was a resourceful young woman from a middle-class Thai family who grew up in a rural jungle, growing rice and tobacco, learning how to make her own clothes from cloth she wove on a hand loom.
They spoke little of each other's language. Just enough to direct a taxi driver, or buy a movie ticket, or order a meal from the tiny outdoor food stand in front of the primitive bungalow where they lived. On that Super 8 film, however, their non-verbal communication is a picture of pure joy.
Forty seven years later they are sitting on a love seat in Jack's comfortable Vineyard Haven home, remembering how they met, and how they lost each other.
In Thailand all those years ago, Jack had to walk by Choey's window to get to his room.
"He was a big guy, long legs, military boots," she said. "Boom, boom, boom, uh-oh, here he comes. I'd open the window."
"I made it a point to keep walking back and forth a lot," he said. "She made it a point to open the window when I was walking by. We got to be friends."
They communicate in English much better now, and it gives them great joy to fill in some of the blanks of their lives after being apart for so long. Now they are never out of range of a kind touch. Both are in their 60s, but they hold hands like teenagers. Constantly. Really. Constantly.
That Jack and Choey are here on Martha's Vineyard is part love story, and part miracle. They lost touch for a long time. A lifetime.
They were together for eight months in 1968, into 1969. Jack, like all junior airmen, was required to be on base from midnight to 8 a.m., so he chose the overnight shift. It satisfied the regulations, and allowed him to live off-base. The food was a lot better and he could be with Choey.
They had known for a few weeks that Choey was pregnant when the deployment orders came down. The military had zero concern for wartime romance. Jack had to leave. In their limited communication, they made plans to stay in contact and figure things out once everything settled down. But those letters never got delivered, and they lost touch.
"The one thing I really feel bad about is I didn't try harder to find Choey," Jack said. "I don't know if I would have been able to. To go back there on my own would have been impossible. I couldn't get time off from the Air Force, and I was making $300 a month. I was going to be responsible and get in touch with her, but I lost her."
Their son, Scott, was born in 1970. Choey gave him the last name Aektong, and never told her son anything about his father. All those years, she was concerned that the war-time romance would cause trouble for her son, and for Jack.
After the Viet Nam War, both Jack and Choey married and lived their separate lives. Jack's wife Marilyn died in 2012. Choey's husband Harry, also a U.S. airman who eventually moved with her to Phoenix, Ariz., died last year.
But every day of the last 47 years, Jack carried a tiny photograph of Choey in his wallet, a posed studio picture of her with a decidedly Western beehive hair style. In later years, websites were searched, messages left on message boards and pictures posted. They went unanswered.
Fast forward to late 2015.
"In the middle of nothing, I get a Facebook request from this brassy blonde in Phoenix," Jack said with a laugh.
The request came from Dawn Neita, his son Scott's fiancee. Ms. Neita has a background in law enforcement, and she used some of her investigative skills to search for Jack.
"I was totally berserko for a couple of weeks," Jack said. "It was happy, sad, craziness, totally emotional. When I talked to them, I calmed down. Everybody was so nice."
In Arizona, Mr. Aektong and his fiancee gathered photographs from Jack, and approached Choey.
"They came over with pictures of a handsome young man" she said. "I don't know what to think. So surprised and shocked."
At first she was coy, still scared about how her son would react to the father he never knew.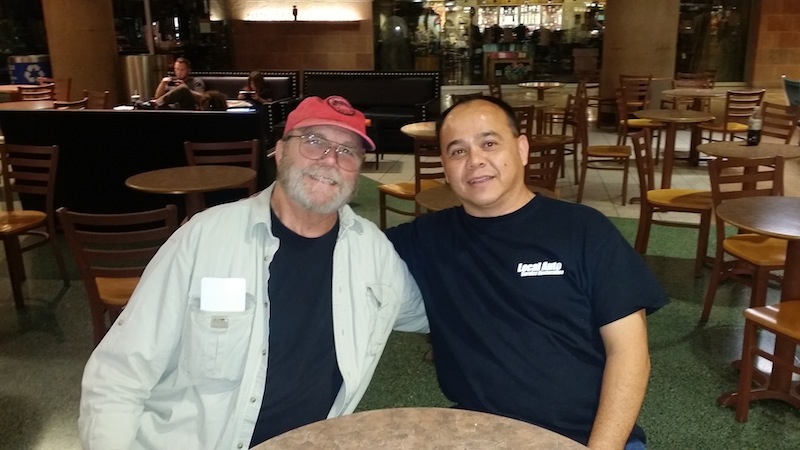 "I never talk about it, I never tell him anything about his American father," she said. But when they showed her the picture of herself that Jack had carried in his wallet all those years, she could no longer pretend she didn't know. He was the only person who could have had that photograph.
Within two weeks, Jack made plans to travel to Phoenix to see his only son for the first time.
"I was really afraid Scott would hate me, but he didn't," Jack said. "It was really nice."
They discovered how much alike they were, in temperament, in physical characteristics, in humor and in spirit. And as Jack sat in his son's kitchen, his long lost love came through the garage door. "It was the first time she's seen me in 47 years, and the first time I saw her in 47 years," he said. "I just melted. I was just sobbing. We didn't have much to say to each other. Choey was just standing there with her hand on my shoulder, and I was just standing there looking at her. It was something else. I couldn't believe it. I could not believe it."
In January, Choey and her family traveled to Martha's Vineyard for a week. Despite the coldest weather of the year and a blizzard, they happily played tourist. And when Mr. Aektong and Ms. Neita went back to Phoenix, Choey stayed for a few more weeks. Jack is the hopeless romantic in the rekindled relationship; Choey is the practical one. Shortly after their reunion, he invited her to stay with him on the Island as long as she wants. She reserved judgement, until she spent more time with Jack.
"Let's make sure," she said. "You've got to check them out. You don't live together, you don't know what a person is like. You have to find out what they're doing."
They have both come to realize in recent weeks that they are deeply connected to their own homes. Love does not conquer all in this case, at least not geography.
"I'm not leaving here," Jack said. "I've been here since 1988. After all this time, I can't even imagine moving away. She's so close with Scott, the temple out there, there's a big Thai community. I couldn't even ask her."
On Wednesday, Choey left Martha's Vineyard to return to her home in Phoenix. Though he hates to travel to Boston, Jack went with her to make sure she didn't get lost in a confusing new city and that she got on the right flight.
This parting was not nearly as rushed or disorienting as their separation in 1969. This time they have made careful plans to rack up frequent flyer miles, beginning next month, when Jack will travel back to Phoenix. He expects to repeat the trip two or three times each year. She will return to Martha's Vineyard often, maybe staying a month at a time.
They won't lose touch again.
"That's just not gonna happen," he said.