From San Diego to Monterey Bay to the classic ports of coastal Massachusetts, boat owners have learned there is a reliable market in catering to the birding community, offering them trips out to sea to look for birds they can't find scanning the sea from land. These trips are called "pelagics" by birders. A pelagic bird spends most of its life on the open ocean, coming to land only to breed and fledge its young. It will spend many months at a time hundreds or thousands of miles from the nearest coastline.
You could say these trips are for hard-core birders. Well, that's true in the sense that you wouldn't find yourself on a pelagic birding trip if you were not pretty sure that you wanted to be there, especially in February. But, basically, you need to pay the money, perhaps including paying for a room the night before the trip; you need to will yourself to get up before dawn and to surrender the next few hours to being trapped in an aluminum box that surges and rolls with the ocean waves. Sound like fun? It certainly can be, if the seas don't turn contrary. Our trip on Feb. 7 was.
Pete Gilmore, who divides his time between Newton and West Tisbury, and Ken Magnuson, an Edgartown native who keeps the Edgartown Golf Club looking good and working right, are birding buddies of mine. Occasionally we find ourselves in the same place at the same time, hunting our avian quarry with shared zeal. Each of them had signed up for the Brookline Bird Club's winter pelagic trip aboard the Helen H., a fishing party boat out of Hyannis, equipped with a galley, bunk beds for overnights and the speed to get its clients offshore tout de suite. Peer pressure added me to the passenger list.
Most of the sea birding trips out of Hyannis on the Helen H. are organized by the Brookline Bird Club. Most of the ones out of Plymouth on Captain John's Boats are organized by the North Atlantic Coastal Wildlife Alliance.
We had a convenient place to stay with friends in Falmouth the night before and hit the road about 5:20 the morning of the trip. We left the dock about 7:30, more than 60 of us. In the protected harbor the water was flat calm. Heading out to sea there was a light breeze and the speed of the boat contributed to the headwind and made for a nippy morning, the temperature around freezing. Like many on board, all three of us were weaponized with telephoto lenses and binoculars dangling from neck straps. There was little bird life for the first while. After kicking up some scoters and then increasing numbers of long-tailed ducks taking wing, strings of razor bills in modest numbers began to scoot by.
Heading east, between the Monomoy chain and the northern arm of Nantucket, we picked up more and more seabirds: razorbills and common murres riding low in the water, sometimes out of sight in the shallow wave troughs and hurriedly diving under; northern gannets, mostly adults, circling past one side of the boat and then the other, like bright white and black pterodactyls, occasionally knifing into the water on an angle where surface feeders, including groups of black-legged kittiwakes, were working. Sometimes there would be a melange of bird species, and other times we would be looking mostly at a single species on the water.
Eventually, the first Atlantic puffin was spotted. Puffins were high on the list of sought-after birds for the trip. We saw a number of them, usually one or two at a time, and, like the other alcids, the razorbills and the common murres, they most often would be swimming away from the boat. The razorbills were by far the most numerous of this group and at times would fly past like a length of white yarn against the dark sea, the line of head-to-tail birds visible at great distance in the midday sunlight.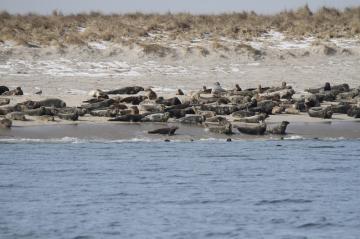 Every once in a while the trip leaders, experts at spotting and identifying pelagic birds, would point out a new or exciting bird or sea mammal. Besides the succession of fun-to-see seabirds, the trip also produced humpback and fin whales, and common dolphins approached the boat a couple times to play in its bow wake. We had only one shearwater, a late sooty, which came in to crisscross our wake where the crew had dumped chum to attract the birds. The aroma of the chum also gave us a pair of northern fulmars. The fulmars were expected as we neared the eastern limit of our trip, but the sooty shearwater was definitely a surprise, although shearwaters in general had been reluctant to leave New England waters this year. In any case, a few boxes on life lists got checked, which makes birders very happy.
The return trip back to Hyannis cut us in closer to the beaches south of Chatham. Along the way we found bunches of feeding gulls, which included Iceland gulls of all ages, first winter to adult (these are referred to as Kumlien's gulls by some) and a small number of lesser black-backed gulls. In shallower waters we encountered reams of common eiders and scoters, mostly white-winged, much like the sea duck show we had grown accustomed to seeing in years past off Wasque in the Muskeget Channel. Hundreds of them.
As we motored closer to land, the beach was curiously dark in most places, not the light sand we would expect. An estimated 2,200 gray seals were hauled out on the beach, their ranks stretching out right and left, as our bow faced the shore. Humping along like tired caterpillars in a hurry, bunches of seals seem to panic and make for the water, but, for whatever reason, most stopped short of leaving the beach and watched us in the boat as we watched them. Soon, under flat steel-gray skies, with subtle colors hinting of the hidden sun's drop toward the horizon, the Helen H. motored straight to port as our thoughts shifted to making the boat in Woods Hole and being home for the Super Bowl kickoff.
Bird Sightings
There have been several encouraging signs of spring. Lisa Wright had an American Woodcock visit, not far from her feeder, on Valentine's Day. On Feb. 20 Happy Spongberg reporting seeing an osprey fly above her car on North Road near Seven Gates. A few days later, on Feb. 22, Matt Pelikan reported a mixed flock of about 120 grackles and red-winged blackbirds descending over the Sunset Lake wetlands in Oak Bluffs.
The snowy owl population at Norton Point is up by 100 per cent! On the 21st and 22nd a second, very white snowy was seen by Christy Edwards, David Nash, Ron Domurat, Barbara Rogers and Cris Mayhew; it was sometimes being shadowed by a peregrine. Ken Magnuson also spotted one far west along the barrier beach at Edgartown Great Pond.
Erin Heffner saw an eastern towhee on Feb. 16 and wondered how common they are here in winter.
On Feb. 18 Marcia Streicher had two Carolina wrens coming to her windowsill feeder. On the same day, Jeff Bernier got detailed photos of long-tailed ducks working the rocks at the base of the East Chop Bluffs near the jetty.
Ken Magnuson saw 11 eastern meadowlarks at the marsh on the north side of the Herring Creek outlet into Katama Bay on Feb. 22. Susan Straight spotted nine red-breasted mergansers on Lovey's Cove on Quitsa Pond, and Dan Bradley posted photos on Martha's Vineyard Bird Alert of a Cooper's hawk that had just taken one of his bantam chickens.
In response to an online inquiry about cedar waxwings, Elizabeth Toomey and Ken Magnuson both report having noticed large flocks of cedar waxwings recently, one at the beginning of New Lane in West Tisbury, one in Katama. And, lastly, I am happy to say that a red-breasted nuthatch, hard to find on the Vineyard this winter, continues to be seen at my Tashmoo home.
There are lots of birds around, so be sure to report your bird sightings to birds@mvgazette.com.
Lanny McDowell lives in Vineyard Haven. He is a fine art painter and photographer specializing in bird portraits, which are available free to conservation non-profits.