In their office above the Chilmark Tavern, the programming team for the Martha's Vineyard Film Festival made last minute preparations this week. Brian Ditchfield, Thomas Bena and Hilary Dreyer reclined on comfortable sofas while looking at "The Wall", where they have mapped out the 30-program schedule with bright pink post-it notes stuck to pieces of white butcher paper.
The festival opens its 16th straight year on March 17 with a free screening of Heroin: Cape Cod, USA at the Martha's Vineyard Performing Arts Center and runs through Sunday, March 20. The selection process begins each summer, with the three programmers creating lists of films they think will interest their Vineyard audience. Eleven of the films this year are from the Sundance Film Festival.
"We represent our community, we're looking for films for the Wampanoag people, for the musicians here, for the intellectuals, for the artists and then we're also looking for community issues. This year it's obviously the heroin documentary," said Thomas Bena, the founder and creative director.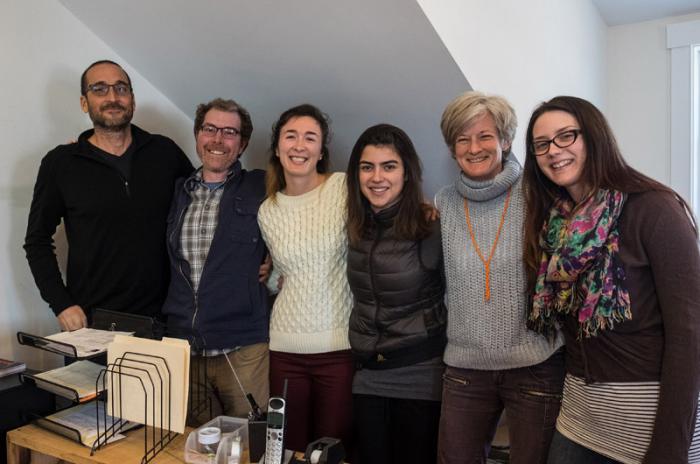 In September, Ms. Dreyer went to the Toronto Film Festival, and Mr. Ditchfield tackled Sundance in January with a carefully planned itineraries of films to scout. Meanwhile, the team was also fielding films that have been independently submitted or solicited by distributors.
After watching hundreds of films, the three met to defend their favorites in a flurry of creative tension. This year Ms. Dreyer championed Driving with Selvi, a documentary about South India's first female cab driver. Married off to an abusive man at age 14, Selvi contemplated killing herself before deciding to run away instead. Living in a girls' home at age 18 she began her journey to become a taxi driver. "There is no rule in India that women must keep on suffering," said Selvi in the film. Ms. Dreyer said she had already had an interest in the Southern Indian region.
"I felt very connected with the character [Selvi], she's inspiring," she said. "It's stories like this that deserve to be told."
Selvi made the cut and will show on Saturday at 9 a.m. at the Chilmark School, followed by an audio link with Selvi.
Brian Ditchfield returned from Sundance with a list of standouts. Many of the films, like a Maya Angelou biopic, were quickly agreed upon. Maya Angelou And Still I Rise was the passion project of Rita Coburn Whack and Bob Hercules. Mr. Ditchfield called it "stunning and heart opening."
The film showcases the poet, artist and activist through interviews before her death in 2014, and archival footage from speaking engagements and photographs.
"We have a lot of aspects of her life that became obscure," said Ms. Whack in an interview by phone. "What you're going to see is her as an artist and a mother."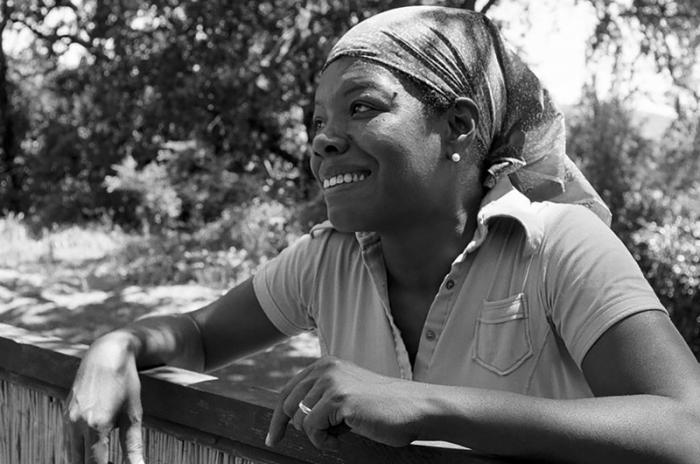 Ms. Whack and Mr. Hercules spent an enormous amount of time going through photographs to pare 4,000 pictures down to 310, made further difficult by to the lack of time stamps.
"We had to match time periods to hairstyle," Ms. Whack said. Ms. Angelou's family and friends and old Ebony magazines all helped date the photographs.
Ms. Whack said she was pleased to be part of a festival with so many films that celebrated women's perspectives.
"Until you get our point of view in the landscape, you don't have a full picture," she said. Maya Angelou and Still I Rise will screen on Saturday March 19 at 1:15 p.m. at the Chilmark Community Center.
Mr. Ditchfield went to bat for a film that also championed a point of view sometimes ignored. In the feature film Dheepan, a Sri Lankan refugee in Paris whose wife and young daughter have died is set up with a woman and orphan, both strangers, to pose as his new family as he navigates the difficult world of being a refugee.
"Dheepan took the most convincing," said Mr. Ditchfield. "It deals with a tense subject matter, but it's such a gripping drama and I think it really makes you feel what it's like to be a refugee. We do this a lot with documentary but it's rare with a narrative film like this one that it puts you so deeply into a reality."
Dheepan won the top honor at Cannes Film Festival and will play Friday, March 18 at 8:45 p.m. at the Chilmark School.
Another Sundance film is Holy Hell. Mr. Ditchfield watched Holy Hell on a lark, not having scouted it before the festival and was blown away.
"I just chanced into it, and then it was totally surprising," he said.
The film is the result of two decades of footage shot by Will Allen of the small Buddhafield cult. After graduating from film school, Mr. Allen joined a cult and became their videographer in the 1980s, affording him unparalleled access to the charismatic leader Michel. It is Mr. Allen's first film.
"What's amazing is this one from the start made you take the ride with him. I wanted to go in that cult," said Mr. Ditchfield. Will Allen will attend the screening for a discussion after the film.
"I'm really glad we're going to have that conversation," said Mr. Ditchfield. Holy Hell plays on Sunday at 10 a.m. at the community center.
The study of power dynamics is the focus of many films this year, from a piece on the scandal-ridden politician, Anthony Weiner to the bespoke tailor shop that specializes in providing suits to transgender and non-binary people, to a young Afghan rapper named Sonita living in Iran who faces the threat of being sold into marriage. The festival closes with Tony Robbins: I'm Not Your Guru, a documentary that delves into the motivational speaker's "Date with Destiny" seminar.
Mr. Bena said the festival focuses on bringing quality movies to the community, not just new releases.
"There's any of these you could watch on your couch," he said. "But you can't touch this experience."
Films will be screened at the Chilmark Community Center and the Chilmark School while the children's program will take place at the Chilmark Tavern. There will also be food, music and much more throughout the festival. For the full schedule and tickets visit tmvff.org. Those who wish to volunteer may contact kara@tmvff.org. Volunteers will be paid in movie tickets.