An estimated crowd of 400 people viewed the first on-Island screening of the HBO film Heroin: Cape Cod, USA, at the high school Performing Arts Center Thursday evening. The Martha's Vineyard Film Festival opening night feature documentary was originally scheduled at the main festival venue in Chilmark, but was moved to the larger location because of strong audience demand.
"We were sold out at the Chilmark Community Center a week ago and I wanted as many people as possible to see this film and to engage in the discussion afterwards," said Thomas Bena, festival executive director.
The screening was followed by a panel discussion organized by the Dukes County Health Council Youth Task Force, which included film co-producer Lise King. Joining the panel, moderated by Vineyard Gazette publisher Jane Seagrave, were Dr. Alexander Walley, an addiction medicine specialist at Boston Medical Center, Dr. Charles Silberstein, a psychiatrist in practice on Martha's Vineyard, and Lieut. Pat Glynn, commander of the narcotics unit of the Quincy Police Department.
Ms. King joined state Senator Dan Wolf to introduce the film. She told a poignant story about traveling to Martha's Vineyard for the event. The story involved Arianna, one of heroin addicts featured in the documentary. She was one of two addicts who relapsed and died of a heroin overdose before the film was finished.
On the afternoon before the screening, Ms. King was thinking about the remarks she planned to deliver that evening when she entered the Steamship Authority terminal in Woods Hole. In a halting voice, she explained what happened.
"I stepped up to the counter to buy my ticket," Ms. King said. "I looked up, and there was Arianna's mom."
She said the moment emphasized for her the depth of heroin addiction on the Cape and Islands.
"This is our problem," she said. "It's happening in our community, to our kids."
Mr. Wolf also told a personal story about his future son in law, who is 20 years into his recovery from addiction.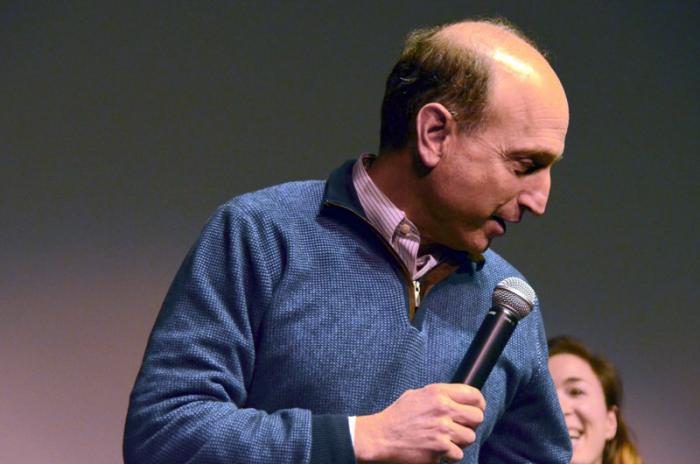 "It is a symptom of a society and a culture that has gone in a bizarre direction," Mr. Wolf said. "We have to be activists to solve this problem. Everyone in this room has been touched one way or another."
The film follows a group of eight people in Falmouth and Hyannis as they struggle with heroin addiction. The collective cringe of the audience was palpable as the film's subjects injected heroin into neck veins, or recounted how they got up every day scheming how to steal money or sell heroin to others in order to feed their addiction.
Following the screening, the panel discussed some of the issues raised by the film.
Dr. Silberstein, who treats more than 60 addicts on Martha's Vineyard, said the film depicted addicts who once used heroin for the high, but are now using drugs only to prevent the symptoms of withdrawal.
"What I'm told by my patients over and over again is that they are chasing that same euphoria," Dr. Silberstein said. "Most people who are using opiates aren't using it to get high or have pleasure as much as they are using it to get straight, to get normal."
Lieutenant Glynn is a strong advocate for equipping police departments with naloxone, often known by the brand name Narcan. It is an easily administered medication that temporarily reverses the effect of an opioid overdose. He introduced naloxone to the Quincy police department, along with a change in approach.
"We changed our mindset in Quincy from it being a crime to a disease," he said. "We used to use arrests. We wore out a lot of handcuffs."
Lieutenant Glynn said the use of naloxone by his police department convinced him to advocate for all police officers to carry the overdose antidote.
"We're on the scene 90 per cent of the time before EMS," he said. "We've saved abut 500 lives."
Dr. Walley said medical detoxification should not be considered treatment for heroin addiction.
"Detox worsens your overdose risk," Dr. Walley said. "The day you leave detox your risk of overdose is higher than when you go in because your tolerance is lower. Your risk of relapse when you leave detox is 80 per cent within six months with no further treatment. What detox is, is a step to further treatment."
Ms. King said many of the addicts who were in the film Heroin: Cape Cod, USA are now getting effective treatment.
"Colie (Nicole) is still clean," she said. "Shan, her friend who went to detox at the same time, is still clean. We had an anonymous donor offer every kid who was in the film who wanted to go to a real inpatient treatment program, it was paid for 100 per cent. Dan has been in treatment in Malibu, Calif since right after the Boston screening. He's been clean since December. He looks like a different person. Danielle has also gone out to the treatment center. Cassie is still clean.
"The kids who were in the film who have been trying and struggling and trying and struggling who were given the opportunity to have a real inpatient treatment program and really do it right, are doing well."