Spring migration has finally arrived, now that spring is here, at least by the calendar. This week's new arrivals are eastern phoebes and a piping plover. Both species showed up on March 18. The phoebes were singing — one at my house and the other at Penney Townes' house in Edgartown. Rick Dwyer observed the piping plover on Norton Point.
At this point in the season, we are noting the first arrivals, or early dates, of the species that are summer residents of the Island. There is also a peak time when migrants arrive, which is often about two weeks after their first arrival. And then a while later comes a time when migration ends and most of "our" breeding pairs have arrived.
The northward migration, or spring migration, is a long drawn out event. Because species migrate at different times, this migration continues into early June. Some of the early migrants have already started to come, but most of our summer residents will come later, including sparrows, orioles, vireos, warblers and, last but not least, the Empidonax flycatchers (irony: one of the Empidonax flycatchers is the least flycatcher). And there are migrants, such as many of the shorebirds that pass through but breed much further north. Indeed, there is much to look forward to.
More individuals of the three species noted in last week's column — osprey, oystercatchers and brown-headed cowbirds — continue to trickle in. Alex Friedman observed an osprey at Uncle Seth's Pond on March 17. Suzan Bellincampi reports that they are back at Felix Neck as of March 18. Anne Lemenager reports that one of the Wade's Cove osprey arrived on March 19. Morgan Hodgson reports that Lobsterville pair is back. And on March 20 one of the high school ospreys returned to its nest in the football field's light tower. Neither were there in mid-afternoon, but one was there when I drove by around 6 p.m. And Morgan Douglas reports his first osprey of the year over Vineyard Haven harbor on March 22.
Oystercatchers are also trickling in. Rick Dwyer observed two of them on Norton Point on March 18. Sharon Simonin reported two oystercatchers near Vineyard Haven harbor. And Susan Straight reports three oystercatchers at Chocker's Point in Menemsha Pond.
Maggie Bresnahan and Penny Uhlendorf both report that brown-headed cowbirds have arrived. Learn their unique call note so you can listen for them later and realize how widespread they are.
Bird Sightings
Anne Good notes that she has had huge flocks of grackles and she says "they are eating us out of house and home." The good news is that most of these large flocks will not stay here, but will move on to their more northern breeding grounds. That is, unless you are lucky enough to have a colony of them that will be nesting near your house.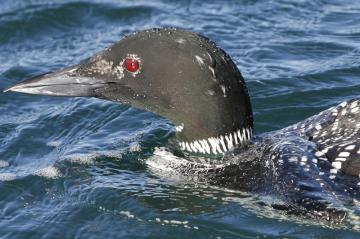 Lanny McDowell reports that some of the common loons are now almost completely molted into their striking black and white breeding plumage. Note the brilliant red eye if you get a close-up view on one of these loons. He has also been watching the common eiders that are frequenting Menemsha Channel in search of blue mussels.
Laurie Meyst has been observing a screech owl living in a cavity of a tree. It is so unexpected to observe a cavity in a tree — they nest in cavities where a branch used to be — and see an owl staring back at you even in broad daylight. They are more common than we realize. Listen for their mournful whinny, which can either descend the scale or all the notes can be on the same pitch.
Sioux Eagle reports about 20 cedar waxwings in her yard along with some robins. Others reporting these handsome birds include Niki Patton, Tammy Deese and Sande Weinstein. These waxwings breed in scattered locales around the Island, but they are more abundant through the winter and early spring. They are nomadic as they are search for berries to eat. Adding a bird bath to your yard will increase the probability that they (and other species) will visit your yard.
On March 21, Jeff Verner spotted our old friend, the leucistic song sparrow that has been living near the southern end of Crystal Lake for over two years. He also found a green-winged teal and a pair of wood ducks hanging out with a few mallard on Edgartown Great Pond. And speaking of wood ducks, Happy Spongberg found a pair of wood ducks and five lesser scaup on Cranberry Acres Pond on March 18. Two different sightings of wood ducks in one week; I like that trend.
There are lots of birds around, so please get out looking for them, and be sure to report your bird sightings to birds@mvgazette.com.
Robert Culbert leads guided birding tours and is an ecological consultant living in Vineyard Haven.