One hundred voices strong, the Island Community Chorus joins forces with a 31-member professional orchestra and two soloists next weekend to perform one of the most powerful works in the choral-orchestral repertoire: the majestic Brahms Requiem.
The concerts, at the Martha's Vineyard Performing Arts Center next Saturday evening and Sunday afternoon (April 2 and April 3), are free of charge in celebration of the chorus's 20th season.
"It's the choir's way of thanking the community for 20 years of great audiences," said Nis Kildegaard, who sings in the bass section and serves on the board of the nonprofit chorus.
To hire the orchestra and soloists and rent the Performing Arts Center at Martha's Vineyard Regional High School, chorus members donated and raised more than $20,000. Grants from local banks, foundations and the Martha's Vineyard Cultural Council boosted the fundraising total to almost $59,000, said chorus board president and tenor Bill McConnell.
That was the easy part. Tackling the music itself has been an ambitious project for the amateur community chorus, which holds no auditions and accepts all singers. With seven movements totaling more than an hour of music — it's the longest work Brahms ever composed — the Requiem can challenge even the most professional choristers.
"It's a tough piece," Mr. McConnell said as chorus director Peter Boak and pianist Garrett Brown led the bass singers through a tricky movement before the regular all-voices rehearsal Monday night at Trinity United Methodist Church in Oak Bluffs.
But with Mr. Boak at the helm, Mr. McConnell said he was confident the chorus will be ready in time for next weekend's concerts.
"He'll get us there," he said of the lanky director, who founded the group in 1996 with about 40 singers. "He has a great way of pushing like mad and then hitting you with a velvet hammer, saying you've got to get a little bit better than that."
Mr. Kildegaard echoed the faith in Mr. Boak, a professional choir director who also serves as organist and music minister for the Federated Church in Edgartown.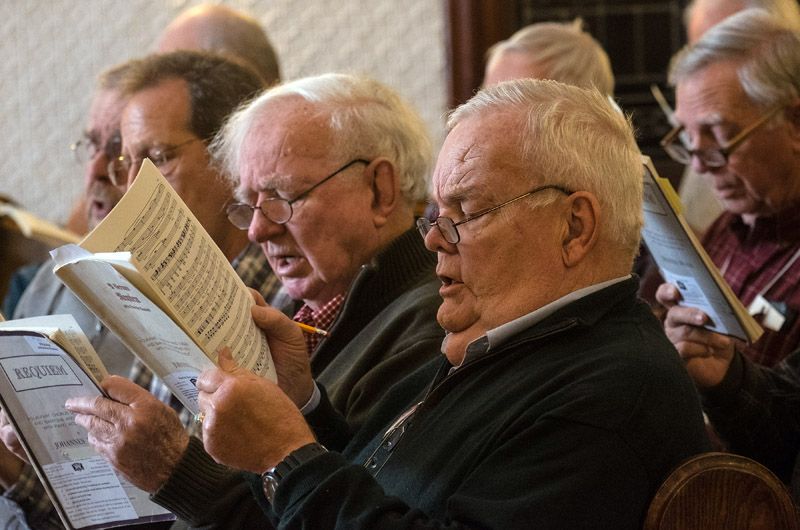 "We trust Peter to carry us to the finish line," Mr. Kildegaard said. "After 20 years of this, he knows what we can do and can't do. He makes it challenging but not impossible."
At Monday's rehearsal, the soft-spoken Mr. Boak showed no qualms as he warmed up his singers with a series of vocal exercises before coaching the altos on their entrance in the sixth movement.
"By the time we get to the performance, they'll be well prepared," he said afterward. Mr. Boak said he is now spending at least three hours a day getting ready for the concerts; it's his first Brahms Requiem as well.
Soprano Molly Conole and baritone Michael Prichard have soloed with the chorus in past concerts, notably the spring 2014 performances of Felix Mendelssohn's St. Paul with many of the orchestra members who are returning for the Requiem.
An Islander and community chorus member, Ms. Conole stunned her fellow singers at an early Requiem rehearsal. "She sang her solo and the entire choir forgot to come in," Mr. Kildegaard said. "We were just agog at the beauty of her singing."
The Requiem — originally known as A German Requiem, although Brahms wrote at the time that he would happily replace "German" with "Human"— is a tall order for any chorale. The soprano and baritone soloists do not sing arias or entire movements. This means the choristers are always on the job, singing or about to sing.
But they don't have to sing in German, a boon for this chorus and its audience alike. Brahms based his masterwork on texts from the Lutheran Bible, including Hebrew scriptures as well as the New Testament. Devotional without being liturgical, the Psalms, prophecies and gospels he chose offer simple words of comfort and faith in English as well: "How lovely is thy dwelling place, Oh Lord," is the theme of the fourth movement; the last ends with "they may rest from their labors … ," from Revelation.
"I love the emotion behind it; I love the overall message," Mr. Boak said. "It's a piece of music about hope; it's more for the living than it is for the dead."
And it's not specifically for Christians. The Brahms texts skip any mention of Jesus, which reportedly caused some tension when the original Requiem premiered on Good Friday in 1868. Instead, he selected some of the disciples' most compelling words of consolation: Matthew's "Blessed are they that mourn; for they shall be comforted" and "Death, where is thy sting? Grave, where is thy victory?" from 1 Corinthians.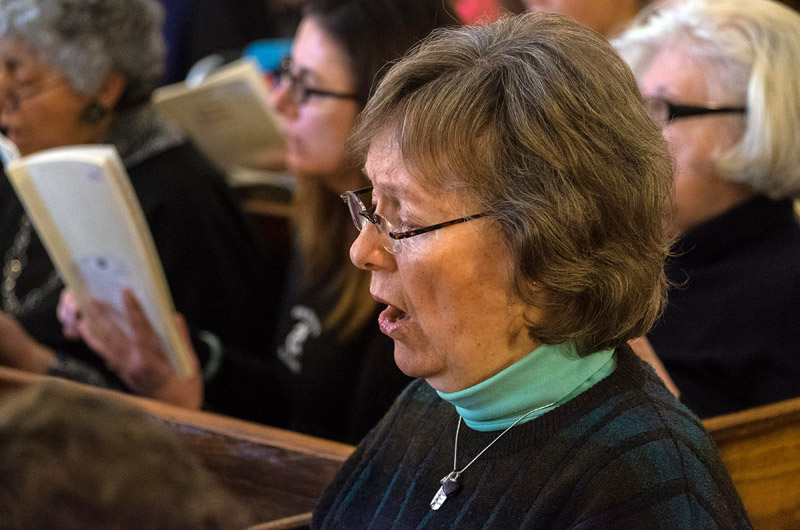 The 31 professional musicians in the orchestra hail chiefly from the Boston and New York areas and will be staying in choristers' homes from Thursday through Sunday. "We're all making space," Mr. Kildegaard said.
Spring is the only time the Island Community Chorus presents an all-classical concert — its other two programs are for the Independence Day and Christmas holidays. This year, Mr. Boak has something extra in store for audiences: a 20-minute pre-concert talk by musicologist Laura Stanfield Prichard.
"We've never done that before," the director said. "It's a very common thing with major orchestras around the country."
Ms. Stanfield Prichard, who is married to the baritone soloist, gives music talks before concerts as a profession, so Mr. Boak arranged for her to introduce the Brahms Requiem with information about the piece, its composer and its historical setting.
Audience members should arrive half an hour before concert time for the talk, Mr. Boak said — 7 p.m. on Saturday and 2:30 p.m. on Sunday.
And speaking of history — while the Island Community Chorus Islanders know today celebrates its 20th season, the choral tradition on Martha's Vineyard is nearly as old as the Brahms Requiem itself. As a result, Mr. Boak shrugs off any suggestion that he founded his own chorus. "It's been in many other guises since the late 1800s; I've just continued it," he said.
Talk to the choristers, though, and you'll hear a different song. Mr. Kildegaard called Mr. Boak "a national treasure," while Mr. McConnell simply said: "He's the music man. We just love to sing."
Free performances of Brahms Requiem by the Island Community Chorus with orchestra and soloists will be held on Saturday, April 2, at 7:30 p.m. (7 p.m. for introductory talk by musicologist Laura Stanfield Prichard); and Sunday, April 3, at 3 p.m. (2:30 p.m. for the introductory talk). Both concerts are at the Martha's Vineyard Performing Arts Center at the regional high school.