How did the American woodcock's weird courtship flight get started? The ground part is simple. After arriving about 20 minutes after sunset, the male woodcock begins its peenting, a buzzy throaty peent every three to five seconds. After a few peents the bird pivots and points in a new direction.
After a few more peents the dance begins. He jumps into the air and climbs higher in wide circles, until he reaches an altitude of up to several hundred feet. All the while, air is rushing past his oddly-shaped wing feathers, producing a musical twittering sound. As he descends from this height, zigzagging downward sort of like a falling leaf, he utters repeated melodic chirps. He returns to the approximate place he took off from, hoping a female is waiting for him.
While this dance may be repeated for 45 minutes or longer, it is only the first few flights that are visible before it gets too dark to see him.
These displays are often the only times a woodcock is seen. They are very chunky shorebirds about eleven inches in length. They frequent dense stands of shrubs and young trees rather than open shoreline habitats, so they are an upland shorebird. Their plumage is a mixture of rich browns and grays, making them very inconspicuous in their woody habitats.
A woodcock's bill is about two inches long and is used to probe into the soft soil in search of earthworms. The tip of its bill is flexible, so even when its bill is stuck into the ground it can grab an earthworm (opening its entire bill would be difficult because of the soil's pressure). Its habit of stomping a foot as it walks through the woods may make buried earthworms easier to detect because the heavy footfall makes the worm move a little bit.
But imagine the dangers to a chunky bird with its beak stuck into the ground. You might think that a predator would be able to approach undetected. But no, a woodcock's eyes are located near the back of their skull so they can see while they are foraging with their beaks in the soil.
Woodcocks are not as common as they used to be. Before the 1980s they were widespread across the Island. They could be seen and heard in many an old field around the Island. Not anymore, especially down-Island. For the past 20 years or so, the most reliable place to see them throughout April and May has been at the frisbee golf course in the Manuel Correllus State Forest. Go there to see this unique creature in action. But please watch out for flying frisbees. If it is light enough to see a woodcock it is light enough to play frisbee golf.
Bird Sightings
All of a sudden the woodcock are back. Liz Loucks has the first report of the season when she heard and saw them in Aquinnah on March 20. Suzan Bellincampi and Nathalie Woodruff report they are back at Felix Neck as of March 25, which is about when Geoff Kontje first observed them at Tom's Neck Farm on Chappaquiddick. Wendy Culbert and I went to the Frisbee golf course at dusk on March 26, and we heard and saw at least two and probably three males displaying. Prescott Walsh spotted one in a field near Quansoo on March 26. Scott Stephens, Penny Uhlendorf and Ken Magnuson found one at the Frisbee golf course on March 28.
On March 27, Warren Woessner observed two great egrets as they flew over James Pond and Lambert's Cove Beach. Another first for the spring season — they are undoubtedly not the same birds that were here in December and early January.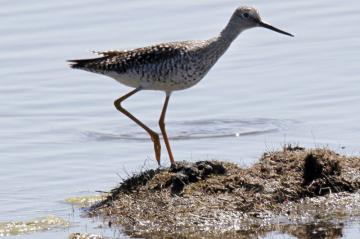 Ken Magnuson reports that there were greater yellowlegs on the mudflats of Slough Cove in Katama on March 28, another first for the season.
Gus Ben David reports the first two double-crested cormorants of the season on March 28. They flew over his house, likely on their way to nearby Sarson's Island. He also had a pine warbler visiting his feeder.
Steve and Happy Spongberg went out for a walk at Long Point on March 27 and their highlights included four Eurasian wigeons and two tree swallows. The vast majority of all the wigeons we see on the Vineyard are American wigeons.
Tom Hodgson found a kestrel at the Park and Ride lot in Vineyard Haven on March 27. Interesting adventure: it had caught a bird when both kestrel and prey were attacked by a red-tailed hawk. The caught bird escaped and flew off with the red-tail in hot pursuit. One never knows where or when the next adventure will materialize.
On the shorebird front, Cookie Gazaille Perry observed two piping plovers on Norton Point and Jeff Bernier found three American oystercatchers at Little Beach in Edgartown, all on March 27. John Zannini observed two oystercatchers at Long Point on March 27.
In an early breeding season report, Jeff Bernier reports that a pair of harriers were swooping around the Katama Airpark on March 26, and Matt Pelikan observed a courtship display flight by a male northern harrier in the western portion of the State Forest on March 27.
There are lots of birds around, so please get out looking for them, and be sure to report your bird sightings to birds@mvgazette.com.
Robert Culbert leads guided birding tours and is an ecological consultant living in Vineyard Haven.