As a teenager growing up in Menemsha, Rebecca Mayhew fell in love with a golden retriever named Rogue. Rogue belonged to Bob and Nancy Lawrence, their neighbors on Prospect Hill, and Ms. Mayhew spent hours at their house with Rogue, she recalled. When Mr. Lawrence and her father worked on their boats, Ms. Mayhew would sit on the drive-on dock with the dog.
"I fell in love and my parents decided they had to get me a dog so I'd leave [the Lawrences] alone," Ms. Mayhew said. She soon got her own golden, Tchibo, as a Christmas gift. "I've had them ever since."
From that first love came many more golden retrievers, a business and a dog-filled lifestyle. Ms. Mayhew and her husband Mike Hewitt run Sunstruck Goldens and Grooming out of their Edgartown home, which is full of happy, rambunctious canine energy.
In late January their dog Isis, named after the Egyptian goddess, gave birth to her third litter of puppies: Dory, Daisy, Airlie, Izzy, Moose, Bailey, Cutty, and Vinnie, the only boy. By late March all but two of the puppies had gone to their new homes. Feisty Moose would soon leave to live with her new family. Ms. Mayhew and her best friend will co-own Cutty as a show dog.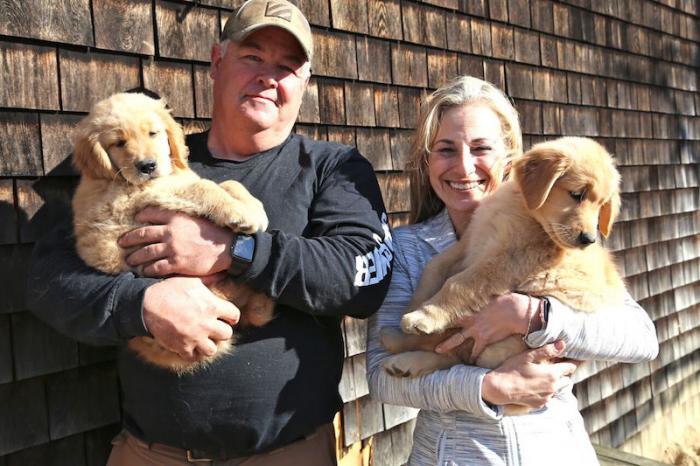 "It's been the realization of a dream to have the puppies in the house," Ms. Mayhew said last week as the puppies wrestled, played with their mom, chewed on a reporter's pen, and inspected the cat in the couple's living room.
Theirs is a house where all animals are welcomed and loved; a legacy on both sides.
Mr. Hewitt, also a native Islander, grew up with dogs and animals. His mother had a goat she took into town and a pig that once escaped and walked into the Edgartown A&P.
Ms. Mayhew worked as a veterinary assistant and technician before switching over to grooming, which she continues for all types of dogs.
A few years ago Mr. Hewitt found feral kittens under the floorboards of a house in Katama, and brought them home. The kittens joined the other two cats and two rescue chinchillas. Everyone gets along, Ms. Mayhew said
But the heart of the business, and Ms. Mayhew's and Mr. Hewitt's life, is the goldens.
At Sunstruck headquarters the fluctuating pack of goldens includes an older dog, Rogue, named after the first dog from Menemsha, and Tori, a rescue they took in as she was recovering from an auto-immune disease.
Dutch, a gentle five-year-old with dark caramel fur, accompanies Mr. Hewitt to construction jobs and likes to lay against him on the couch. "He's a really handsome dog but his personality is so gentle and loyal," Mr. Hewitt said.
The couple kept Isis's daughters Scarlett and Mariah, who will soon be used for breeding. Scarlett loves chasing after balls so much her jaw quivers with anticipation when Mr. Hewitt holds the ball launcher.
Goldens are beautiful, Ms. Mayhew said, especially the fluffy puppies that like to snuggle in the crook of their arms. But compared to other dogs, "in my experience there's a deeper connection with golden retrievers on a spiritual level," she said. "They get you better. They sense when things are not right."
To be a responsible breeder requires finding a dog with the proper clearance: their hearts and eyes need to be checked for congenital defects, and their hips and elbows inspected. Isis passed the test and has had three litters of puppies, 21 in all.
The puppies' father lives on the Cape at Pebwin Kennel, owned by Peter and Berna Welch, a couple with Island ties.
The puppies are born in a four-foot by four-foot whelping box in the puppy room on the second floor. For the first four weeks Ms. Mayhew sleeps in the room (which has a bed and a TV) to watch over the puppies and help Isis.
"Once you see them, these tiny little babies, and how easily someone could get hurt, it's hard to actually leave until they are old enough that mama's not going to roll on one or step on one," she said. "They're too delicate and too precious."
And Isis appreciates the help. "She likes me to help with everything," Ms. Mayhew said. After feeding the puppies Isis likes to clean each one. "She wants me to hold them out for her," she said. "She'll let me know if I pick up one that's already been done. She'll nudge it away."
Pretty soon puppy territory grows to include a play area. At eight weeks they can be go to their new homes on the Vineyard and elsewhere in New England and beyond. One lucky pup spends summers on the Vineyard and winters in Hawaii.
Having 21 puppies will take a lot out of a dog—Isis was just starting to get back her playfulness and her normal physique after a couple months of serious mothering—so this year's litter was her last.
"She's made a lot of people happy," Ms. Mayhew said.
"Twenty-one families," Mr. Hewitt said.
Mr. Hewitt and Ms. Mayhew let the brood out for a romp and a game of fetch, with even the puppies getting in on the action. Back inside, Ms. Mayhew said the puppy business is a labor of love, with equal parts of both. Ms. Mayhew said she is grateful that Mr. Hewitt supports her puppy dreams. Mr. Hewitt, who clearly loves the dogs too, noted that with so many dogs around, one is never cold at night.
"To be able to actually do it, finally, at this point in my life, it's just really, really amazing," Ms. Mayhew said. "And for him to put up with it."
Isis loves to dock dive and swim, and so do her puppies, except one (named Triton, ironically). And Isis has also taught the other dogs how to open the sliding glass door to the backyard. One time, Ms. Mayhew said, the dogs let themselves out and went for a swim in the pool and then came back in, all dripping wet.
Isis and Dutch started a modeling career a few years ago when they starred in a Ralph Lauren campaign shot on the Vineyard. Isis made it into an international young girls special occasion dresses campaign, and has been on the cover of Lisa Vanderhoop's annual Vineyard dogs calendar. New owners are picked carefully; Ms. Mayhew said she wants them to feel the same way about animals that she does.
"It's hard to say goodbye when the dogs are adopted, Ms. Mayhew said, but it makes it worth it "when you see the faces, when you're handing them that puppy," she said. "You're gifting them hopefully 12 years of love and companionship. It's the best present I ever received. I just want to be able to support that."
And the pups and their new parents tend to become part of the extended family (and often call during the first few weeks with puppy questions, which Ms. Mayhew is happy to answer). Sunstruck Goldens and Grooming also boards Isis's puppies when their families go on vacation.
Last summer there was a puppy party on Chappaquiddick for Isis's second litter.
"They obviously knew each other," Ms. Mayhew said. "They all remembered me — I mean crying and happy to see me, like they knew it was mama, and the same with Isis. And she was having a blast, playing in the field, running with them."