Le Patin Libre is an ice skating dance troupe from Montreal. If that sounds like an odd hybrid, consider the show itself, called Vertical Influences, which moves the audience around to different locations. For the first half of the show (Influences) the audience sits as if they were at a hockey game or ice skating show in the familiar territory of the stands. For the second half (Vertical) the audience gets up close and personal with the skaters, sitting on benches in the goal area of the rink, changing their perspective entirely.
Le Patin Libre is the third and final program in the Yard's winter series. The show takes place at the Martha's Vineyard Ice Arena this Saturday, April 9, for two shows, one at 11 a.m. and another at 7 p.m.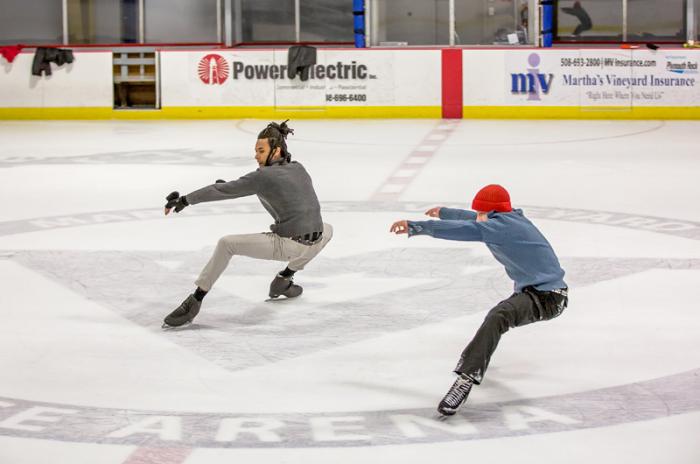 Formed in 2005, Le Patin Libre came together as a collection of classically trained high level figure skaters who were looking to transform the art of skating. The current company — Alexandre Hamel, Pascale Jodoin, Jasmin Boivin, Samory Ba and Taylor Dilley — have been together for five years. They perform in street clothes sporting beards and dreadlocks, not the image that comes to mind when one thinks of figure skating. And that is exactly what they wanted.
In the beginning, Le Patin Libre focused on deconstructing the rules of figure skating. Besides eschewing sparkling leotards and slicked back hair, they stripped away the flourishes in the skating itself and uncovered movement associated with dance.
"We didn't know about dance, only skating," said Mr. Hamel. "We first discovered the dance, then we discovered that it was dance."
When time on ice rinks was difficult to come by, Le Patin Libre took to the frozen ponds to practice and even perform. Fighting against the natural instinct to go bigger for a show, they pared down and turned their attention to the glide.
"The basic element of the glide is a human body can be immobile but go through space at a high speed," said Mr. Hamel. "It's not supposed to have that high speed and have that immobility. Ice is the best way to experience that."
After two years of intense work, Le Patin Libre began touring Vertical Influences in 2014 throughout Canada and Europe. Saturday's performance is the American debut.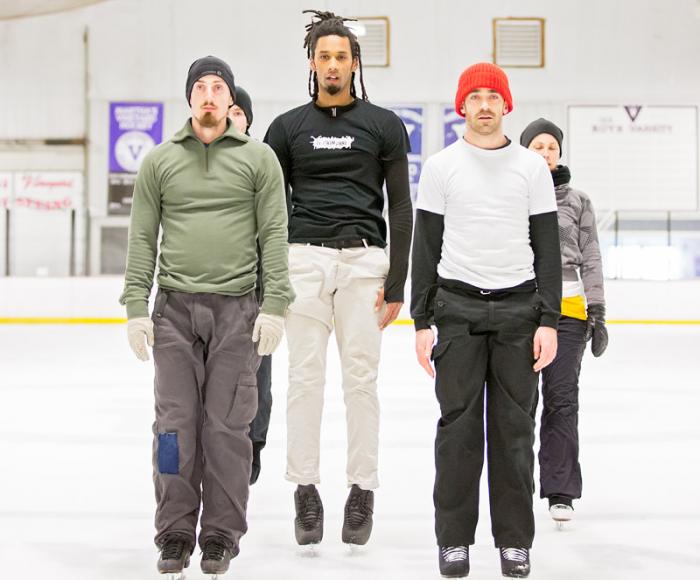 The group decided to have the audience on the ice for part of the show after watching a rehearsal taped on the ice. The perspective change gave them new options to explore in the choreography.
"It is very fun to have the public with us, we're used to being in an aquarium or laboratory," said Ms. Joidon. "When they are on the ice, we can see their faces, we can play with them."
Le Patin Libre brings their entire set up with them in a van. The show transforms the rink with lighting, handled by their technical director, David Babin, and a precisely composed score that allows the sound of their skates on ice to become an accompanying instrument. The score was composed by Jasmin Boivin, the only self-taught skater in the group.
"Since I skate, I can see what works better and what doesn't," Mr. Boivin said.
David White, artistic director of the Yard, saw Le Patin Libre over a year ago in Montreal, and said their performance is an entirely new concept for ice skating.
"You're not looking at Worlds, you're not looking at Disney on Ice with a clock and a candle skating by," he said. "When you watch, it's not so much tricks, this is a collective choreography they do. It has a hypnotic quality to it."
For Saturday, Mr. White recommends leaving preconceptions about ice skating behind, but bringing a scarf and gloves.
Vertical Influences will play twice on Saturday April 9 at 11 a.m. and 7 p.m. at the MV Ice Arena. Tickets are $15 for general audience and $5 for children. Tickets are available at dancetheyard.org or at the door.