A large crowd turned out for an event at the Oak Bluffs School Friday evening that had the overtones of a camp meeting revival. But the subject was heroin addiction and the leader was Billy (Inkslinger) Pfaff, a mainland tattoo artist-turned advocate who is attracting attention in the region with his tough-talking public road show that grew from a Facebook group called Heroin Is Killing My Town.
"The tourists aren't going to come to this beautiful community. It's going to be wiped out," he warned the gathering of about 200 Islanders.
Mr. Pfaff recently closed his tattoo business to devote all his time to helping addicts find treatment and stay clean. Using social media as a home base, he focuses on finding people who might otherwise fall through the cracks of traditional support and treatment systems. Heroin Is Killing My Town has 45,000 followers. At the end of the Vineyard event Friday, a new Facebook page was announced called Vineyard Support Network .
The Friday program included wrenching personal stories from heroin addicts and their families.
"Heroin doesn't compromise," said Emily Wells, 21, from Vineyard Haven. "I've slept in more hospital beds this year than I have my own. At the end of the day, the choice is always going to be my own, and I choose to live."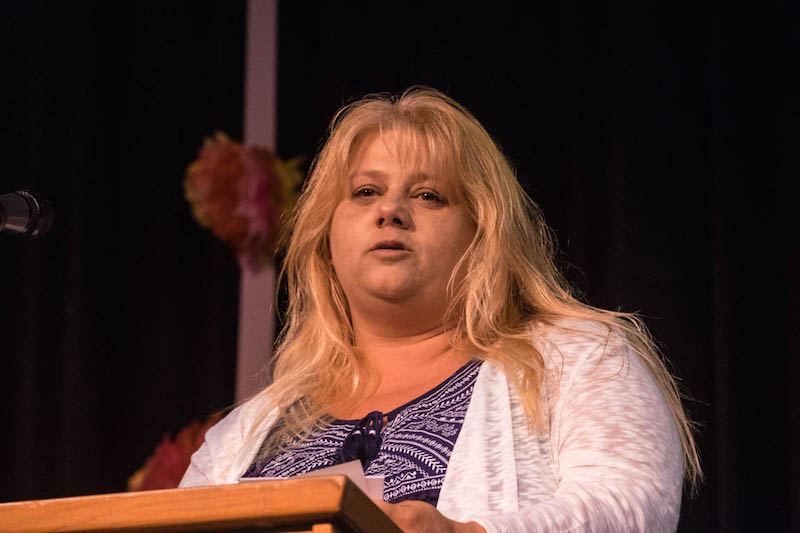 She credited Mr. Pfaff with finding her a treatment facility off-Island, only to be turned out on the street late at night in a strange city, because the center would not accept her health insurance.
Her mother Tracey Wells also spoke. "I had a great life. Great job, great husband, two wonderful children. I had it all," she said. "In the blink of an eye, my world came crashing down on me. I had a heroin problem. It robbed me of everything I held dear to me. Heroin stole my job, rocked my 30-year-old relationship to the core, almost broke up my family and crushed my soul. Funny thing is, I've never touched heroin in my life. I am the parent of a heroin addict."
Kaleena Searle was another addict who described a life of arrests, jail time and addiction, crediting Mr. Pfaff with starting her on a path to sobriety 14 months ago.
When he took the stage, Mr. Pfaff had changed from his earlier dress of sleeveless T-shirt and backwards baseball cap into a tailored gray suit and tie. "I clean up pretty nice, don't I," he told the crowd. "My mission is to break the stigma about drugs and the epidemic, and I have people talking about the way I look. Do I need a three-piece suit to go under a bridge and save your child's life? So what does it matter what the hell I wear? I'm here to kick in some doors and rip up some rugs."
He spoke bluntly and at length about his own struggles with depression, homelessness, suicide attempts and the loss of his best friend and his daughter's boyfriend to heroin addiction. He spoke about gaps in treatment and the stigma of heroin addiction.
"I've brought numerous people into hospitals," he said. "I have yet to see anybody put in a room, in an emergency room, with a door on it. They get put on a gurney in the back hall. If one of you walked in and said you had diabetes, or cancer, or a bad heart, do you think you're going to go on a gurney in a back room? No."
He said in large cities the heroin problem is out in the open, but on Martha's Vineyard it mostly stays behind closed doors.
Speaking to the Gazette by phone the next morning, Mr. Pfaff said the Vineyard Facebook page will serve as a contact point and a place where people can learn about Island-based resources.
"I have a good network," he said. "I have an amazing group of people around the world. The people that I help save, the families that I help, they all join my team. They've all lived it. That's how I build my network, it's people that are really affected by it hitting the streets. But we need everyone to hit it, not just people that are affected. That's why we're not getting anywhere, we're hitting road blocks. The stigma is stopping it."