The Felix Neck bird-a-thon started at 6 p.m. Friday and continued for the next 24 hours. As I do not yet have a final list of species, I will base my comments on the reports I have received and on my observations.
Friday evening was a partial washout since a warm front came through and the rain started around 7:30 p.m. Olsen Houghton and I were at Wasque Point right at 6 p.m., but there was dense fog just offshore and the only birds we found were common terns calling from within the fog bank. Not an auspicious start.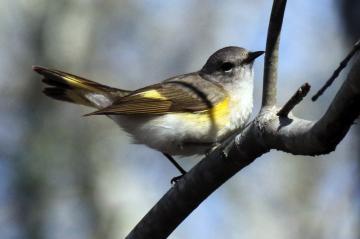 The Land Bank's Poucha Pond reservation was not foggy but birds were scarce, with nothing in the salt marsh. We found a flock of five golden-crowned kinglets in the pines near the parking lot. From Dike Bridge the view was similarly barren, although Mr. Houghton spotted a black-crowned night-heron as it flew off to the north to perch on the edge of a distant salt marsh. In the now heavy rain we heard and then spotted two chuck-will's-widows fairly close to the Dike Road. It is always nice to find the primary species that we went to Chappy to find.
Fortunately, the rain ended before midnight and it became a good night for migrating songbirds. There were a lot of songbirds near my house on Saturday morning, including indigo bunting, scarlet tanager, ovenbird, black-and-white warbler, American redstart, northern parula, yellow warbler, prairie warbler, black-throated green warbler and Baltimore oriole. These species were not here on Friday and, except for the oriole, they were not seen on Sunday either. Because of this, I believe the Island experienced a fairly heavy migration that night. While most of these species breed on the Island they do not breed in the woodlands near my house. And in 20 years of living there I have never seen that many warblers nearby. Most of them were feasting on the little green caterpillars — fall cankerworm and/or winter moth — that are devouring the leaf buds of oaks in my neighborhood. I was hoping they would stick around a while longer to consume more of those little pests.
Other bird-a-thon sightings include Nelson Smith's magnolia warbler at the Oak Bluffs pumping station. Lanny McDowell, Allan Keith, Ken Magnuson, Soo Whiting and Flip Harrington were out and their highlights include blue-winged warbler, Brewster's warbler (a hybrid between blue-winged and golden-winged warblers), least flycatcher, orchard oriole, semipalmated sandpiper and least sandpiper. I will provide more highlights once a complete list of species observed during the bird-a-thon is available.
Of course there is bird news in addition to that from the bird-a-thon. Ginny Jones reports an immature bald eagle at Deep Bottom Cove on May 12. Ted Rosbeck is the latest to hear the barred owl near Sweetened Water Farm on May 12. He had also heard it calling from the same location in mid-April.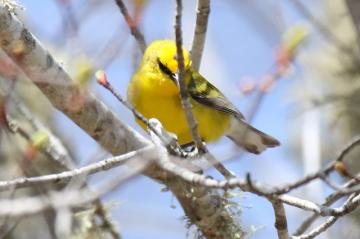 Jeff Bernier found ruddy turnstones and semipalmated plovers at Little Beach on May 13. And Sharon Simonin found the pair of wood ducks that have been frequenting the flooded cranberry bog near the Wakeman Center.
On May 14, Mr. Smith found two purple sandpipers in full breeding plumage foraging on the long rocky groin at the Oak Bluffs beach. When we see them they are usually in their duller winter plumage.
Linda Schlageter found the leucistic song sparrow that has been regularly seen near the southern end of Crystal Lake on May 14.
A few rose-breasted grosbeaks are around. On May 13, Sarah Walsh observed a female at her feeder, and on May 14, Pam and Rob Davey had a male hanging around their yard all afternoon. Eleanor and David Stanwood observed a male visiting their feeder on May 16. And Janet Thibodeau reports finding a stunned male that had hit a window. She placed it on the stroller and continued on her walk, and eventually the grosbeak recovered and flew off.
On May 16, Charles Giordano found and photographed a red-headed woodpecker in his Christiantown yard. Based on the not quite brilliant red head and some brown mixed in with the red, this bird is almost one year old and is molting into its first breeding plumage.
Woody and Suzie Bowman had a bobwhite visit their feeder on May 16.
Finally, I observed a flock of 15 grackles in my yard on May 16. Such a sighting would not normally make it into this column, but they were actively gleaning those little green caterpillars from the young oak leaves. They were having some troubles doing this as some of the branches were too small to support them, so they were fluttering around and trying to hover around the branch tips. Comical.
Peak migration is here, so please get out looking for birds, and be sure to report your sightings to birds@mvgazette.com.
Robert Culbert leads Saturday morning Guided Birding Tours and is an ecological consultant living in Vineyard Haven.