A plan to overhaul the athletic fields at the Martha's Vineyard Regional High School with artificial turf is the subject of growing controversy, as hundreds of Islanders line up on both sides of the issue.
The plan first surfaced publicly last month when a nonprofit group calling itself MV@Play came before the district school committee to propose an ambitious, privately funded three-phase project to upgrade the playing fields. Led by David Wallis, the group has said it intends to raise $12 million for the project. Phase one involves refurbishing the track and field at a cost of $3.5 million. The fundraising plan has not yet been fully explained, although Mr. Wallis denied reports that MV@Play has a large donor lined up. "We don't have the money, so contrary to what people are talking about . . . . we have to raise the money," he said during an emotional two and a half-hour school committee meeting Monday night.
Because the project would involve private funds for a public school, a license agreement must be drawn up between the high school and MV@Play and approved by the school committee. That agreement has not been completed, although Vineyard schools superintendent Matthew D'Andrea told the Gazette Thursday that the agreement is being worked on with the school attorney, the school business administrator and spokesmen for MV@Play. The terms of the agreement have not been disclosed.
Meanwhile, on Monday night a large crowd turned out for the school committee meeting. In addition to charged testimony on both sides of the issue, the meeting was also marked by procedural confusion. It was announced at the outset that there would be no vote until the next meeting on June 6, but at the end the committee did take a vote, deciding 5-2 to back phase one of the MV@Play plan as currently designed. The vote came over the objection of two committee members.
At the center of the controversy is the question of whether to replace natural grass fields with artificial turf. After an early proposal to use crumb rubber infill on the interior of the track drew vocal protest from parents concerned about whether the material was potentially hazardous, MV@Play quickly switched to an organic infill made of cork, coconut husk and silica. But the group stands firmly behind using synthetic turf for the field inside the track, saying it is the only material that will withstand the use of high school and community practices and games, which they project to be 2,338 events each year.
"Nantucket just put one in, Sandwich put one in. This isn't unprecedented, I just want to make that clear," Mr. Wallis said at the forum.
The high school has eight playing fields that are used for nine sports in the spring and fall, including the track. Upkeep on the fields has been inadequate in recent years, as is the case with the school building facility which now needs repairs that are expected to cost millions of dollars.
Petitions are circulating on both sides of the artificial turf issue.
On Monday night a strong contingent of student athletes and coaches attended the meeting to support a synthetic turf field, along with a petition signed by 270 people in favor of the plan.
"It's a privilege to be able to play on turf. It's so fun to play on turf, it's a completely different game," said field hockey player Juniper Ezanno. "The fact that we could have the opportunity to do that every day — are you kidding me? How could any person not want that."
John Wilson, the father of a recent high school graduate and two-sport athlete, also supported an artificial turf field. "I think as a community we need to decide what level of risk we're willing to take versus what we know," he said. "These fields have been studied endlessly for the last 15 years. I feel fortunate that my son made it through his high school career practicing on a horrible football field without getting injured."
On the other side, a petition posted on Moveon.org opposing the synthetic turf plan had been signed by 684 people at the time of the meeting.
"It's wonderful that MV@Play was so responsive to switching the proposed infill material, but they themselves admit there is a lot of uncertainty about what is the best alternative and what's safe," said Samantha Look. "Why are we not looking at how we can keep our grass in better shape? We know kids can play on grass and be healthy."
Rebekah Thompson, an outspoken opponent of the plan, struck a philosophical note. "I feel it's a moment for self reflection as a community, and when many of us are trying very hard to move away from plastics," she said in part. "I know for some of you it's just a year or two on those fields, but for some of us it's 14 years from our mini kickers on up. I would just hope that the first field could be grass."
A spokesman for the Massachusetts Interscholastic Athletic Association said Thursday that the association has no official stance on synthetic turf versus natural grass playing fields, and no record of how many high schools use one or the other. School athletic director Mark McCarthy said Island athletes are accustomed to playing on artificial turf at away games, including at tournaments.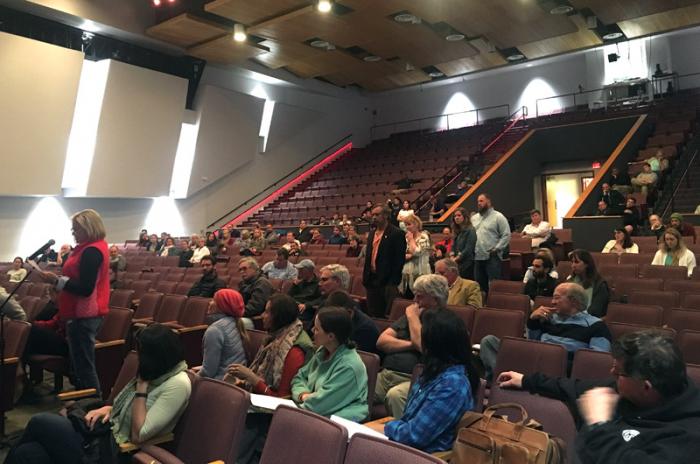 On Monday other concerns were directed at future maintenance costs. According to their proposal, MV@Play would foot the bill for the installation of new fields, but the high school would pay for the cost of upkeep and eventual replacement, estimated at about 10 years. Committee members discussed the possibility of user fees to help pay for maintenance.
Mr. D'Andrea said no matter what happens, the school needs a better maintenance program.
"So if MV@Play does not do this project, we have to come up with $1.2 million to do the track over and then we have to maintain it," he said. "We have a budget now around $40,000 a year that goes toward the maintenance of these fields. It will not be enough money. We will have to increase that."
At the end of the meeting, despite the earlier announcement that there would be no vote, Colleen McAndrews moved for the committee to take a vote.
Committee member Robert Lionette urged the committee to wait.
"There are huge issues that we have barely scratched the surface of — health, environment, cost," he said. "Obviously we have a weighty responsibility to the whole community, that's what makes this high school phenomenal, but at present I am not prepared to support this. I do not feel as though we've been provided with enough information to make a fully informed decision. There are still legal issues and financial issues that have yet to be resolved."
Other committee members disagreed. Jeffrey (Skipper) Manter 3rd said without the MV@Play plan, the future looked bleak for the athletic fields.
"We know [the $1.2 million for the track] is not in the budget next year, we know it's probably not going to be in the budget the year after," he said. "I think the opportunity is here, and if we go to replace it in nine or 10 years, nothing says we have to put it back. We can put grass back in if we have to. We're not committed to anything."
In the end the committee voted 5-2 to back phase one of the MV@Play proposal. Mr. Manter, Kelly McCracken, Megan Anderson, Colleen McAndrews and Lisa Regan voted in favor, while Mr. Lionette and Theresa Manning voted against the proposal. Kris O'Brien and Janet Packer did not attend the meeting.