It was all hands on deck, or rather the water, as the Hokule'a entered Vineyard Haven Harbor Tuesday for its official mooring on Martha's Vineyard as part of a round-the-world journey. Children from the Martha's Vineyard Public Charter School waved from the Alabama Schooner, while nearby Vineyard fifth graders aboard the Shenandoah shouted their greetings too.
And from dockside, members of the Wampanoag tribe rowed out to make their official greeting. They traveled by muhsh8n (pronounced mishoon) a traditional canoe that was created in recent weeks the old fashioned way, by using a single piece of wood to burn out a hollow in a log, a technique perfected centuries ago.
As the tribe rowed out to greet the Hokule'a, the Vineyard Haven Harbor was transformed into a vision of past and present — the two ancient vessels mixing with the two large schooners, pleasure cruisers, modern day fishing boats and Steamship Authority ferries.
After the traditional greeting was carried out — the blowing of a conch shell three times and a wampum exchange — the Hokule'a made its way dockside where a large crowd had gathered to greet the travelers.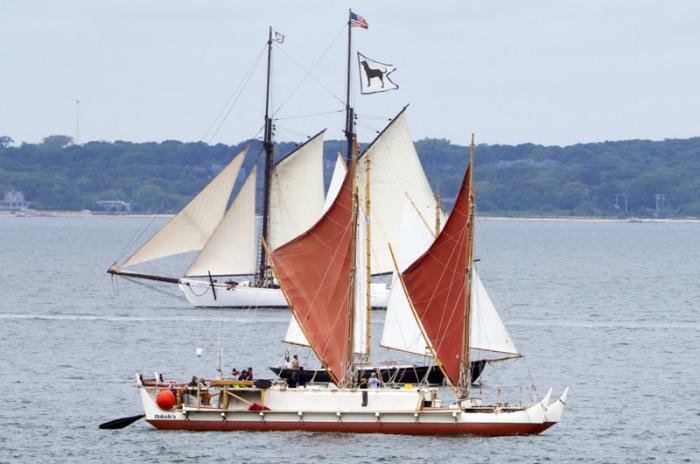 The Hokule'a will remain docked in Vineyard Haven Harbor through Friday. Welcome ceremonies will continue today and include a performance by Hawaiian slack key musicians Keikilani and Leo Lindsey at approximately 3:45 p.m., and some limited canoe tours.
The festivities and tours continue Wednesday and Thursday from 10 a.m. to 3 p.m. each day.
Mike Kotsopoulos contributed reporting.