Amidst an ever-changing Edgartown business scene, the Christina Gallery has remained a constant for 39 years at the corner of North Water and Winter streets. So has its loyalty to its artists. This summer the gallery celebrates a 20-year partnership with artists William Davis and Lloyd Kelly with a reception on Saturday, July 2.
"I want to be able to give them the wall space and the coverage for the summer season," added gallery owner Christina Cook. "We want to be able to display their work the best that we can and make our clients happy with something that they can take home."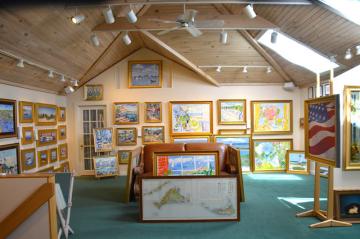 The Christina Gallery's secret to success is family, both in terms of how they view their artists and clients, and in the roots of the gallery. It was started in 1977 by Christina and her father Marshall. Beginning with negative prints from antique cameras found in an Oak Bluffs attic, the art gallery evolved to featuring paintings by artists from all over the world, including Pierre-Auguste Renoir, James Tissot and Maurice Utrillo, and amassing a collection of antique maps from the mid-1500s and nautical charts from the mid-1800s.
Ms. Cook said she believes in a delicate balance of affordability and respect. Pricing artwork too high leaves customers shaking their heads. Pricing it too low undermines a loyal artist.
"We're very conscientious about the artists we represent," she said. "We want people who come into the gallery and feel like they can buy something."
Most of the gallery's partnerships with artists range from 10 to 15 years, Ms. Cook said, adding that the gallery typically brings in one new artist every year, focusing on impressionist and expressionist work by contemporary artists. Offering one or two art shows each season, the gallery depends on a loyal client base and foot traffic from tourists. Despite a variety of galleries in Edgartown, Ms. Cook knows each one has its own flavor and has confidence in what she offers.
"I feel strongly about staying focused on what we're doing in here," she said. "I try not to get caught up in what's going on in the other galleries."
The work of Mr. Davis and Mr. Kelly resonates with the marine and landscape paintings regularly featured at the Christina Gallery. Ms. Cook's relationship with Mr. Davis began at one of his Cape Cod art shows. Amazed by his marine art subjects and self-taught technique, she knew the work belonged in her gallery.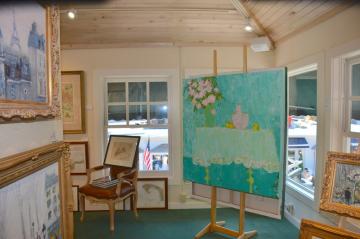 "We had known of him and he was just starting to hit the art market with some enthusiasm," she said. "We knew that we had a client base for him."
Mr. Davis' work focuses on historical accuracy and fine detail using a limited color pallet. His painting Small Cutter off Gay Head Light reflects a Martha's Vineyard influence. Christina's mother, Liz Cook, secured the gallery's partnership with Mr. Kelly after striking up a conversation at the artist's National Arts Club show in New York. Mr. Kelly uses a variety of complimentary colors and a lot of his paintings focus on the Provence area of France. Churchill Downs also regularly features Mr. Kelly's oil paintings.
"It's actually interesting to watch him paint because the paintings start off with an orange or a red background," said Ms. Cook.
The reception for the artists William Davis, Lloyd Kelly and Marjorie Mason takes place on July 2 from 6 to 8 p.m. Their work will hang in the Christina Gallery all summer. The gallery is located at 32 North Water street, Edgartown.