Livingston Taylor knows a thing or two about hospitality. The moment a person walks into his house near the Cedar Tree Neck Sanctuary, he offers a tall glass of seltzer water, a warm smile and a beautiful view of Gay Head. He practically offers the shirt off his back, not to mention a few acoustic lessons.
When Mr. Taylor performs at Edgartown's Old Whaling Church this Saturday, July 2, he says he will feel right at home and be able to offer that same sense of hospitality. After all, this summer marks his 48th year playing on Martha's Vineyard.
"The great thing about an island is that island has a great way of giving you a nice protection," he said. "It holds you safely."
Both Martha's Vineyard and music run deep in his family. The Taylor family began vacationing on the Vineyard beginning in 1949. Livingston's older brother James Taylor won multiple Grammy Awards and is in the Rock and Roll Hall of Fame. However, it was Livington's oldest brother Alex who introduced him one night to his future vocation while growing up in Chapel Hill, N.C. After performing at a University of North Carolina frat party, Alex returned home late one night with a guitar in one hand and a 20-dollar bill in the other. The impressionable, 13-year-old Livingston was sold. He soon picked up his own guitar and practiced day-after-day, dreaming of his own musical career. The talented adolescent quickly grew into an advanced guitarist by age 17.
"Human beings take the path of least resistance whether they know it or not," Livingston said. "So when you start doing something and things go well when you do that, you do it some more."
His dedication paid off when he signed with Capricorn Records in 1970. Livingston earned national recognition with his top-40 hits I'll Come Running and I Will Be in Love with You in the late 1970s.
"The things that really burn you late at night are not the things you did, but the things you didn't do," he said. From playing music to flying planes to watching osprey, the musician said he lives each day as if it is his last.
"We may die moving forward. We most certainly die standing here. Let's go."
Livingston began a second career in the late 1980s, but oddly enough this second career required a return to the one place he dreaded most growing up: the classroom.
"I hated school and I was a terrible student," he said with a laugh. However, when Boston's Berklee College of Music offered him a position teaching Stage Performance in 1989, he accepted it immediately. "I was on it like a tick on a dog."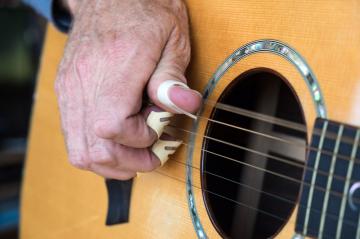 To this day he continues to teach Stage Performance at the world's largest independent college for contemporary music. He said he refuses to hand out an easy 'A' and demands greatness. One moment he applauds his students. The next moment he offers a rude awakening.
"The better my students are, the tougher I am on them," he said. Calling a student "very good," means little he said. "I expect them to be great."
Livingston sees his own nephew Isaac as a model for greatness. He admires Isaac's "magical" presence on stage.
"He's got a core of stability that lets people come to him," he said. "He's so stable, so safe that they can leave but they choose not to."
Isaac and musician Chelsea Berry will join Livingston for Saturday's performance. With a large catalogue of songs from old and new albums, Livingston said he anticipates a great audience from an Island he loves dearly.
Saturday's performance at the Old Whaling Church begins at 7:30 p.m. Tickets are $35, VIP $55, available at ticketsmv.com/liv. Livingston Taylor performs again this summer at the Old Whaling Church on August 13.