Fresh out of the Rhode Island School of Design some 15 years ago, Kenneth Vincent returned to his ancestral home of Martha's Vineyard and fell into the perfect job for an aspiring artist: a janitor at the Martha's Vineyard Hospital. It may seem strange, but for a young artist with low startup capital, working at the hospital meant he had first dibs on a set of old sheets they were giving away. He stretched the sheets into canvases and painted. He was 24 and chomping at the bit of the art world while sweeping the hallways and emptying trash cans.
Now, Mr. Vincent is ready to open his 12th show and the Granary Gallery's summer season alongside David Wallis and Alison Shaw on July 3. A reception will be held Sunday from 5 p.m. to 7 p.m. The show runs until July 16.
Art started Mr. Vincent at an early age. Classically dyslexic, he would write his name backwards and had trouble with regular academics, but he had a knack for art. He recalls drawing a chicken head as a kindergartner that his mother kept. It looked like a chicken head.
"For an artist, being dyslexic is actually really good," he said. "You become so much more visual and adept at understanding spatial concepts."
That didn't mean every drawing went right. When a fire truck didn't quite look like a fire truck, he would announce he was quitting art.
"Which is of course the lie you tell yourself after every piece of art you make as an artist, " he said.
But he didn't quit art.
After art school he strayed from barnyard beasts and locomotives, painting melancholy stilllifes. A dead rose in a broken vase, a sad strawberry sitting lonely to the side, the perfect blend of angst and moodiness for a young man. Fifteen years ago, he stood on Scotchman's Bridge Lane, staring at the Granary Gallery and thinking, it's now or never. Inside he asked if they show art. They asked to see his work. He showed a few pieces to owner Chris Morse. They liked it well enough and gave him space in the Field Gallery, down the road in the West Tisbury village. He was 25 and his art was in a gallery. But nothing sold.
The next summer, he skulked around the gallery before approaching David Wallis with a burning question — what do you do to sell artwork? Mr. Wallis suggested he go out and paint landscapes.
"When an artists comes to the gallery, and there are a lot who come . . . the question is will he be able to follow through," said Mr. Wallis, who today shares studio space with Mr. Vincent. "There are a lot out there who don't continue, it was interesting to see if he could pull it off."
Ken Vincent pulled it off. He did two paintings. One was an Allen Whiting knock off.
"Allen Whiting is your idol as a kid growing up, the only other real artist I had met as a kid," Mr. Vincent said.
When the other one, a painting of a bridge at Cedar Tree Neck wasn't going well, he became angry and broke it down into geometric shapes. He brought them both in to Chris Morse and David Wallis. After perfunctory kind comments on the Whiting-style painting (who needs a fake Allen Whiting when the Island has the real one) — Mr. Morse and Mr. Wallis turned to the second painting. They loved it. Mr. Morse gave Mr. Vincent $150 in cash and suggested he go paint five more. He did. All six sold. Ending the summer with $10,000 in earnings, he quit his janitorial job at the hospital. And with the arrogant confidence of a young man, he asked for a show. They gave it to him. He was 27, had his own style and his first show.
Drawing on his memories growing up on a small West Tisbury farm operated by his father and grandfather, Mr. Vincent's landscapes are more than bucolic rolling hills. He knows the cows and sheep in the pasture from work, not from driving by. He knows the Island ponds from scalloping for dinner, not recreational sailing.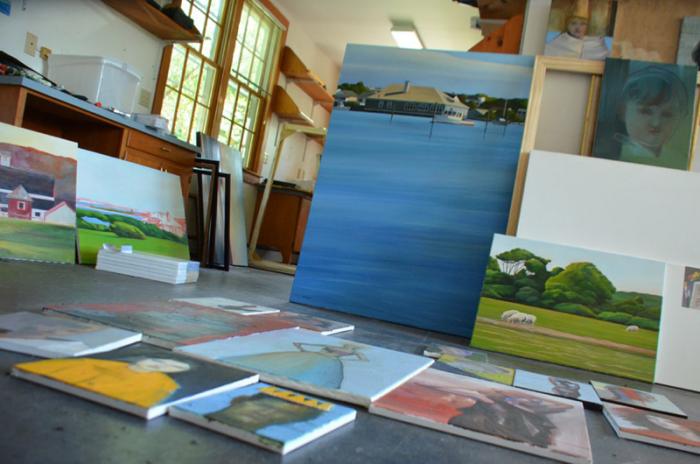 "There's beauty and there's romance in it but there's also a harsh reality," he said. "You're tied to your animals in some way, shape or form and they are tied to you."
It's the undercurrent of memory that sets each artist's landscapes apart, he said, and the reason why the Island will never be over painted.
"Anybody can paint the Edgartown lighthouse, it's not the location I'm worried about being painted before," he said. "The challenge is to paint something honest and that represents how you feel about it or how you see other people feel about it."
Today at 39, Mr. Vincent has taken his art in a number of different directions. He continues to challenge himself with his landscapes. He teaches art at the Martha's Vineyard Public Charter School. He works on the Projected Painting Project with Traeger DiPietro, an unusual mixed media public art initiative. His work was recently included in the Concord Cultural Arts Center show of artists in the Northeast. He is considering doing classical portraits of Islanders while also developing a concurrent new artistic identity, Vinny K, who paints more modern, moody portraits. Off the canvas, he is the devoted father of two young boys. It's a full plate, he admits. But for Mr. Vincent, painting isn't optional.
"Creation for me is little bit more of a painful situation," he said. "I do it out of some internal necessity to emote."