On the morning of July 4, Elijah Dunn-Feiner spreads out a map of New Hampshire, in particular the White Mountains. The map is well creased from use and covers most the table. Elijah, age 12, leans over and looks closely at the map pointing to a series of markings — red lines and purple dots — that he has made to denote the peaks he has already climbed.
"It looks kind of like an ant farm," he says, and he is right. The squiggles are everywhere, winding about throughout the state. In all there are 48 peaks in New Hampshire that are over 4,000 feet high. Elijah has climbed 44 of them, and on Wednesday and Thursday of this week he and his parents, Jim Feiner and Deb Dunn, will conquer the last four and become part of the Appalachian Mountain Club Four Thousand Footer Club, an elite group formed in 1957 to introduce hikers to the White Mountains.
Elijah began hiking with his parents at age two. The family lives in Chilmark and, yes, he has traipsed all over the Vineyard trails.
"Waskosim's Rock too many times to go back again," Elijah says with a smile that reveals his braces.
Elijah just finished seventh grade at the Martha's Vineyard Public Charter School. He plays Little League, basketball, likes to ski, skimboard and build things. And in his spare time he climbs a lot of very tall mountains. His first White Mountain climb occurred when he was six years old, the fabled Mt. Washington, which at 6,288 feet is one of the toughest climbs of the 48 peaks.
"It's actually a training ground for the Mt. Everest summit," Deb says.
Elijah still remembers that hike. "It was really dark and cold," he says. The family didn't finish until 9:30 at night.
Each year the family climbed a few more peaks, but began the quest in earnest when Elijah decided he didn't want to do a Bar Mitzvah. He had been through five years of Hebrew School but the traditional rite of passage for his religion didn't appeal to him. His parents said okay, but that he'd have to come up with another ritual to mark this moment in his life. On July 25 he will turn 13.
As Elijah reflected back on his choice to embrace the spirit of nature to mark his coming of age he did admit that the best part of hiking is "being done with the hike." Later he added that the views are "awesome."
Some hikes are day hikes while others have required sleeping in huts along the way or on the floor of three-sided shelters. The journey to Isolation Peak was about 15 miles long with thigh high snowdrifts, and Owl's Head required six waist-deep river crossings. Moriah was his favorite. "It was just a few miles from the hut," Elijah said. "With an awesome view."
The family has created a bar chart of their progress, with the highest bar occurring last year when they summited 20 peaks. After completing all 48 and being certified by the Appalachian Mountain Club they will attend a ceremony next April and each receive a scroll and a patch.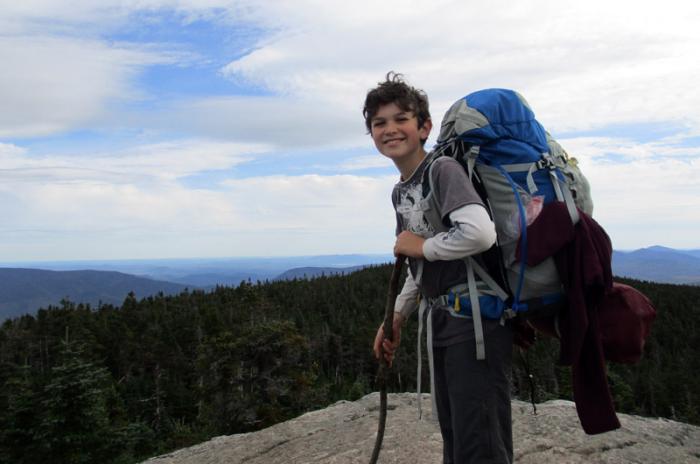 Elijah said that to pass the time on the long hikes he invented several board games, a virtual reality game and came up with a math formula he shared with his teachers. He has also seen a lot of animals "but no moose or bear." There was also "no shortage of rolled ankles but never to the point of having to turn around."
On Thursday the last hike will be to North Twin, which at 4,761 feet and a few river crossings is considered a moderate climb. And after that? What does a young man do after climbing 48 peaks? Well, he heads to circus camp of course.
"To do all sorts of circusy stuff," Elijah says. "Juggling, aerials, silks, clowning."
And any advice for would be hikers?
"The better the attitude the better the hike."