More signs and a reservation system for large trucks were among the possible solutions discussed by the Edgartown selectmen this week during a midsummer progress report from a consultant studying ongoing problems with the Chappaquiddick ferry line.
The line of cars queuing up for the three-car ferry has grown unpredictable and is a source of growing conflict with residents on Simpson's Lane, whose street is used for overflow traffic from Daggett street. Fed-up neighbors have criticized the town for taking a lax approach, threatening legal action.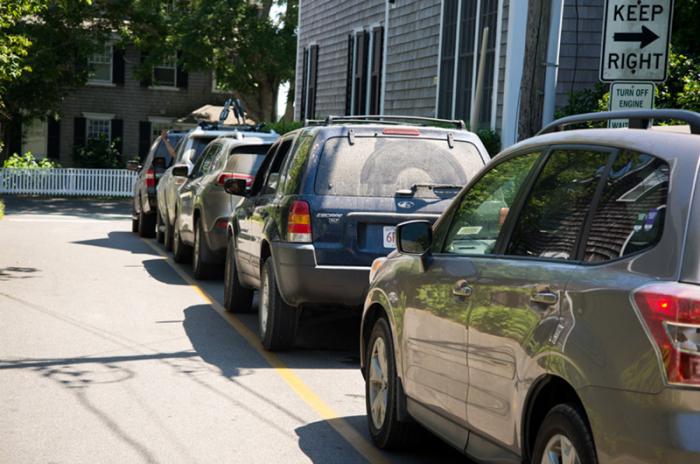 Doing business as Community Supported Solutions, Woody Filley was hired last spring by the town, the owner of the ferry and the Chappaquiddick Island Association at a cost of $7,500 to study the problems and recommend solutions. He has spent the summer gathering information from stakeholders and testing new technology. The work remains ongoing.
At the selectmen's meeting Monday, Mr. Filley showed the selectmen time-lapse photography of the ferry line over several hours on July 13, and July 16, two of the busiest days of the summer.
In an interview with the Gazette last week, he said growth and development on Chappaquiddick, changing lifestyles and a demand for more services such as lawn care and landscaping are all contributing to changing patterns in the ferry line.
"Thirty years ago you didn't see a lot of rolled out lawns, and people mowing lawns every week," he said. "The houses are probably bigger than they were before, so they require different levels of maintenance."
The problem is largely confined to the Edgartown side, where the overflow queue runs through the residential neighborhood on Simpson's Lane.
Ferry users can now take advantage of a webcam available on the Chappaquiddick ferry website that shows Simpson's Lane, Daggett street and the staging area on Chappaquiddick Point in real time.
Mr. Filley said ferry line regulars now know about "lawn-mowing Thursdays," the day residents and summer visitors schedule landscape work before the weekend.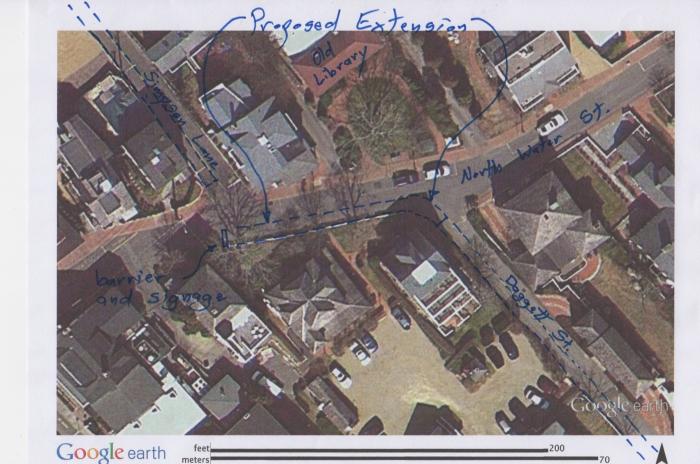 "We're looking right now at, are there ways to get the larger vehicles off Simpson's Lane," he said. "Before, it was cement trucks and things like that. In the last 10 years you've seen this growth in landscaping where a lot of landscapers now have trailers or they're bringing other types of equipment."
He has been monitoring the webcams looking to detect patterns.
"From patterns, we can hopefully come up with solutions," he said, adding: "Patterns are changing. The Fourth of July, there was no line on Simpson's the entire day. The fifth of July was kind of a cloudy rainy day. There were huge lines on Chappy all day long. When you think of a big line on Chappy, you think all the people that came over going back. But in this instance, it was a lot of people from Chappy going over, for whatever reason."
The meeting Monday was marked by a few sharp exchanges as Simpson's Lane residents pressed the selectmen for more action.
"I see huge increases in the amount of people coming," said Liz Murrell, a resident on the lane. "Every single day, I have to get an escort of police. It's really frustrating, and difficult to hear you're not really being taken into account."
Selectman Margaret Serpa shot back: "I really resent saying you're not being taken into account. I'm not going to tell you how many years I've lived in this town, but I grew up in that neighborhood. You people built houses on a length of street that had two individual driveways, and now there are seven or eight."
Last week Mr. Filley noted there aren't many models for the Chappy ferry, which is privately owned and historically operated on demand. The ferry is licensed by the selectmen, who have oversight over fares.
"I've yet to find a system this small that even has a reservation system," he said.
The Edgartown police department assigns extra traffic officers to Simpson's Lane to assist with ferry line traffic control in summer; in recent years the detail work has extended to the shoulder seasons. In summer two ferries shuttle back and forth all day long between the two slips on each side of the harbor channel. Years ago the ferry line ran along Dock street; it was shifted to Daggett street in the 1980s when traffic congestion became a problem.
In addition to monitoring the webcams, Mr. Filley has been conducting in-person surveys of drivers waiting in line, collecting information about whether they live on Chappaquiddick, work there or are visiting.
"If we can identify who's in line, and who may have some more flexibility, maybe we can spread out [the traffic]," he said, noting a stated goal to contain the ferry line to Daggett street -- the primary staging street for the ferry -- as much as possible.
Meanwhile, Peter Wells, the ferry owner, is working to create efficiencies by shaving seconds off each trip across the harbor, reminding people to have their fares ready, and preselling to people waiting in line.
And plans are underway to install a ticket kiosk early next month near the ferry slip on the Edgartown side. Passengers can pay in advance with credit or debit cards.
Mr. Filley plans to hold another meeting with town leaders and stakeholders at the ferry line on the morning of August 6, a Saturday. And he has created a website which compiles historical information on the ferry and ferry line issues.