When he was 16 years old, summer resident and Camp Jabberwocky counselor Chad Urmston wrote a song about stealing a ring from the Flying Horses in Oak Bluffs. He performed the song, called Flying Horses, at Wintertide. It was one of the first times he ever performed his own music in front of an audience.
Now 40, Chad Urmstom is best known as Chadwick Stokes, a professional musician who spends much of his time in front of audiences. Mr. Stokes is the frontman for two bands, Dispatch and State Radio, as well as a solo artist. And he still performs Flying Horses.
Coming off a European tour with Dispatch, who are concurrently working on a new album, Mr. Stokes planned returned to his childhood vacation spot for a little down time with his family. His wife suggested he perform somewhere on the Island and he joined the Martha's Vineyard Concert series for a show on Saturday, July 30 at the Union Chapel.
Though he has performed around the world and sold out Madison Square Garden more than once, Mr. Stokes said he's excited to bring his music to the stage of Union Chapel, a venue he has always loved.
"We used to go and watch bands and it's funny to think this time we will be on stage," he said. "There will probably be teenagers cruising around looking in the windows just like we did."
Mr. Stokes has a deeply personal relationship with the Vineyard that spans decades in his family. In the 1940s, his grandparents bought a house in Vineyard Haven, cementing the Island as a family vacation spot and anchoring it in their lives.
"My parents met here, I met my wife here, I conceived at least one of the kids here," he said.
He learned guitar at 13 and played often as a counselor at Camp Jabberwocky. At 19 he met Pete Heimbold and Brad Corrigan with whom he formed the band that ultimately became Dispatch.
"We were still kind of teenagers," he said.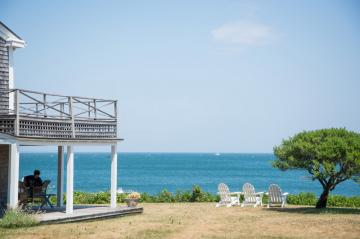 In 2011, Mr. Stokes recorded his first solo album, Simmerkane II, in Oak Bluffs. And depending on scheduling, Dispatch's newest album may be recorded on the Island as well. A lot of Mr. Stokes's music is easy to listen to with a laid back, familiar sound. Even State Radio, the most punk of his bands, has a folk thread throughout the music. His songs often focus on social issues, which is mirrored in Mr. Stokes' activism through the Elias Fund, Dispatch Foundation, Calling All Crows and Amplifying Education.
On the Union Chapel stage, Mr. Stokes will be rocking a suitcase guitar, which is just as it sounds — a guitar made out of a suitcase.
"You can literally put things in it," he said. "If it's a quick overnight show, I'll put my extra shirt and underwear in the guitar."
Always a fan of alternative instruments, Mr. Stokes once played an oil can guitar. The suitcase guitar was built by Jeff Conley, who will open for Mr. Stokes on Saturday. "The guitar has it's own sound," Mr. Stokes said.
"It's really chime-y, but still got the hollow sound," he added. "People are surprised it sounds as good as it does, it doesn't look like it will sound that good."
Mr. Stokes be joined on stage by his brother Willy and friend JR and hopes to see Jabberwocky counselors and campers in the crowd. He will perform music from Dispatch, State Radio, his solo albums as well as new music in the works. He might even play Flying Horses.