A tragic accident last weekend has led to a renewed call to ban or restrict mopeds on Martha's Vineyard.
Early Saturday afternoon, two young women riding a single moped lost control and collided with a large dump truck on Barnes Road. Both young women suffered serious injuries.
Noelle Lambert, 19, of Manchester, N.H., was driving the moped. Her passenger was Kelly Moran, 19, of Newfields, N.H.
Ms. Lambert lost her lower leg in the impact. She was flown by medical helicopter to the trauma center at Boston Medical Center, where she was listed in fair condition Thursday.
Ms. Moran was admitted to the Martha's Vineyard Hospital for treatment of injuries, and released on Monday.
When Oak Bluffs ambulance and fire chief John Rose arrived with two ambulances at about 12:35 p.m. Saturday, he found a traumatic scene, with bystanders trying to help the two victims of the crash. Chief Rose said days later, trained first responders and paramedics were still dealing with the aftermath.
"It was an extremely difficult scene to arrive at," the chief said. "Everybody handled themselves extremely well, with what they were faced with. I'm very proud of everything they did. Not an easy thing to process. Everybody's working on dealing with it."
An investigation led by Oak Bluffs Det. James Morse concluded that the driver of the 10-wheel dump truck — Augustus (Brant) Ben David of West Tisbury — was not at fault.
The accident sparked a flood of traffic on social media sites and served as a reminder that a long-running push to ban mopeds on the Island has not ended. At press time Thursday, more than 100 comments had been posted to a story on the Gazette website.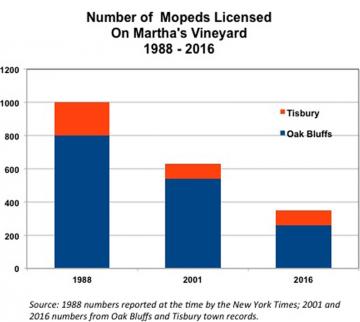 An online petition asking Gov. Charlie Baker and the Massachusetts Department of Transportation to require motorcycle licenses for mopeds was signed by nearly 700 people.
"We can all sit here and show how terrible it is," said Nicole Friedler Brisson of Edgartown, who organized the petition. "But unless we take a step to make it better, or at least make some notice so somebody pays attention, then changes aren't going to happen."
Records show there are far fewer mopeds on Island roads today than in recent decades.
In 1988, there were eight moped rental dealers in Oak Bluffs and three in Vineyard Haven, with approximately 1,000 mopeds for rent. That year, according to the Martha's Vineyard Hospital, there were 59 moped accidents requiring medical treatment in July and August. In one week, 13 people were treated in the emergency room.
By 2001, following more than a decade of protest from Vineyard residents, the number of rental mopeds had fallen to 629, with seven rental shops in Oak Bluffs and one in Vineyard Haven.
Currently there are four dealers in Oak Bluffs and one in Vineyard Haven, with 348 mopeds for rent, according to records. Both towns have capped the number of licenses allowed. Dealers in both towns are required to conduct a supervised road test for riders, provide safety information and make sure riders are wearing proper footwear.
In Oak Bluffs, moped rental dealers pay a $500 application fee and $20 for each individual moped license. A required building inspection and fire inspection costs another $95.
In Tisbury, dealers pay a $400 application fee and $25 for each individual license.
The five dealerships are controlled by three individuals.
In Vineyard Haven, Jason Leone is the only licensed dealer, doing business as Island Adventure Rentals on Beach Road. The business is authorized for 90 moped licenses.
Mr. Leone is also a licensed dealer in Oak Bluffs, doing business as King's Rentals and Island Hoppers on Circuit avenue extension. The two dealerships have 98 mopeds for rent.
According to Oak Bluffs town records, Mr. Leone is in arrears with the town for $3,750 in licensing fees. Most of the unpaid fees are associated with moped rentals, but some are for licenses for car and motorcycle rentals. The licenses were renewed and fees due on April 1.
Mr. Leone did not return telephone calls from the Gazette.
Another Oak Bluffs moped dealer is Aguimar Carlos, doing business as Ride On Mopeds on Oak Bluffs avenue. He has 120 mopeds for rent.
The moped involved in Saturday's accident was rented at Ride On Mopeds. In an email to the Gazette, Mr. Carlos's wife Penny Wong said her husband owns half the business, having sold half to the Leone family. She also defended the integrity of her husband's business, writing in part: "There is a lot of misinformation out there and I can tell you that he is very responsible, working seven days a week from 6 a.m. until 7 p.m. or later making sure the mopeds are mechanically sound and supervising the running of the shop. He makes sure all laws and town bylaws are followed and does not hesitate to turn down people who he feels should not be on a moped.
"We understand the community's reaction to Saturday's accident. But instead of demonizing the shop owners, wouldn't it be better to work together to see if adjustments can be made to make the roads safer?"
The fourth moped dealer in Oak Bluffs is Sun 'N' Fun on Lake avenue, owned by Donald Gregory with 40 mopeds for rent.
Two summers ago an employee of Sun 'N' Fun, was killed when he lost control of the moped he was driving on State Road in Chilmark.
A witness to last Saturday's accident who was following the moped just before the collision described to police what he saw.
"The moped went too far toward the right, over corrected to the left," the witness said, according to the police report.
Mr. Ben David, the driver of the dump truck, described the accident in similar terms, telling police that he could see it coming.
"He stated that he saw the moped appeared to start to lose control and start to head toward the center line," the police report said. "Ben David realized that there was going to be a collision so he pulled to the right as far as he could and began to brake."
Routine field sobriety tests administered to Mr. Ben David found no indication of alcohol use or other impairment. His commercial driving license and vehicle registrations were all in order.
Both the young women injured in the accident are division one college athletes and just finished their first season with the University of Massachusetts-Lowell women's lacrosse team. Both were named to the all-conference rookie team at the end of the season this spring. Ms. Lambert was honored by her team as rookie of the year.
"We're all pretty much in shock," lacrosse coach Carissa Mederios told the Gazette by telephone this week. "The severity of Noelle's injury is certainly heartbreaking. Our family dynamic is shaken to the core."
Coach Medeiros said she and team members visited Ms. Moran at her New Hampshire home, and Ms. Lambert at Boston Medical Center where early this week she remained in an intensive care unit.
"She's still the same feisty girl," Ms. Medeiros said. "When I was there, it was a full house, a long line of people who wanted to see her. She wants to be with people. She is absolutely looking forward to the next journey."
Through the years, efforts to limit the use of mopeds in Massachusetts have been mostly unsuccessful.
In 1981, the town of Provincetown adopted a bylaw to ban moped rentals to nonresidents, but it was overturned by the Massachusetts Supreme Judicial Court.
In 1988, Tisbury selectmen voted not to renew licenses for four moped dealers operating that year, but the dealers refused to stop operating. The town asked for an injunction, but the Dukes County Superior Court ruled the town had overstepped its authority in refusing to issue licenses.
In 1999, Vineyard resident Sam Feldman who led the Mopeds Are Dangerous movement, organized a trip to the state house in Boston with police chiefs from all six Island towns. At the time, legislators were considering a measure that would require motorcycle licenses for moped operators. The bill never emerged from the joint subcommittee on public safety.
Warnings about the safety of mopeds on Martha's Vineyard appear in the popular Frommer's travel guide.
"Many Islanders are opposed to these vehicles. If you rent one, be aware they are considered quite dangerous on the island's busy, narrow, winding, sandy roads," the guide warns.
Chief Rose, and Lieut. Tim Williamson of the Oak Bluffs police department both said this week that moped accidents appear to be waning compared with a decade ago.
"Maybe people are wising up to the fact that it's not a safe mode of transportation," Lieutenant Williamson said. "I have a motorcycle license, and prior to getting my license, I had a permit. Part of the permit is you can't carry passengers and you can't operate at night. It's a six-month period to make sure you learn how to operate a motorcycle safely. With a moped, you don't need a license or any experience at all, you can just jump on. These people may not have ridden a bicycle in years, then they put a passenger on the back, that's a whole other learning curve. I share everyone's frustration. Along comes a tragedy like this, it breaks your heart. I can't imagine how heart wrenching it is for the girls and their families."